How playoff hockey made a believer out of me
As a lifelong sports fan and a full-time sportswriter, I feel like I have a working knowledge of most sports. Hockey is not one of them. Until last night, I had only been to one hockey game in my life, a Nashville Predators game about eight years ago when my friends and I sat in the rafters and really only cared about the beer. With the Preds in the second round of the Stanley Cup Playoffs, I decided it was time to give hockey another shot. Thanks to a friend of KSR, my husband and I made our way to Bridgestone Arena last night to watch the Preds take down the San Jose Sharks 4-1 in a much, much needed win to take the series to 1-2. For the first time in a long time, I went into the arena knowing nothing about the team, very little about the sport, and without expectations. After almost three hours near the ice, I can now say that playoff hockey ranks up there with March Madness as one of the most exciting events in sports.
...It may be even better.
Bear with me.
It's so damn fast
One thing that I really hate about basketball these days is the number and length of timeouts. It gets especially bad during the tournament. Hockey has timeouts, but the game just felt more fluid. The action is nonstop, and trying to keep up with the puck requires way more focus than I was prepared to give, leaving me like this most of the game:
One of the best analogies I've heard for the way Tyler Ulis weaves in and around the court and dishes the ball is skating. Watching the players carve their way around the rink, I couldn't help but think of Ulis and his graceful delivery. Luckily, the action was so quick I didn't have time to think about how Ulis was leaving and get sad.
It's visceral
I am very much the type of fan that jumps out of their seat, screams, and generally makes a fool of themselves. For this reason, the transition from fan to media person has been very difficult since I started covering events for KSR years ago. (Media folk are supposed to be
professional
and not react to anything that happens, which is totally unfair and arguably unhealthy if you ask me.) So, last night was a treat for me because I could be as loud and expressive as I wanted to. Turns out hockey is perfect for that. Not only is the puck flying around the rink at ridiculous speed and making you jump when it smacks into glass, they FIGHT. I knew that coming in, of course, but holy crap it is so much better in person. I'd argue that, outside of boxing, wrestling, etc., hockey is as close to watching the ancient gladiators as we'll ever get. When a fight starts, the collective heart rate of the crowd soars and our primal instincts emerge. People absolutely lose it, shaking the glass and urging the players to beat the living crap out of one another, a roar that only gets louder as the fight goes on. Even the refs seem in on it. This brings me to my next point...
The fans are insane
When I was growing up, my dad refused to take me to an NFL game because he thought the fans were too rowdy and rude. Well, he would definitely blush at some of the cheers and jeers last night. After one fight in the third period, a group of guys near us started chanting "F--- YOU SAN JOSE" over and over again, and the parents nearby were so busy laughing and yelling themselves they didn't think to cover their kids' ears. We complain about the older crowd in the lower arena at Rupp a lot (after being lectured by an older lady for using the term "blue hairs," I don't have the guts to use it again), but the older folks at last night's game were just as intense as the college bros. My favorite was a snowy haired gentleman in a navy blazer with gold buttons who stood up and beat the glass for what felt like the entire third period. It was awesome. Rupp can occasionally be really loud, but I'd argue that there's no environment in which people lose their sh!t more than a playoff hockey game. My ears are still ringing. [caption id="attachment_199001" align="alignnone" width="1280"]
Titans QB Marcus Mariota getting fans fired up before the game[/caption]
They do it up right (at least in the Lexus Lounge)
My husband and I were lucky enough to get access to the Lexus Lounge, a private luxury club under the lower arena. I've walked by this area several times on the way to and from press row during the SEC Tournament and always been curious, and with good reason. The Lexus Lounge has four or five different gourmet food stations, two huge bars, and tons of TVs to watch the action, including an enormous panorama LED screen that gives viewers a complete, live look at what's happening on the ice:
The best part? If you're in the Lexus Lounge, all the food and booze is free. And delicious: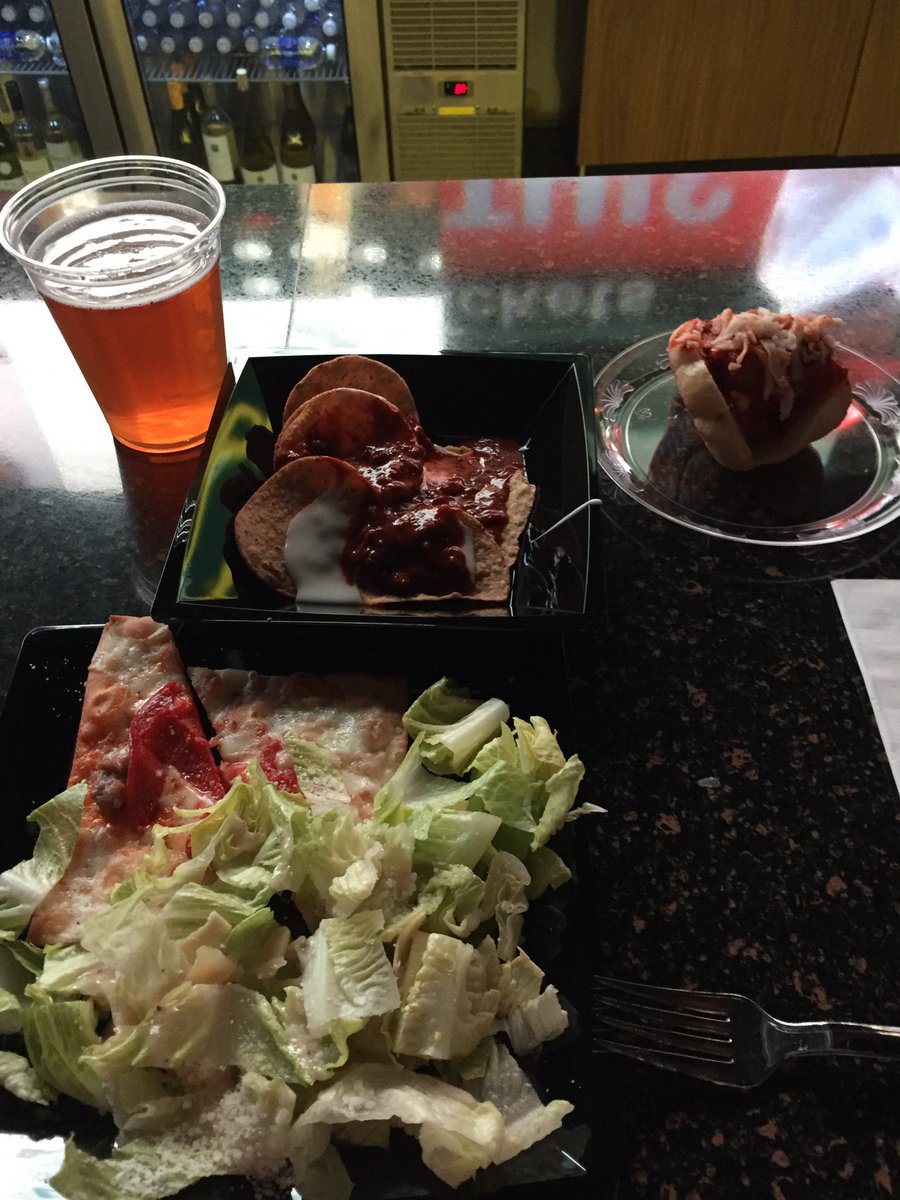 Aside from the food, booze, and multiple TVs, my favorite part of the Lexus Lounge was being able to see the players leave the locker room to head to the rink. The Preds' locker room door actually opens into the lounge, and they rope the path to the ice off so fans can see the players and cheer them on when they go in and out:
Here we go, let's go Preds @PredsNHL pic.twitter.com/5NAMi1HuRW

– Tyler Thompson (@MrsTylerKSR) May 4, 2016
If you have the means, definitely look into the Lexus Lounge for the SEC Tournament. I said this a lot last night and it bears repeating: Rupp needs something like it.
Other lessons Rupp could learn from Bridgestone...
Because of course I made a list:
Get glow bracelets
Each fan was given an LED glow bracelet upon entry last night, and when I pulled the tab to activate mine, I was pretty disappointed that it didn't immediately light up. (
Of course I got the broken one!
) Thankfully, I didn't throw it out because it turns out the bracelets were programmed to light up at different points of the game: [video width="1280" height="720" m4v="http://kentuckysportsradio.com/wp-content/uploads/2016/05/IMG_0227.m4v"][/video] It was really cool.
Make the Wildcat do weirder stuff
Don't get me wrong, I think the Wildcat mascot is great (Scratch is another story). I really like when the mascot gets creative and wears different costumes to correspond with the opponent or trends, like the bow and arrow. Awesome stuff. We need more of it. Last night, the Preds mascot Gnash swung down from the rafters while waving a rally towel: [video width="640" height="360" m4v="http://kentuckysportsradio.com/wp-content/uploads/2016/05/IMG_0215.m4v"][/video] In the second period, Gnash made fun of the Sharks' good luck charm, a black cat that runs around on the ice: The Wildcat is off to a great start with his Calipari-eqsue workout video. Keep it up.
Hire Vince Gill to play during timeouts and halftime
Just kidding, but man, Vince Gill sure loves him some Nashville sports. I've lived here a decade and have seen him at or performing at multiple games. The best part? Unless it's his Christmas concert with Amy Grant at the Ryman, he generally gives no effs about his appearance. Last night, he was in an Oklahoma State hoodie and jeans while performing on the fan stage. You do you, Vince. As an aside, I feel like the moment you say, "Oh, there's Vince Gill again," you are truly a Nashvillian.
Game Four is tomorrow night
...I won't be there in person, unfortunately, but this gives me a chance to see if the experience can translate to TV. Here's hoping. Go Preds.