"It's monumental, the help that she needs," Stoops says of Chris Oats' mother, caretaker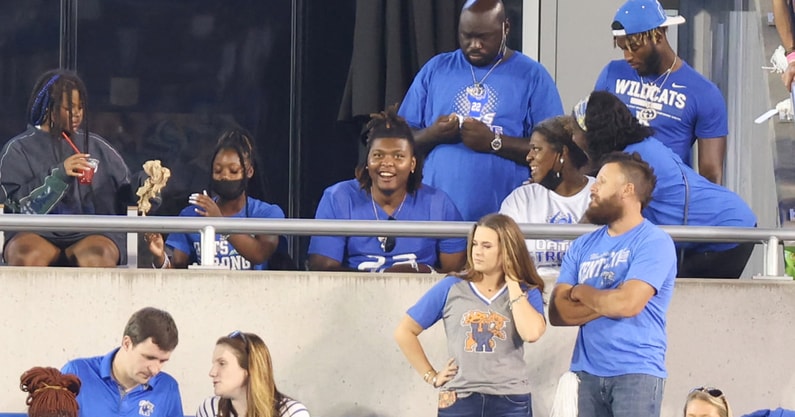 Mark Stoops and the Kentucky Football program put their full support behind the fundraiser for former Kentucky linebacker Chris Oats, who suffered a stroke in the spring of 2020 between his sophomore and junior seasons. Oats was projected to start at inside linebacker for Kentucky in the 2020 season, but has been confined to a wheelchair while undergoing a long recovery process.
Last week, Stoops asked Big Blue Nation to contribute toward the $150,000 goal on a GoFundMe page organized by Kentucky tight end Keaton Upshaw, Oats' old roommate.
Today, Stoops again put out a call to help Oats and his mother, Kim, after comments Kim Oats made to the UK Sports Network before Saturday's game. She said recruits around the Cincinnati area reach out to her and Chris to ask about Kentucky, and she always gives a ringing endorsement of Stoops' program.
"We need to help Kim more than she needs to help us, truthfully," Stoops said of Kim Oats' recruiting for Kentucky. "It's monumental, the help that she needs.
"When I heard that we had gotten her a handicap accessible van to get Chris to his rehab and everything and it broke down on her on the highway and she can't get him to rehab, that's a problem. That's when I called on the Big Blue Nation.
"Certainly, I'll do my part, and everybody will, but I need the help of the BBN. He's a wonderful young man, she's amazing. She has to do an awful lot for him right now. And we love him, and we love her. They're an inspiration to us but we need help."