J.J. Weaver highlights sixth finger on College GameDay: "It's okay to be different."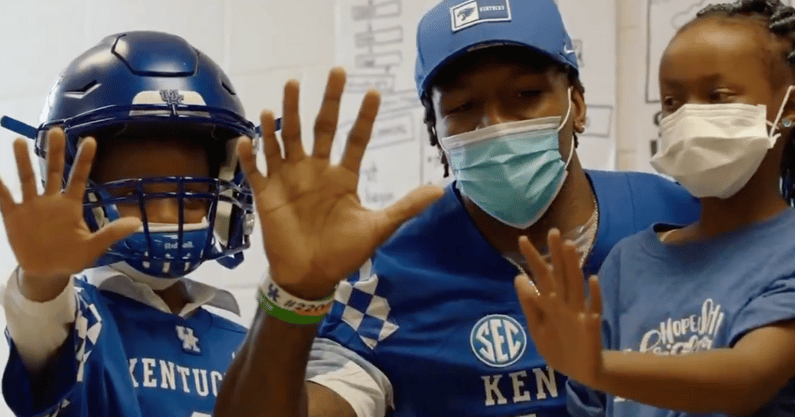 Kentucky fans have become quite familiar with J.J. Weaver's story and the six fingers he's had on his right hand since birth. As UK's prominence has grown at the national level, though, the story of Weaver's condition has quickly spread to the greater college football audience.
With Kentucky's matchup against Georgia being College GameDay's featured game of the week, the popular pregame show decided to highlight the standout pass rusher's extra appendage and how he has used it to spread awareness for people dealing with the same condition.
"They used to call me an alien."
Weaver was born with polydactyly, a condition that appears in approximately one in every 1,000 births. Born with a sixth finger, the Kentucky standout was teased and bullied at a young age.
"I was always hiding my finger, never tell nobody because I was picked on, bullied about being different with my extra finger," Weaver told College GameDay. "They used to call me an alien."
As Weaver's story spread this season, a third-grade teacher in Lexington named Kaye Cambron reached out to the University of Kentucky looking for help. Not only was she born with an extra finger like Weaver, she also has two students with the same condition.
"It's okay to be different."
Just a few weeks later, Weaver surprised Cambron's classroom with a visit and spoke to the students born with six fingers like him.
"I have an extra finger," Weaver told the class. "What made me different, what made me come out here and speak to you guys, just to inspire you guys about being different. Follow your dreams.
"Every day, they still do (make fun of me). It is mean. That's why I came out here to speak to you guys. It's okay to be different."
The students discussed what the gesture meant to them with ESPN reporters.
"It made me feel happy and excited because I've never met a football player with an extra finger before," said Izaac Kihoza.
"It shows me that there are people in this world similar to me," Charmante Ngedeya added. "Everybody should feel special about themselves."
Watch the touching feature below:
Leader on and off the field.