Jacob Toppin is quietly playing the best basketball of his life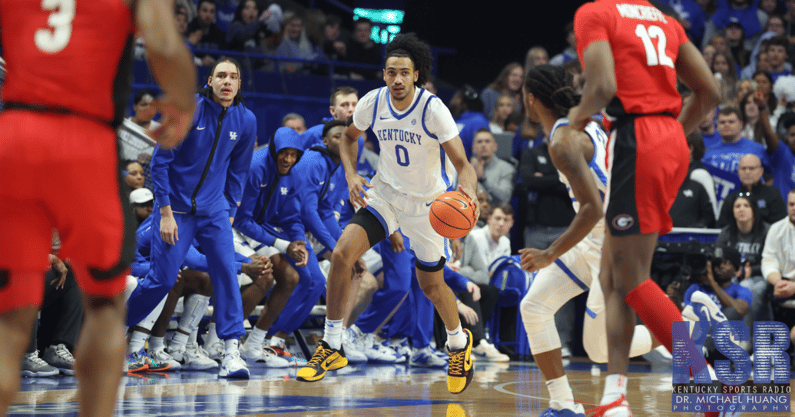 Over the last few weeks, Jacob Toppin has been remaking his case as a future NBA Draft pick.
While his name still isn't floating around mock draft boards like it had been over the summer, the 6-foot-9 super-athlete continues to add to his intrigue from front office executives. Toppin started the 2022-23 season strong against inferior competition, but he self-admittedly slipped into a dark place right before SEC play began. It took back-to-back benchings against Florida A&M and Missouri in late December in order for him to find a way out.
But once he did, the same version of Toppin that Kentucky fans saw in the Bahamas emphatically announced his return.
Over his last seven games played, starting with the win over Louisville that came right after his lowly 13-minute performance against Missouri, Toppin has quietly played the best basketball of his life. The former Rhode Island transfer is posting per-game averages of 13.3 points, 7.0 rebounds, and 2.7 assists over that stretch, shooting 51.4 percent from the floor in 33 minutes per outing. Toppin has dropped two double-doubles during that span while showing off subtle improvements in his playmaking that have helped change how UK is playing as of late. He's flying in for the lobs and putback dunks that made him a potential star in the first place.
I say "quietly" because of what else has been sticking out surrounding this program. Kentucky is now on a four-game winning streak after taking down Vanderbilt on Tuesday night. Antonio Reeves has established himself as the team's go-to scorer while Sahvir Wheeler appears to be buying into his new role off the bench. The highly efficient "Basketball Benny" lineup has understandably consumed conversations within the fanbase. Oscar Tshiebwe dropping 37 points and 24 rebounds in a single game is always going to be a major talking point, too.
But what Toppin is doing lately has played a significant part in Kentucky apparently turning its season around. Even when he's not scoring consistently (only five points on 1-5 shooting in the win over Tennessee), he's still finding new ways to impact the team (eight rebounds and a season-high five assists in that same game). Toppin hasn't lost confidence in his jump shot, but he's being more aware of when and where to take advantage of it.
He certainly hasn't been perfect, though. Toppin still gets beat on defense more often than head coach John Calipari would like, but the positives are far outweighing the negatives right now. He rarely fouls and doesn't turn the ball over as often as someone with his usage rate would be expected to. Calipari even said after the win over Vandy that Toppin is playing at a "different level" during the last few weeks.
The numbers are beginning to back that statement up, too. Toppin is a +61 on the floor for UK since the Missouri game. However, it's not all about scoring. He's simply performing like an all-around good basketball player in multiple facets of the game.
"I think that us having a solid Jacob — he doesn't have to average 20 points a game as he did in two of the games that he did," Kentucky assistant coach Chin Coleman said on Monday. "I think us having a sound, solid Jacob Toppin gives us a better chance to win. We need him to be good."
To be good, Toppin has to execute his role. In fact, part of his resurgence doesn't have much to do with his actual individual skills. He's not overstepping his boundaries nearly as much anymore, playing within his (wide-ranging) capabilities. A collective buy-in from his teammates has helped Toppin and the rest of the group settle in.
"We trust in each other. We came a long way. We've been through a lot of ups and downs and we got to a point where we trust each other, we trust that the next man is going to make a play and that's what we did today," Toppin told the SEC Network's Alyssa Lang after beating Vanderbilt.
Toppin isn't going to be the driving force behind Kentucky's success moving forward, but when he's playing at this level, the 'Cats sure are tough to beat.