Javianne Oliver on return to Kentucky after medaling at Tokyo Olympics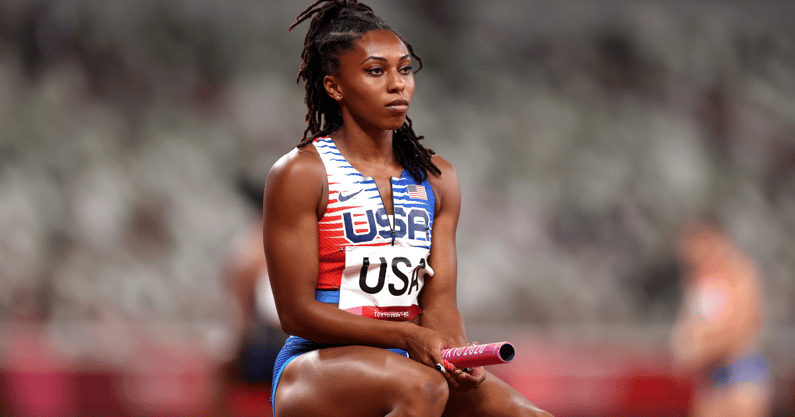 Olympic silver medalist Javianne Oliver is on her way back to the Bluegrass State.
After a spectacular showing at the Tokyo 2020 Summer Games, Oliver is glad to be heading back to her alma mater for a recognition ceremony on October 2nd.
2020 Tokyo Olympics
Oliver competed in two events at the 2020 Tokyo games; the 100-meter dash and the 4×100-meter relay, the latter of which earned her a silver medal.
During a press conference on Wednesday, when asked about her experience at the 2020 games, Oliver described the emptiness of a stadium and the absence of fans creating an atmosphere different from years' past. As for the difference those protocols created for athletes, she remarked that they are all "used to it" by now.
However, when she crossed the finish line, she "knew she had a medal" despite the lack of an audience and cheering.
In fact, Oliver said she "didn't even feel like I had been to the Olympics" until she returned home.
Upon her return, her hometown of Monroe, GA, greeted her with a huge celebration, the first of many for the new Olympian.
Coming home
Despite her abnormal experience in this years' games, Oliver was just as excited to share her experience with others.
One of her most poignant memories of her return home was sharing her medal with fans.
"The medal is really heavy!" Oliver said while laughing about her willingness to let others hold the medal and touch it.
Getting to experience the fan's first time with the medal was important to her. It was not only their first time with an Olympic medal, but hers as well.
Oliver also spoke about the conversation surrounding mental health and professional athletes that was highlighted this year with Simone Biles' withdrawal from competition.
"You come first," she stated. Oliver admitted that media attention can be draining, but respected those who chose their mental health.
What comes next
Oliver was quick to mention the 2024 Paris Olympics, hoping that by the next time around that she will be able to explore the host city rather than stay in the Olympic Village.
As for the next year, Oliver intends to focus on indoor meets as well as qualifying for main championship events in Track and Field. She also wants to overall improve as an athlete.
With that mentality, Oliver is on the right track to gold in the future.
---
Former Kentucky Track and Field star Oliver will be honored for her Olympic accomplishments during the Kentucky-Florida football game on October 2nd.