Jeff Badet opens up about decision to transfer to Oklahoma
[caption id="" align="alignnone" width="620"]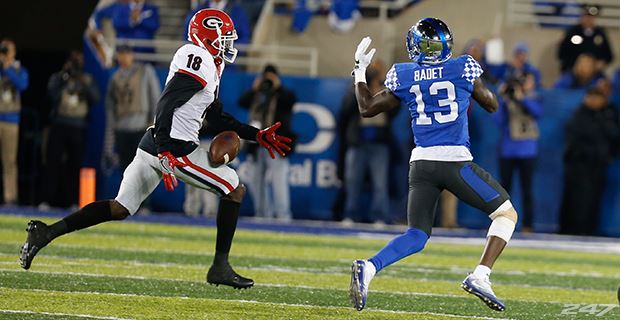 Photo credit: 247 Sports[/caption] Since announcing his farewell to the BBN, former Kentucky receiver Jeff Badet has stayed relatively quiet about his move to Norman, Oklahoma to play for the Sooners. Now, he's ready to open up about his decision to transfer. In an interview with NewsOK.com,
Badet says the opportunity to win a championship with Heisman trophy candidate QB Baker Mayfield pushed him to Oklahoma.
"I kind of already knew I was going to come here, just to be able to catch passes from (Mayfield,)" said Badet.
Mayfield was quick to compliment Badet's speed on the outside and the massive receiving role he'll be able to take over in Norman.
"Jeff adds a whole different element with the deep ball," Mayfield said. "He's able to go up and get it. He's a guy that's able to track the ball really well, which is something you're either born with or you're not. It's good to see we have a guy like that in our locker room."
What does he plan on bringing to the Sooners? Veteran leadership, he says.
"I just bring my leadership in," he said. "I'm the guy that actually knows defenses and when to run this type of route, or that type of route. When I'm talking to those guys, I can be that type of leader."
When asked why he wanted to leave Kentucky for his final year of eligibility, Badet said he was ready to compete for a title, not continue to "build."
"When I was at Kentucky, we were building a program," Badet said. "'Let's win these games. Now let's make it to a bowl game, now let's win the SEC East.' Here, it's all championship ... It's just straight business."
He won't be playing for Mark Stoops' brother Bob, but Badet will still likely have a massive year for the Sooners. See you in Atlanta, Jeff.