John Calipari on Southern: "They played harder than us"
When John Calipari saw that Texas Southern upset No. 20 Florida last night, he got a sinking feeling in his stomach about tonight's game vs. fellow SWAC member Southern at Rupp Arena.
"I called [Texas Southern coach] Johnny Jones this morning and said, 'Why did you do that? Now, you just gave Southern — they're going to think they're beating us now. Now we've got a tiger on our hands.'"
Calipari also reached out to his own players, putting them on upset alert vs. the Jaguars, a veteran group led by feisty former Cat Sean Woods.
"I sent all of them, 'Texas Southern beat Florida big at Florida. They're picked fourth in their league. This team is picked first. You better come ready.'"
If we're being honest, Kentucky didn't come ready. The Jaguars jumped out to a 9-2 lead to start the game before the Cats tied it up at the 13:24 mark. Kentucky was favored to win this game by 30 points but never led by more than 14. It was an ugly, back-and-forth affair in which the Cats never really looked comfortable, which is exactly what Woods was aiming for.
"I thought my team was good enough [to win] and it showed tonight that we were capable, a few possessions here, a few possessions there, of actually winning the basketball game," Woods said of his team's performance.
"Thank goodness we won because they played harder than us," Calipari said. "Sean did a better job coaching his job than I did."
"They outhustled us," Calipari added. "They outplayed us. We couldn't stay in front of them. They crowded the court and stayed in front of us. We had to then go back and crowd the court and it shortens the game when you do that."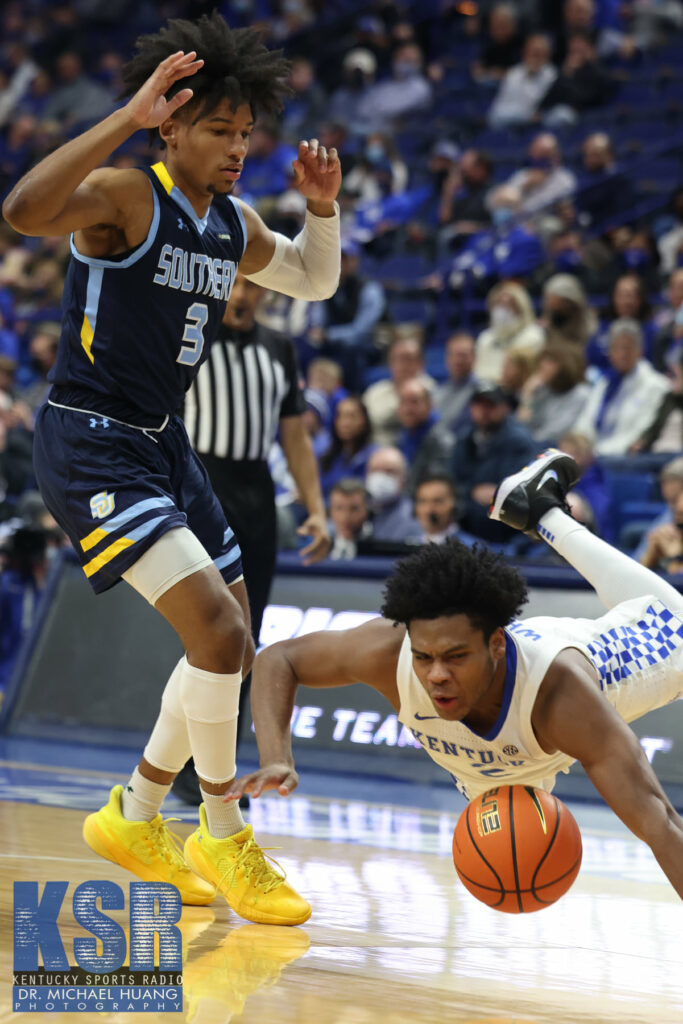 "We had some guys not play well"
What went wrong for Kentucky specifically? Sahvir Wheeler didn't play his best game, turning the ball over five times, looking out of control on several possessions. Oscar Tshiebwe and TyTy Washington were in foul trouble for most of the first half, which prevented Kentucky from finding its groove. The Cats, who were hitting 77.8% of their free throws coming into tonight, missed nine from the charity stripe tonight. Lots of little things contributed to an overall dull performance.
"We had some guys not play well," Calipari said. "Let's give it to Southern. They played harder than some guys. When a guy's playing harder than you, you don't have confidence. Now, my kids are not machines and they're not computers. They don't play great every night. I'm not feeling good, so I imagine a couple of those guys aren't feeling good. You've got to give Southern credit for how they played."
As Calipari looks to whittle down his rotation over the next ten days, tonight's performance could loom large for some players.
"You know what I told them after? 'You know what's good about this team? A couple of you don't play well, I'll put in somebody else and they'll play well and you'll just sit there and watch and get yourself ready.' That's what's good about having depth."
Woods on SWAC's swagger: "These teams are capable"
Kentucky heads to Notre Dame for its first true road game of the season on Saturday while Southern heads back to Baton Rouge for a date with Lindsey Wilson Thursday night. They can hold their heads high on the trip home.
"At the end of the day, you've still got to tip your hat to Cal and them because I knew he was going to be ready after Texas Southern beat Florida last night," Woods said. "I told my team, I said, 'I'm telling you right now, he probably got them up in the middle of the night after that game and said, hey, we can't lose too. These two teams are the two top teams in their league and they went into Florida, that's one of the top teams in our league, and got them and not only got them but beat them by 15. These teams are capable.'"