John Calipari leaves open possibility of rescheduling Louisville game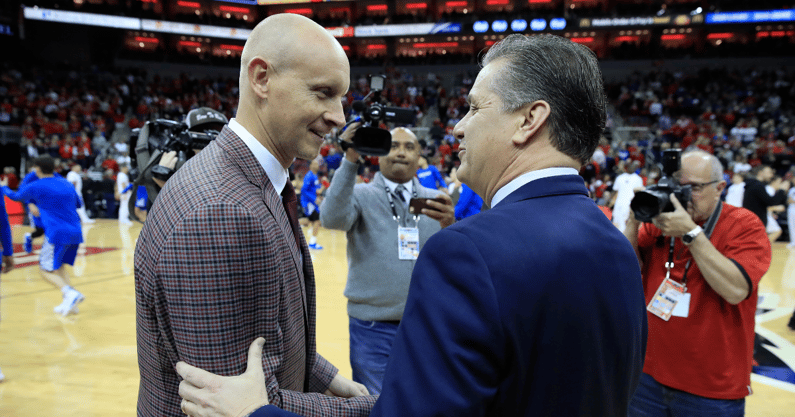 With the rest of the college basketball season now seemingly in flux, anything feels possible when it comes to scheduling over the next several months. Cancelations and postponements of games have been taking over sports in North America the last couple of weeks, and Kentucky has had to deal with two separate COVID-19 incidents during that time.
Fortunately for UK, both of the issues dealt with the opposing programs, so the Wildcats appear to be in the clear from the Omicron variant for now. But it's causing complications to the schedule before Kentucky can even hit conference play. North Carolina was swapped out for Ohio State over the weekend and now Western Kentucky has been swapped out for Louisville on Wednesday.
The first outing against UNC worked pretty well in Kentucky's favor, but missing out on the annual matchup against the Cardinals stings the Big Blue Nation. Even though UK was able to replace Louisville with a WKU squad that is better than the Cards–while tying in the ability to raise more money for tornado relief in the western portion of the state–the UK-UL rivalry means a lot to people in Kentucky.
Even Lance Ware, who has played in just one Kentucky-Louisville game, knows the importance of that matchup to those around the state. But he's also excited that the new opponent provides an even greater opportunity.
"From what I've seen, when UK plays Louisville, the fans, the game, the intensity of it is off the chain," Ware said on Tuesday. "But I feel like we rescheduled with a great opponent. Obviously somebody that just beat Louisville so I feel like the game is still going to be as good.
"I'm not sure if the fans are as happy that we're playing them but I feel like we're playing a really good team and I'm happy with what we're doing; and with what Western Kentucky is going through, I feel like this is a huge game and it's kinda bigger than basketball."
As of right now, the game against Louisville has not been rescheduled. UK said shortly after it was postponed that a makeup date would be monitored, but nothing has come out in the early stages. With that being said, the potential impact of COVID-19 could open up a spot for a game down the road. If that were to happen, Wildcat head coach John Calipari would be all for suiting up and playing Louisville.
"Well if there's cancelations and there's an opportunity, obviously we'd play it," Calipari said on Tuesday about rescheduling Louisville this season. "But we just don't know where this is all going."
The rest of the season is going to take a "wait and see" approach as programs across the country once again navigate through an ongoing pandemic. Odds are high this won't be the last Kentucky game that gets hit with a postponement. At this point, let's just make it through what is already planned before trying to predict the future.