Should John Calipari Be Nervous? (BTI's Rants and Ramblings)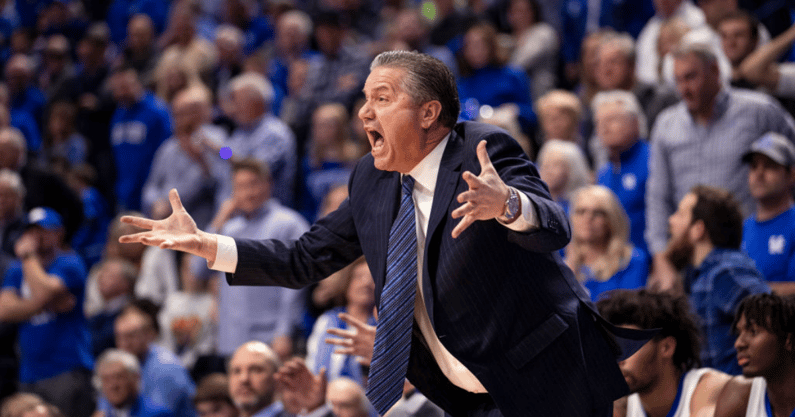 I can appreciate the absurdity of John Calipari and have since the moment he has been hired. Whereas it took some fans many years to recognize he was an entertainer plus a head basketball coach, I think the fans are all on board with the act by now. His hyperbole is nothing more than a comedy act much of the time. And it's all good. He's been a highly successful coach and brought a program back from the brink. He has flooded the pro ranks with our players for the first time in school history. And when you can do those things, you can basically say anything you want.
We've also seen John Calipari transform himself a few times during his decade-plus at Kentucky. He came in with high standards and was as much a cheerleader to pep the fans back up from the depths of Billy Gillispie as anything. And then when the Cats got rolling, and especially won the title in 2012 and went 38-1 in 2015, you had a cocky Cal. The gold standard, poop ice cream, and all of that. And then since 2016 we've had to see Calipari come back down to Earth a bit with some average seasons mixed in with some great ones.
But one thing John Calipari has never had to be in this job is NERVOUS. Not nervous that his employment is at risk. Of course it isn't. But nervous about the attention of this fanbase.
Is This A Football School?
So I have always argued, and other writers on this site have agreed, that this school has a slew of people who would be football fans first if the football program gave us a reason to be that. Outside of the NCAA Tournament, college football is a far greater product than college basketball. You know the players better. It has a specific day of the week to dominate. More people can attend the games for cheaper. Tailgaiting. There is little for college basketball to tout as reasons it is a better sport than college football.
Except at Kentucky where there is HISTORY. The reason that college basketball is so crazy at the University of Kentucky is as much to do with the history of the college football team as the basketball team. People like winners and frankly, our football program has not been a winner and our college basketball team has been in a big way. John Calipari has really never had to compete with a competent college football team in his tenure. Since John Calipari took the job in 2009, the UK football team has gone 62-74 before this season began. Football season was just an activity to lead into basketball.
Things are not the same in 2021. The energy surrounding this current football team is so strong. And to me, for the first time in my lifetime, it feels like that energy has staying power. Is this school slowly transitioning into a football school, much like its SEC brothers?
The Signs Are There
Is it crazy to even suggest a transition is going on? I think there are signs that would point to no. First, Big Blue Madness has NEVER had as little fanfare as this year. I saw far more attention given to Kyra Elzy and the women's basketball team than to John Calipari and his group. And his group is a Top 10 team! A top 10 basketball team at the University of Kentucky is already being overshadowed by something, and I would argue a big reason is the football team.
Second, no offense, but a 9-16 season is going to blunt anybody's interest in something. Last season was so bad after so much hype (from Cal) that the taste in many fans' mouths was not pleasant. And frankly, I think the huge majority of fans have to be convinced to passionately come back. No longer is it just a given that you support the team, no matter how the previous season went or what the hype is for the current season. If this Cats team turns out to be a Final Four-level team, of course, the fans will be back in full force. But it has to be earned for the first time in Calipari's career.
How Will John Caliapri Respond?
If we are completely honest with ourselves, John Calipari has a large ego. The best coaches in all sports do. It's part of their greatness because they believe they can achieve through any hardships and will work harder than most to get to those goals. But Calipari's ego has its drawbacks too. Obviously, his "interaction" with the fans hasn't always been the most pleasant. Cal can talk down to us quite often, even during a 9-16 season in which obvious issues were present and changes were not made until much later.
But no matter the circumstance, Cal has ALWAYS been the top dog at the school. But let's ask ourselves a question right now: If Mark Stoops is introduced to a group of UK fans and then John Calipari is introduced to the same group, who gets the biggest applause? For the first time in Cal's tenure, the answer might not be him. That has to be a bit of a hit to the man's ego.
Secondly, I think fans always have stood behind the program. There have been down years and average years but fans would always rationalize how that team or this team could pull it together because of faith in Cal. But after 9-16, I don't think Cal would get the same reaction if this team struggles at the beginning of the season. Even after COVID, I'm not sure he's going to see great home crowds in the non-conference. So how will he respond to that if the fans begin to doubt his program?
A Season Unlike Any Other for John Calipari
John Calipari enters this season with a climate within UK athletics and this fanbase, unlike anything he's ever experienced. You have a double whammy of coming off one of the poorest seasons in UK history combined with what might become one of the greatest football seasons in school history. Following a miserable year of COVID, fans were clamoring for something positive they could attend and the football team delivered. You have a fanbase whose full attention is elsewhere. Kentucky has landed some of the biggest basketball recruits in years and the response has been tepid at best. Some might argue this lethargy would be appreciated by Calipari. That would allow him and his team to perform without the normal stresses and pressures this fanbase applies.
But for a guy who has been in the brightest spotlight for over a decade, has seen hundreds of thousands of fans cling to every word, applaud every move, and kiss every ring, can John Calipari accept the fans looking the other way? Will he embrace it or resent it?
The reality is that if John Calipari's team performs the way it can, the fans will be back in full force, whether it's in November or January. But the environment around UK athletics is no longer one-sport focused. This is a 2-sport athletics program now and the guy who has to share the stage is facing some competition for the first time in his tenure. Win and it's all fine. But another struggling season and who knows what might become of the character known as Coach Cal.