John Calipari on Kentucky sharpshooter Dontaie Allen: "We need him."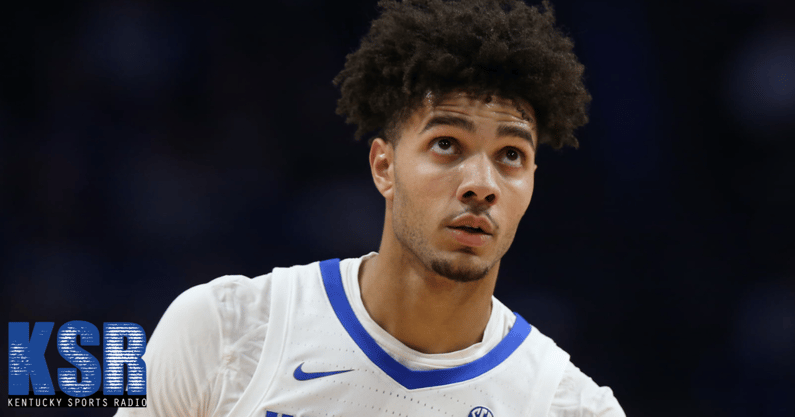 With Davion Mintz out against Albany, it was an opportunity for Dontaie Allen to step up in his absence. He got his chances, playing 13 minutes and getting five shot attempts from three.
Unfortunately for the junior guard, though, none of those shots fell.
Allen finished the day 0-5 from three to go with two rebounds, one assist, one steal and one turnover in 13 minutes. He found open looks and didn't hesitate to fire when the opportunities presented themselves, but just couldn't knock any down.
Despite the misses, Allen's teammates encouraged him to keep shooting, knowing the Wildcats could break the game open if the Falmouth, KY native got hot.
"You know, it was funny, and it was really true," John Calipari said after the win. "One of the guys said to Dontaie (Allen) during the game like, 'Dude, if you make two shots, we're going to break this open. Just make a shot.'"
Freshman guard TyTy Washington said the entire team went up to Allen and encouraged him leading up to the game and through the misfires. His teammates know what the 6-foot-6 guard can bring to the table, and the encouragement is going to continue.
"We knew we were going to be going into the game without (Davion), so it was pretty much next man up," Washington said. "Really encouraging and building up Dontaie, like, 'One is down, we're going to need you in this rotation. We need you to be who you are.' Everybody knows what Dontaie can bring to this team, easily.
"Once he came out there, we were encouraging him. We knew we had to pick up for our brother who wasn't there. Everybody has to step up and play a little harder."
With or without Mintz, Calipari says Allen will continue to have opportunities moving forward. He's going to get shots, and his coach wants him to let them fly.
"I want him in there shooting balls," Calipari said. "You have to understand, I kept saying, just keep shooting. Then I told him after the game, 'When I go to my office tonight, I will probably see you in the gym shooting, right? Because you're getting your opportunity. Now you've got to take advantage.'"
The team doesn't just want to see Allen produce, they need him to. There are going to be times throughout the season Kentucky needs a clutch bucket from deep or some quick points on the board, and the redshirt sophomore is the guy to make that happen.
"Dontaie needs to be the best version of himself, which is getting himself prepared to catch and shoot balls," UK associate coach Orlando Antigua said Wednesday. "He's getting better defensively for us, spending a lot of time watching film. … We're going to need everybody on this team. When their name gets called, they'll need to be able to step in and produce."
"We need him," Calipari added. "You know, we need him."