John Calipari provides updates on Wildcats dealing with minor injuries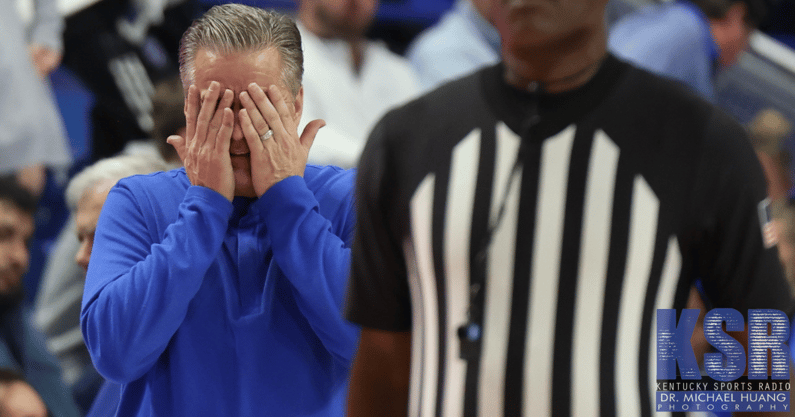 The most important part of a 40-point win against an inferior opponent is escaping without any injuries. Unfortunately, that wasn't exactly the case on Wednesday night for Kentucky men's basketball, which smacked North Florida 96-56 in Rupp Arena, but nothing appears to be too serious. A trio of Wildcats — CJ Fredrick, Cason Wallace, and Lance Ware — were all dealing with a minor injury or illness at some point in the game.
Most notably, Fredrick was seen limping during the second half, appearing to hold his hamstring, which caused him to sit out all of the 2021-22 season. For the first time this season, the redshirt senior didn't start for Kentucky and only managed 11 minutes off the bench. Once he hobbled his way into the locker room, the Big Blue Nation collectively let out a concerning groan.
Luckily, Fredrick was only dealing with cramping issues. The main reason he went back to the locker room in the first place is that he was overly worried about possibly reinjuring his hamstring.
"I didn't because I got scared," Kentucky head coach John Calipari told reporters after the win about not putting Fredrick back in the game. "With him it was a cramp. And he says even when I feel it cramp up I get scared. So he was in there and I walked in and said 'Are you all right?' He said 'Yeah, but I got scared.' Which, understandable."
Elsewhere, many fans pointed out the lack of minutes for backup big man Lance Ware. The junior forward was spotted on the team bench, but wore his warmup clothes from start to finish and did not enter the game. The broadcasters hinted at a possible illness for Ware, which was later confirmed by Calipari.
"Lance was sick. Would have played if we needed him."
Finally, Calipari mentioned that freshman guard Cason Wallace "hit knees" with an opposing player, which happened midway through the second half. The incident occurred around the 7:50 mark in the second half to Wallace's left knee. He would stay in the game briefly, even attempting a 3-pointer from the corner that missed, but he was subbed back out after being on the floor for just 15 seconds. With a 40-plus point lead in hand, there was no reason to put him back in. He was later seen bouncing around on the sidelines in the closing minutes.
"Cason I think hit knees. He just said get me out," Calipari added.
With Thanksgiving break about to begin, a nice stretch away from games should help heal everyone up.