John Calipari says health is Kentucky's key to deep postseason run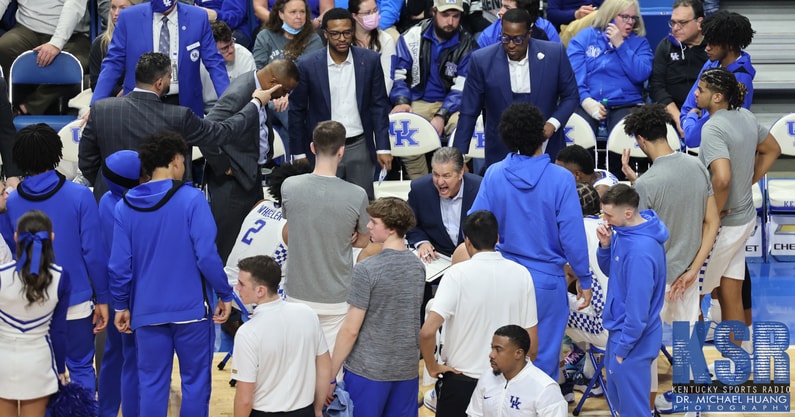 Excluding C.J. Fredrick — out for the year with due to injury — Kentucky has lost two games this season at full strength. The Wildcats fell to Duke in the Champions Classic to open the season, and then lost again in the team's first true road game at Notre Dame on December 11.
Since then, though, it's been a clean sweep with one caveat — a significant one, at that. When healthy.
In the team's remaining three losses at LSU, at Auburn and at Tennessee — all true road games — the injury bug bit. Sahvir Wheeler and TyTy Washington both went down at LSU and Auburn, while Washington fought through pain at Tennessee before being forced to sit out the remainder of the second half. Jacob Toppin, Keion Brooks Jr. and Davion Mintz have all missed games due to injury or illness throughout the year, as well.
At full strength, the Wildcats have been good. Really good. Title good. As a complete group, it's one unlike any other John Calipari has had during his time in Lexington.
"This is a different kind of group," Calipari said Wednesday evening during his weekly call-in radio show. "One, we've got veteran guys. Most of my teams here were relatively inexperienced and it took us time to get it totally together. This team came together earlier because we're experienced and the freshmen playing — TyTy (Washington) ends up being that difference maker, playmaker, shot maker, shot creator for himself and others. And everyone else slid into their role, the guys coming off the bench.
"We have players that are kind of similar to some of the other guys, but this team is kind of unique. I don't think we've played this fast, we're playing really, really fast."
Kentucky currently averages 80.6 points per game, good for No. 13 in the country and No. 4 among Power 5 programs. It's the most for a UK team since 2016-17 (84.9 PPG) and just the second of the Calipari era to average at least 80 points per contest.
In the team's shorthanded losses at LSU, Auburn and Tennessee, though, Kentucky is averaging just 64.7 points per game. After the slip-up in South Bend, injury has truly been the only thing to slow the Wildcats down.
And if you ask Calipari, it's likely the only thing that could slow them down moving in March.
"One thing: being healthy," Calipari said when asked about the team's needs going into postseason play. "Everybody is saying — they watch us, and if we're all together and healthy, that's when you see us at our best. And if we're not healthy, we've got some holes."
For that reason, the UK head coach's focus is on getting his players healthy for the games that matter most. If that means extra rest leading up to March, so be it, even if it results in late regular season losses. As long as Kentucky gets back to playing the way it did against North Carolina, Kansas and Tennessee in the first head-to-head matchup, that's all that matters.
"We've got to get healthy and get everybody (back) so we walk into March," Calipari said. "That may mean some guys have to step back and — 'listen, don't panic. We could lose a couple of games because of that.' We're established, everybody knows who we are. They know when we're healthy what we look like. They saw what happened at Kansas, they saw the Tennessee game at home.
"If we've got to get back to being healthy, and that means I'm saying to a couple of guys, 'Just sit it out and get back to 100%. Whatever happens, we're going to try to hold the fort down without you.' But let's see. Let's see how it goes. That's the main thing."
The best version of this Kentucky team is good enough to beat anyone in the country, Calipari says. When he talks behind the scenes with other high-profile individuals in the basketball world, they all look at this team's chemistry and ability to play for one another. The Wildcats must continue to stay the course in that area to close out the season.
"Everybody that watches us says the same thing," Calipari said. "They all say, 'I love watching your team. They're so fun to watch because they play for each other. And they have been able to shut down all the clutter because the clutter makes it about them individually.' They're able to shut that down and say I know what I have to do for this team and I'm going to go do it. The other thing they say is 'Man, do they play hard. Do they play hard, defend and talk.' So let's just stay that course."
This isn't like other past Kentucky teams that had a glaring weakness or two, things that could play them out of the tournament if the ball didn't bounce the perfect way. In terms of pieces, Calipari believes this group has it all.
"I remember the 2010 team, we had one Achille," Calipari said. "This (2021-22) team shoots it well, that team didn't. I said if we get in a game where we don't make shots, it's hard to win in the NCAA tournament. And we picked a game to go 1-20 or something (vs. West Virginia). How do you miss 20 in a row? (We're) one of the best three-point shooting teams in our league, one of the best rebounding teams in our league, one of the best teams in our league to create assists for each other. Our assist-to-turnover ratio is one of the best.
"I mean, we're fine."
Losing takes a greater toll on Calipari now more than it did earlier in his career. He is, however, getting greater enjoyment out of watching his players thrive and win together.
Fortunately for him — and all of Kentucky fans, for that matter — the team is doing a whole lot more winning this season than it saw just one year ago.
"As you get older in this profession, losing whacks you. It just does as you get older," Calipari said. "The good news for me is I just love it when I see my kids play well and we win. I'm on a high, even now. But the losing is harder than it used to be. Losing now is like, agh. Then you go back, 'What else could we have done? How could I have played us offensively? Are there some defensive things? Could we have done this?' You watch the tape. When you're younger, you move on to the next game. 'Forget it, who cares? We're going to win this game.'
"Then again, it's a little different being at Kentucky doing this than when I was at UMass. Makes it a little bit more interesting."
Now it's just about staying healthy to ensure the winning continues when postseason play rolls around.