John Calipari is still "trying to figure out" Bryce Hopkins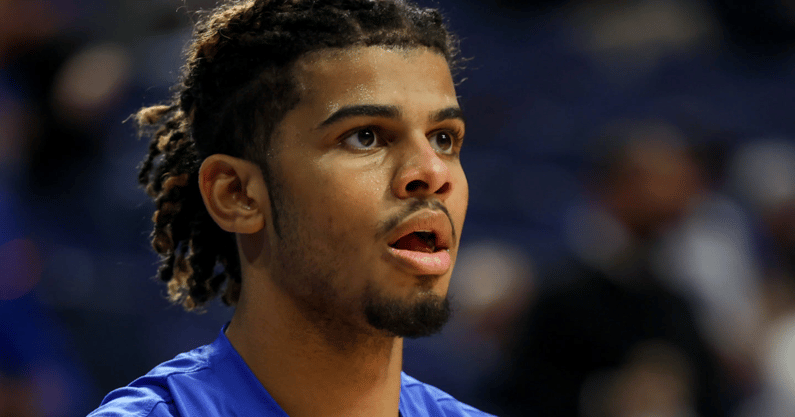 With every passing game, we get a little bigger taste of the Bryce Hopkins experience. The freshman wing plays just 11.4 minutes per night, second-fewest among all rotation players, but he constantly finds ways to string together a few plays of subtle brilliance.
The 6-foot-6, 220-pound native of Oak Park (IL) came to Lexington as the least-heralded of the freshman trio that John Calipari brought in for his 2021 recruiting class. His numbers compared to fellow rookie TyTy Washington, and even Daimion Collins, aren't nearly as impactful. But when Hopkins is on the floor, he always finds a way to dazzle.
Through seven games, Hopkins is averaging just 4.0 points and 2.7 rebounds per game. He's shooting 44.0 percent from the field and 33.3 percent from distance; respectable numbers, but nothing too extraordinary.
It's when he slices through the paint like a hot knife through butter for uncontested layups; or flicks a side-armed pass around two defenders for an easy dunk to his teammate; or uses his massive frame to battle on the boards against larger competition, that Hopkins' potential shines through.
But finding minutes for him right now isn't the easiest. Oscar Tshiebwe, Keion Brooks Jr., Jacob Toppin, and Daimion Collins are all ahead of him in the rotation down low. Looking at the backcourt lineup, it's hard to justify Hopkins stealing any minutes away from Washington, Sahvir Wheeler, Kellan Grady, or Davion Mintz right now. That drops him down to the ninth man at best, which he has admittedly done an acceptable job of embracing early on.
Hopkins hasn't shown the steady confidence through seven games that would make him worthy of soaking up extra minutes, either. His impressive play comes more in bursts than throughout his entire stint of on-court time. Calipari is still trying to figure out how he can best utilize the versatile swingman moving forward.
"I'm still trying to figure out Bryce (Hopkins)," Calipari said during Thursday's press conference. "I think we're gonna do some stuff this week that we're gonna try with he and Jacob (Toppin), and let's see if that helps."
Perhaps Calipari is planning to experiment with more small-ball action, where Hopkins plays the 4 and Toppin the 5. A lot of the success for that frontcourt lineup might depend on Hopkins' willingness to take and make outside shots. Toppin is mostly a non-shooter at this point, but he and Hopkins could theoretically provide enough rebounding against most opponents to make it work. Hopkins can defend multiple positions as the 4. He also has enough in his bag to be effective on offense against smaller and slower defenders.
Calipari is simply trying to figure out how he can get the most out of Hopkins at this stage in his development. Once regarded as the team's breakout player over the summer, the reality of playing Division I basketball has hit Hopkins like a brick. He's still played well overall, but not even close to his potential.
"And this is what happens to us every year," Calipari added. "It just takes time until we figure out–when the kids are doing what they do best then they build their own confidence."
Over time, Hopkins' usage will expand, especially if he continues to develop at this rate. If injuries and illnesses continue to infiltrate the locker room, he could get handed a larger role rather quickly. As we previously said, throughout each game, he's shown signs of improvement.
Calipari said that Kentucky doesn't beat Ohio if Hopkins didn't play the way he did; he finished with seven points and seven rebounds in 16 minutes against the Bobcats. Hopkins was just as effective against Central Michigan, adding six points, four rebounds, and three assists in that blowout victory.
His head coach wants to put him in the game, which can only mean he's doing something right. Now it's about putting everything together.