John Wall and the Houston Rockets will part ways, finding trade partner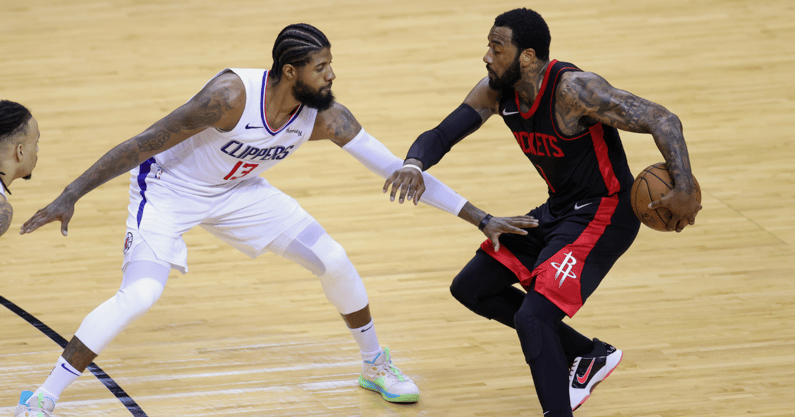 John Wall's time with the Houston Rockets is coming to a close after just one year with the franchise.
With the team in the midst of a complete rebuild looking to shed both age and salary, the two sides came together in a recent meeting and decided to part ways.
According to The Athletic's Shams Charania, Houston will begin searching for trade options to find Wall a new home immediately. The former Kentucky star will not suit up for the Rockets this season as the franchise works toward a trade.
"After meeting and seeing eye-to-eye on the direction of the Houston Rockets, the franchise and John Wall have agreed on working together to find a new home for the five-time All-Star guard," Charania reported Tuesday. "The plan is for Wall to remain present around the Rockets entering training camp, which begins late this month, and to not play in games for Houston this season."
Charania says Houston officials told Wall that the team wants to "protect (his) health" as it continues its rebuild. The Rockets reportedly do not want to "jeopardize Wall's fitness," and this route will not "complicate his ability to continue playing at a high level."
While the two sides have mutually decided to part ways, there are no plans for a contract buyout. He currently has two years and $91.7 million remaining on his deal, including a $47.4 million player option in 2022-23.
In 40 games last season, the former Wildcat averaged 20.6 points, 6.9 points, and 3.2 rebounds per contest. Houston previously acquired Wall in a deal with Washington that sent Russell Westbrook to the Wizards.
Wall has been limited to just 113 games over the past four seasons due to knee, heel, and Achilles injuries.
The star guard averaged 16.6 points, 6.5 assists, 4.3 rebounds and 1.8 steals in his lone season at Kentucky. He was later inducted into the UK Athletics Hall of Fame in 2017.
Highlights