Johnson Central coach Jim Matney passes away from COVID-19 complications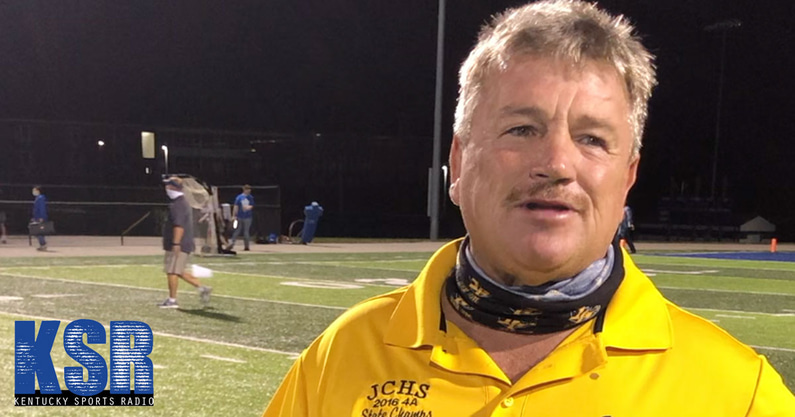 Kentucky high school football has lost a legend. Johnson Central coach Jim Matney passed away from complications due to COVID-19. Matney's sister-in-law Janette Jude confirmed the news on Facebook.
"Jim passed away peacefully after the boys were able to say their goodbyes, with [his wife] Debby by his side and Mom by hers," Jude wrote. "I regret that he didn't know how many of you cared and reached out to our family. Thank you so much. We're heartbroken but we will get through this. We have so many of you who I know will be there for us all. Please pray for peace, comfort, and strength for us. She wanted to thank you all for all the prayers and support."
Matney had been battling COVID since late August. According to the Herald-Leader, he contracted the virus sometime after Johnson Central's game vs. Henry Clay on August 20. He was eventually transferred to a West Virginia hospital and suffered a stroke en route. The Johnson Central community held a prayer vigil for him on September 5.
Matney took the job at Johnson Central in 2004 after coaching at Sheldon Clarke from 1984-2003. During his tenure, he led the Golden Eagles to five-straight 4A championship game appearances and two state titles, in 2016 and 2019. His record at the school was 184-36. He also coached wrestling.
A Champion of the Mountains
You may remember Matney from the video of a pregame speech he made back in 2015. The passion and pride with which he spoke about the mountains became a rallying cry for those from the region.
KSR Preps writer Troy Howell profiled Matney and Johnson Central last year. Once again, Matney spoke about his love for the mountains and the responsibility he feels to help his community.
"We teach our kids in the mountains that life is not fair, and it's never going to be fair in the mountains," Matney said. "And number two, we teach our kids to not blame everybody else, and to grow. That is what I'm trying to do and that's what this program is trying to do.  Every time we take the field, we tell (our team) that we are going down there to show the rest of this state, and to show the rest of this country and world, what mountain people are really about." 
"(As a little boy) I kind of noticed how the kids of the mountains they were treated a little different," Matney said. "You could go into a city or a town somewhere and you were kind of looked down upon. I understand it. We didn't have a lot of money. We probably were a little uncouth. I get it. But I vowed that I would come back to the mountains and give my life for the kids in the mountains. But now in all fairness, I'm only doing what people did for me."
Tributes to Jim Matney
To say Matney was a beloved member of the mountain community is an understatement. Since the news broke, tributes have been pouring out on social media.
"Jim was an unabashed advocate for kids, especially Eastern Kentucky kids," KHSAA Commissioner Julian Tackett said in a release. "He embodied strong-willed advocacy and an unparalleled work ethic. His success in his coaching career was due to many of these traits. But his real success wasn't in large trophies won, but the character of a generation of students that he formed by rallying them together for a common cause and never being willing to settle for second best. To Debby and his two sons and entire family, our prayers and condolences. And may we redouble our efforts around this vicious virus and rid it from our midst."
Rest In Peace, Coach Matney.