Kahlil Saunders Finds the Right Fit in New Position on the Defensive Line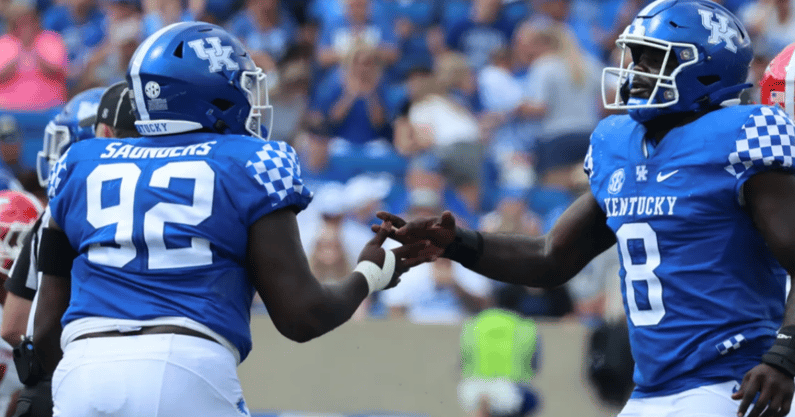 Kahlil Saunders has been a pleasant surprise for the Kentucky defensive line. Thanks to a position change and opportunistic play, the unheralded recruit is exceeded early expectations.
"It feels good," Saunders told KSR Wednesday evening. "Now when I'm in the game, I can see that in the offseason I put in all the work I needed to put in."
On3 ranked Saunders as a four-star recruit, but none of the other three recruiting services tabbed the Huntsville native as a top 30 player in the state of Alabama. Recruited by Jon Sumrall from the alma mater of the former linebackers' coach, Saunders totaled two tackles for loss during his four-game redshirt window last fall. One of the lowest-ranked players in the class of 2021 has been one of the more productive players.
"I keep that chip on my shoulder knowing that coming out of high school I wasn't very highly recruited. Coming here, I gotta show to other coaches and players that I came here for a reason," Saunders said.
An Offseason Move Outside for Kahlil Saunders
A 6-foot-5, 288-pound defensive lineman, he has the size of an interior player. That's where he started his career, entering the action early in the 2021 season before UK ultimately chose to preserve his redshirt. In the spring Mark Stoops saw something in Kahlil Saunders that inspired him to make a move.
"Kahlil is one of those guys who has some length. You've heard me talk about before with guys like Phil Hoskins and guys with that kind of length, they can play looser and have some quick twitch along with a longer body that helps us," Stoops said this week.
Brad White describes it as a feeling out process. It takes time for coaches to learn the right fit for each big athlete in the trenches.
"Some guys like different areas. He likes it outside, he likes having a little bit of air, he's athletic enough to handle it out there to the field…," said White. "…That's part of the growth process is finding which position ultimately is the best. You talk about guys like Justin (Rogers) or Josaih (Hayes) or Deone (Walker), they like bodies around them. That's where they're most comfortable. You gotta find the best areas and the best positions for those guys."
Building on Early Success
Kahlil Saunders was called into action more often against Youngstown State without Tre'vonn Rybka available. The defensive line did not miss a step. He had a pair of tackles and his first career .5 sack. His most impressive play was on an option. Saunders forced the quarterback to pitch the ball early, then pursued the running back outside to make the tackle.
"We've seen him be able to chase quarterbacks and ball carriers, so that's something he does really well," White said. "He needs to continue to be violent and strike with his hands consistently. It's been a good move for him out there."
Few were anticipating to see No. 92 on the field this fall. Kahlil Saunders always believed he was ready to contribute on a dominant Kentucky defense.
"I was thinking about that the whole offseason. Now it's my time to step up, get on the field and help make plays."