Former Kentucky F Kahlil Whitney reportedly added to Timberwolves summer league roster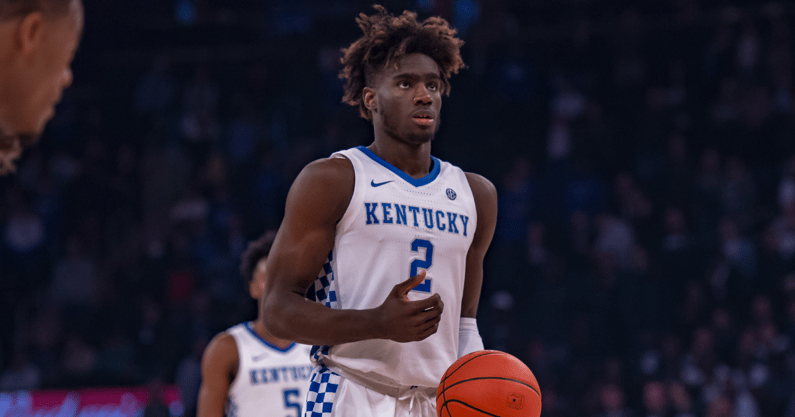 A familiar face is looking to find a home in the NBA.
According to Hoops Rumors' JD Shaw, former Kentucky men's basketball wing Kahlil Whitney will suit up for the Minnesota Timberwolves summer league roster. Whitney, who played in 18 games at UK during the 2019-20 season, only spent half of the year in Lexington before leaving the program in January. He later went unselected in the 2020 NBA Draft and has since made stops in the G League and in Canada.
The 2022 NBA Summer League officially tips off in San Francisco (July 2-3) before moving to Salt Lake City (July 5-7) and finishing in Las Vegas (July 7-17), which is where most of the action will happen. The Timberwolves will only participate in the Las Vegas portion of the event.
Whitney isn't a former Wildcat talked about often — for obvious reasons — but his time in Lexington realistically wasn't all that long ago. The 6-foot-6 small forward came to Kentucky as a consensus five-star recruit and a top 15 talent, but he just didn't pan out as a Wildcat. He started in eight of his 18 appearances, averaging just 3.3 points and 1.7 rebounds in 12.8 minutes per contest while shooting 37.1 percent from the field.
After declaring for the 2020 NBA Draft and ultimately not hearing his name called, Whitney first signed an Exhibit 10 contract with the Charlotte Hornets but was waived a month later. He went on to play nine games with the Greensboro Swarm (the Charlotte Hornets G League affiliate) in 2020-21 and then 16 this past season in 2021-22 with the Rio Grande Valley Vipers (Houston Rockets affiliate), where he averaged 4.1 points and 1.7 rebounds per game.
In April, Whitney signed to play for Newfoundland Growlers of the Canadian Elite Basketball League.