Kansas Brings Snoop Dogg, Stripper Poles and a Money Gun to Midnight Madness
[caption id="attachment_269047" align="alignnone" width="933"]
@Jeff_Ermann
[/caption] There are two ways to respond to rule-breaking allegations. You can decide to lay low, comply and embrace a straight-edge lifestyle to prevent any further damage, or you could deny any rule-breaking whatsoever and become defiant. Kansas chose the latter in the most over-the-top way imaginable. Less than two weeks ago Kansas was charged with three Level I NCAA violations, including the infamous "lack of institution control" charge. The charges stem from Kansas' relationship with Adidas and how the shoe company used money to help Bill Self land recruits. Four days later, Self wore a t-shirt with a massive Adidas logo to promote Snoop Dogg's appearance at Midnight Madness. That retaliation was just a small sample for what Kansas had to show off Friday night at Phog Allen Fieldhouse. https://twitter.com/580Sportstalk/status/1180300630017134593 The mascot got in on the fun, smoking an enormous fake blunt during the performance. [caption id="" align="alignnone" width="625"]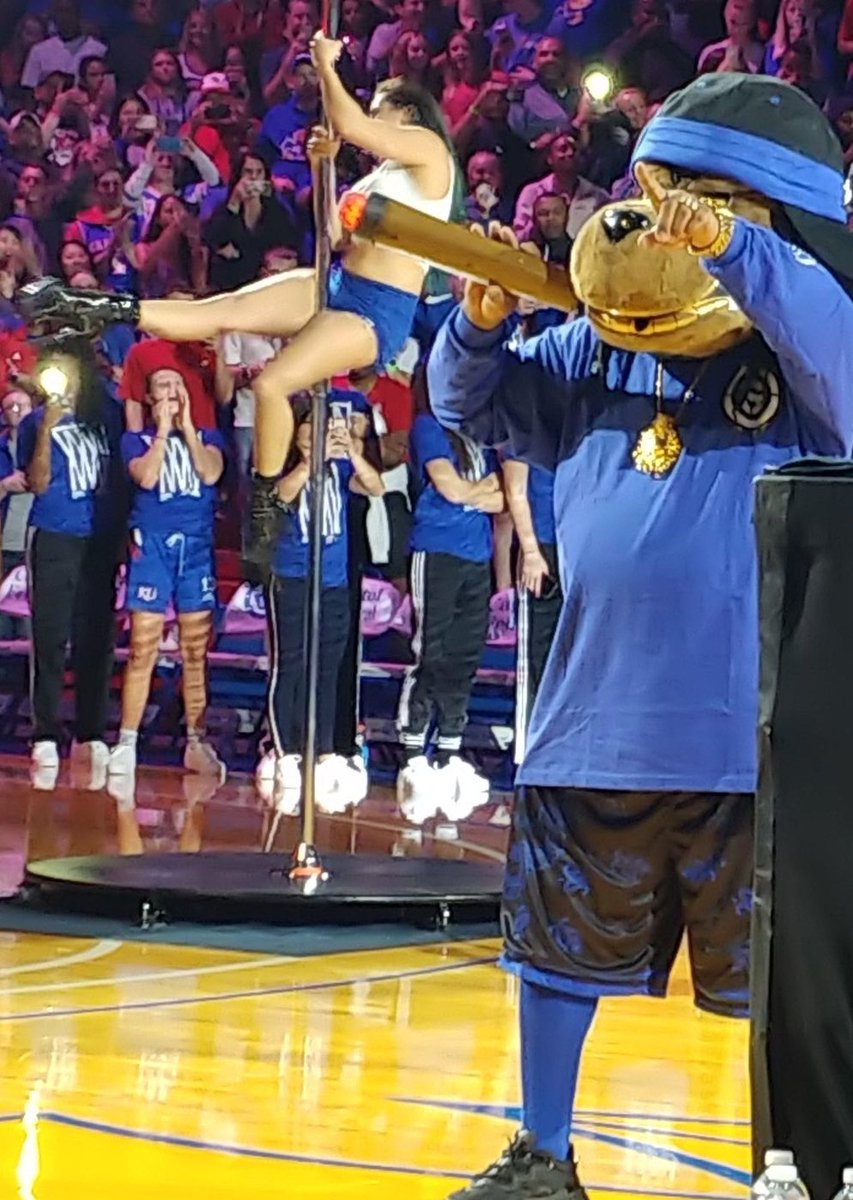 @RRhineheart2012
[/caption] To accompany the stripper poles, gin and juice, the D-O Double-G fired off a money gun into the crowd. https://twitter.com/BentonASmith/status/1180302817891930112 https://twitter.com/HoHighlights/status/1180339012956897281 Instead of playing their hand close to the vest, Kansas brought Minardi Hall to Phog Allen. "I didn't know that there was going to be anything like that," Self back-peddled after the event ended. "I was told this was radio edited and everything else. But no, that's not the direction that anybody at our school would want that to go at all." "We apologize for the Snoop Dogg performance at Late Night," athletic director Jeff Long said in a statement. "We made it clear to the entertainers' managers that we expected a clean version of the show and took additional steps to communicate to our fans, including moving the artist to the final act of the evening, to ensure that no basketball activities would be missed if anyone did not want to stay for his show.
I take full responsibility for not understanding what acrobatic dancers are in today's entertainment
and offer my personal apology to those who were offended. We strive to create a family atmosphere at Kansas and fell short of that this evening." Long actually had to release an additional statement, editing the "acrobatic dancers" line after the internet pointed and laughed for hours. The Kansas administration is trying to distance itself from the event, but they may actually be on to something. Georgia Tech received a postseason ban for taking a recruit to a strip club on an official visit. You can't provide recruits impermissible benefits if they just so happen to see strippers at the gym.
[mobile_ad]