Kansas gained another full game in the all-time wins race, so there's that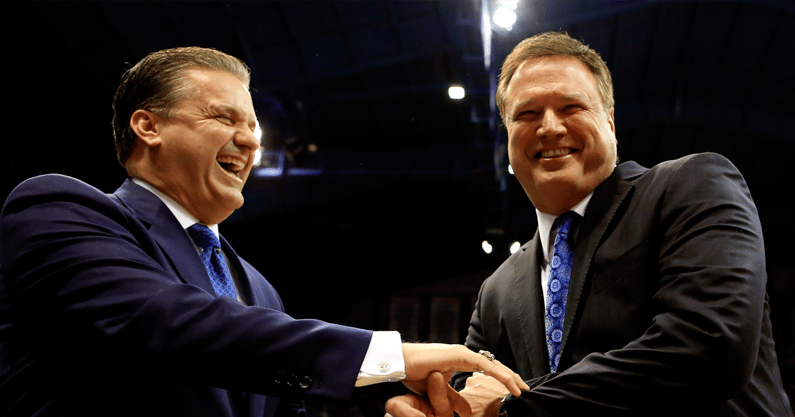 Kentucky Basketball's loss to Kansas hurts for a number of reasons.
One, the Wildcats should never lose in Rupp Arena. Ever. Two, it snapped Kentucky's four-game win streak and it was a missed opportunity to get off the NCAA Tournament bubble. Next week, we'll refresh Bracketologies to hope for the best and see at least another week of the top 25 without Kentucky in it, likely more. It also stinks because we don't like Kansas. All my homies hate Kansas.
In the bigger picture, Kansas extended its lead in college basketball's win race. The Jayhawks traveled to Lexington with a six-game lead on the Wildcats in the record books, only to win the head-to-head to extend the lead another full game. Additionally, Saturday's SEC/Big 12 Challenge grand finale now marks five losses in the last seven games against Kansas for the former All-Time Winningest Progam In College Basketball.
Here's the updated chase for the all-time wins throne.
---
College Basketball's All-Time Wins List
Kansas: 2,374
Kentucky: 2,367
North Carolina: 2,336
Duke: 2,261
---
Adding to the ugly numbers, Kentucky is now 5-15 in the last 20 games against top-25 teams.
Gross.
Kansas passed Kentucky during last year's NCAA Tournament
It wasn't until Kansas' championship run of a year ago that the Jayhawks passed Kentucky as the game's best winner. Once the Wildcats were eliminated in the first round, Kansas erased the wins deficit and tied Kentucky at No. 1 by reaching the Elite Eight. Three wins later, Kansas pulled ahead by three games with the Jayhawks' fourth national title, and now have four fewer losses in the 2022-23 season.
So, Kentucky needs to get hot immediately to save its current season and make up ground from a historical perspective.