Kellan Grady stepped up big as Kentucky's fill-in point guard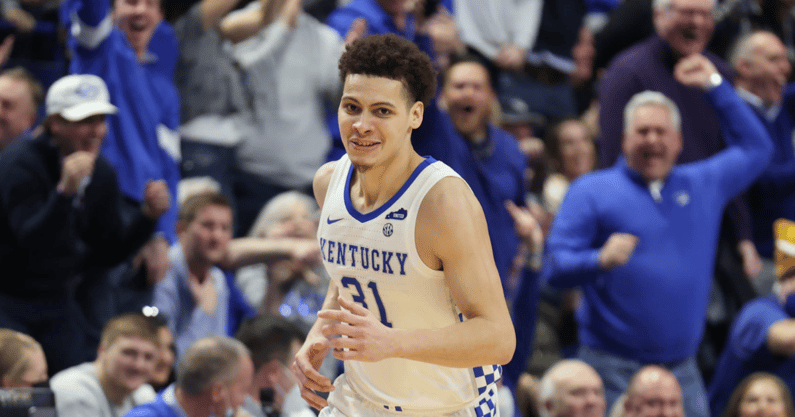 Kentucky scored 90 points without its two lead guards, TyTy Washington and Sahvir Wheeler, during Saturday's victory over Alabama. They can thank Kellan Grady for picking up the backcourt slack. The graduate transfer from Davidson was special in UK's 90-81 win over the Crimson Tide, unloading seven made 3-pointers for a season-high 25 points. But most notably, a good chunk of Grady's production came as the team's lead guard.
For the first time all season, he was the perfect amount of selfish — the kind of selfish fans have been begging for from one of the country's top outside shooters.
"Kellan played out of his mind, to be honest," Kentucky forward Jacob Toppin said postgame. "He was hitting shots left and right. To be able to step into the point guard position, not a lot of people know that he played point his senior year at Davidson. So people try to play up on him but he still got his shots off, he still ran the team, and I think he did an excellent job doing that."
Grady didn't come into the contest trying to play like a Washington or Wheeler. While it's true that he did fill in at point guard during his senior season at Davidson, this situation was abrupt and clearly unique. Instead of trying to mimic Kentucky's usual point guards, he took a more simple approach.
"I try not to think about okay this is my opportunity to go get 20," Grady said postgame. "I figured just naturally that there were going to be more opportunities for me to shoot the ball and be involved and have the ball in my hands. But what was most important to me was to try and lead. Sahvir and TyTy are a certain type of point guard. I know what I am.
"My goal was to get the ball across court and allow the five of us to play. Initiate, make a first pass, allow the first pass to be easy, and let us play. And that's what we did. I just hoped the rest of it would take care of itself, and thankfully it did."
Grady played 39 minutes for UK, nothing unusual for the SEC's leader in minutes played. But a big chunk of those minutes included him playing point guard on top of his usual floor-spreading action off the ball. By the end of the game, he was clearly gassed, halfway falling over after whistles were blown, but Kentucky needed every last ounce of effort from him. On top of his 25 points, he added three rebounds, three assists, and a steal to his stat line.
"I was yelling at the staff because the staff was saying 'you gotta get Kellan out he's exhausted. You gotta get Kellan out he's exhausted.'" UK head coach John Calipari said after the win. "And then he bangs a 3. You want me to take him out?! You want him out?!"
And when shots like this are falling, who could blame Cal?
But nothing was bigger than his shot right before the half — the one that capped off a 13-0 run to bring Kentucky down from double-digits to up by one with under a minute left ahead of the buzzer.
Grady did everything that was asked of him despite being placed into a less-than-ideal situation. His versatility in the backcourt adds yet another layer to an already thick set of skills for this group. Fans have always thought of Grady as a pure shooter first and foremost, but Calipari lumps him into a different category.
"I think he's the kind of guard we've had here — the Tyrese Maxeys, the Immanuel Quickleys, the Shai (Gilgeous-)Alexanders, Jamal Murrays, Brandon Knights — they're basketball players," Calipari said. "They can play on the ball and off the ball. And what I keep saying, that's where the game is going now."
As good as Grady was, some credit is due to Davion Mintz, who also split some point guard duties throughout the afternoon. While his stats aren't as impressive — seven points, two assists, three steals — he didn't turn the ball over a single time despite his 38 minutes of action while playing solid defense on the other end of the floor.
For those two to fill on such short notice and play at that high a level against a top 25 opponent, is nothing short of spectacular.
"I mean we scored 90 points without our two primary lead guards," Grady added. An impressive accomplishment, indeed.