Kenneth Horsey: Kentucky football knows how to take it to "another level"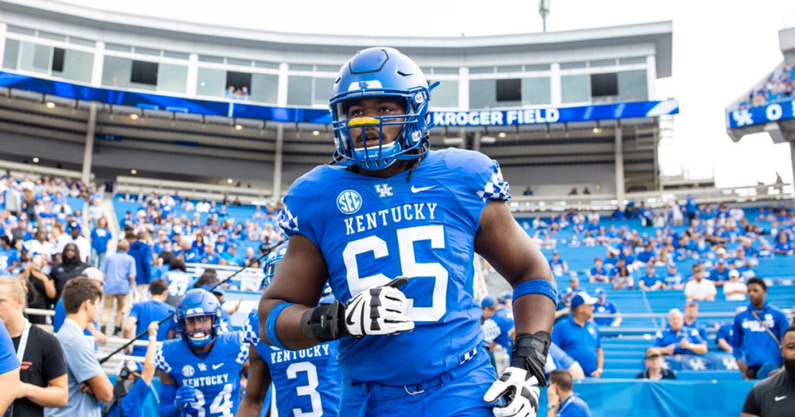 The Kentucky football team enters the 2022 season with lofty expectations. Fresh off a second 10-win season in four years, Kenneth Horsey was on the sidelines for each historic campaign. The Wildcat's appetite is not satisfied.
"I'm so excited for this season. I'm so excited. I feel like we're in a position to where we know what it takes to take this program to another level. We just need to take it day by day, practice by practice and continue to prove it to ourselves everyday," the UK offensive lineman recently shared with KSR.
Mark Stoops has knocked down a bunch of doors during his tenure. One big one remains: Georgia. The last team in the SEC East without a loss to Stoops, they're standing in-between Kentucky and a first ever appearance in the SEC Championship Game. The Wildcats were a win away in 2018. Last year they were 6-0 ahead of a College GameDay appearance in Athens. Vince Marrow shares a sentiment similar to Horsey's.
"In [2018], we were not ready for that game," Marrow said on KSR in May. "But when we played them last year and went down there, I'm telling you, our guys went in and we were not — we really thought we would win that game."
Unlike the last 10-win season, there's plenty of hype left in the Kentucky football tank thanks to a bevy of returning starters, including QB Will Levis. Of course, there are a few exceptions, namely the offensive line. UK must replace two starting tackles and a center. Horsey, the veteran of the group, is not concerned.
"This line does not rebuild. We just reload," he said. "We have continually, continually developed and progressed guys to where they're just the next man up in the situation that was placed before them. Like myself, I didn't start my first two years. (Logan) Stenberg left, I continued to progress and I moved up. I believe the University of Kentucky, Coach Ed, Coach Hill (the strength coaches), they just do a great job developing guys to make sure that there's no drop off because they already know what's needed for us all."
In addition to new personnel on the Big Blue Wall, there's also a new leader. Zach Yenser replaces Eric Wolford after one season. Just because there's a new guy in town, does not mean expectations have changed.
"He's my guy. I love Coach Yenser," Horsey says. "You can tell, just his passion in his coaching, he's just one of those guys you want to play for. He's a great leader, a great teacher and I believe all of the information that he was able to get from the 49ers, it's going to be able to give us the straight rundown of what the NFL needs from us. We can get to an NFL level and ain't nobody going to stop us in the SEC."
Knocking off the defending National Champs will not be easy. But this crew knows the sacrifices it takes to make one more big jump up the SEC ladder. "We're definitely excited to get this thing rolling."
Horsey Hears Rivalry Chatter
Throughout my brief conversation with Horsey, haters became a topic of conversation. During talking season, the takes come fast and furiously. Football players aren't immune from the unintelligible discourse.
"It calms down during the offseason, but during the season I get it all the time. People will tag me in random posts, just random troll posts," Horsey said. "Let's say we play Tennessee one week, we'll get 15 guys tagged in a post saying 'UK sucks' from a random Instagram troll with three followers. It just gives me something to remember and maybe want to play a little better."
I bet you'll never guess which fanbases are the loudest online.
"Louisville, Tennessee and Florida. Those are the big three by far. We could be playing Mississippi State and I'll still get a Louisville troll tagging me in a post. 'We're not even playing y'all. Why are you worried about me? You need to focus on your own record.'"