Kentucky Baseball Squanders Late Lead to Indiana, Fall in Regional 5-3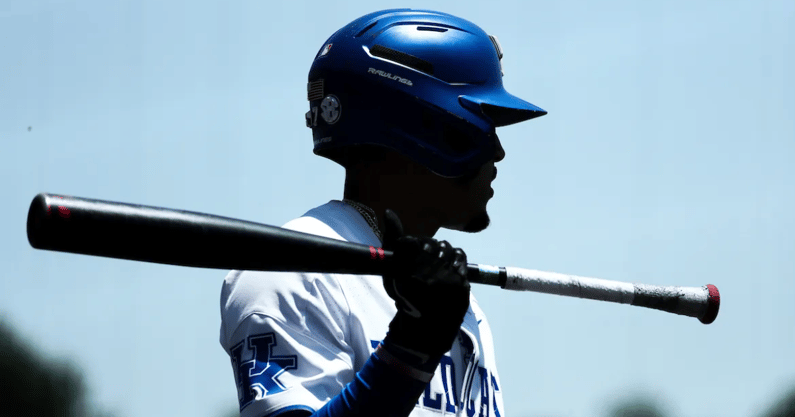 Saturday's second round regional matchup against the Hoosiers was a heartbreaker for Big Blue Nation. After Kentucky took a 3-1 lead in the seventh inning, Indiana scored four unanswered runs to steal a massive game from Kentucky in front of a record crowd of 6,094 fans at Kentucky Proud Park.
Peter Serruto will go down in Indiana sports history for his seventh inning heroics in this one. Serruto belted a go-ahead home run, propelling the Hoosiers one step closer to Omaha. Zack Lee was phenomenal for the 'Cats in this one, but he may go down in Kentucky Baseball history for his allowed home run to the rival Hoosiers.
There is no rest time for Nick Mingione's squad, as the 'Cats will be back in action with their backs against the wall on Sunday. They will face West Virginia Sunday at noon EST, where the loser will go home and the winner will face Indiana Sunday at 6:00 p.m. EST.
Electric Start in Lexington
Indiana scored 12 runs in their Regional opening victory over West Virginia on Friday night, so naturally they'd pick up right where they left off in this one. After a quick 1-2-3 inning for the Bat 'Cats, Second Team All-Big 10 selection Phillip Glasser led things off for the Hoosiers. On the first pitch of the at-bat, Zack Lee hummed a fastball right down the middle. Glasser teed off on the fastball, sending it over the left center field wall to give the Hoosiers an immediate 1-0 lead. Lee responded nicely however by striking out the next three Indiana batters in order. The 'Cats however would respond quickly.
Following Émilien Pitre's inning opening groundout, Hunter Gilliam notched Kentucky's first hit of the afternoon with a double that rolled all the way to the left field wall. Ryan Waldschmidt built on the Wildcat momentum by ripping a single up the middle that scored Gilly from second. Gilliam and Waldschmidt combined to go 0-6 in their win over Ball State on Friday, so this was definitely a welcome sight to see. This one was knotted up at one apiece through two.
Strong Pitching Dominates Middle Innings
Zack Lee and the Hoosier combo of Ryan Kraft and Craig Yoho dominated the middle innings of this one. After both teams scored early in the game, Lee and Kraft/Yoho allowed no runs until the seventh inning. Kraft, who was Indiana's closer for most of the season, lasted four innings while throwing 49 pitches. Kraft allowed just three hits and one run while striking out two batters. Craig Yoho came in for relief in the fifth and showed off his extremely impressive slurve pitch. Yoho struck out three 'Cats in his first frame and finished with four on the afternoon.
After giving up a home run on the opening pitch of the game, Zack Lee had a great showing until he allowed the go-ahead three-run home run in the seventh inning. Lee went seven innings, allowing just four hits and one earned run until the homer. He also struck out nine in what may be one of the final starts of his college career.
'Cats Take Advantage of Critical Error
Just like Kentucky's Friday night win over Ball State, this game was extremely tense heading into the latter innings, as a win puts the winner in the driver's seat for a Super Regional birth. Craig Yoho got his way in his first two innings of work, but the 'Cats finally got to the 24-year-old in the seventh inning. Reuben Church was plunked and Grant Smith reached on an infield single, putting runners on first and second with one out in the inning. Smith reached first after Indiana 2B Tyler Cerny slipped when trying to make the play. Speedster Patrick Herrera pinch-ran for Church on second, putting a speedster in scoring position.
Jackson Gray hit a grounder to Cerny at second, a perfect double play ball. Cerny got a little too excited and sailed the throw to second, allowing Herrera to fly all the way home for the score. The 'Cats scratched another run across thanks to a Devin Burkes sac-fly, giving them a 3-1 lead midway through seven. However, the fighting Hoosiers would respond with a bang.
Serruto Bomb Propels Hoosiers to Regional Victory
Zack Lee remained strong heading into his seventh frame of the afternoon. After forcing an inning opening fly out however, Lee gave up a double to Josh Pyne. Hunter Jessee was then plunked, giving the Hoosiers runners on first and second. After Tyler Cerny flew out to deep right field, Pyne took a risk and tagged up from second, successfully sliding in in time. With two outs in the inning, catcher Peter Serruto walked up to the plate. Serruto, who was 0-1 on the night, worked himself into a full count. With Kentucky Proud Park on its feet, Serruto blasted a three-run home run over the right field wall to completely silence a record crowd of 6,094 in Lexington.
Indiana added an insurance run in the eighth inning thanks to a Darren Williams passed ball, which allowed Devin Taylor to score from third.
Connor Foley took over for Craig Yoho in the seventh inning and finished things out for the Hoosiers. The 'Cats didn't go down without a fight however, as Devin Burkes and Émilien Pitre both came within inches from giving Kentucky a lead with near home runs. Burkes blasted a ball that was caught right at the right field wall and Pitre belted a near home run just inches foul down the left field line. Grant Smith popped out to end this one, and suddenly the Hoosiers are in the driver's seat of the Lexington Regional.
The 'Cats will now have to regroup and face West Virginia in an Elimination Game on Sunday at noon ET. With a loss, Kentucky's season will end. With a win, Kentucky would face Indiana Sunday night at 6:00 p.m. EST. It's now win or go home for the 'Cats. How will they respond to this brutal loss? We'll find out tomorrow.
Discuss This Article
Comments have moved.
Join the conversation and talk about this article and all things Kentucky Sports in the new KSR Message Board.
KSBoard