Kentucky Basketball and the Terrible, Horrible, No Good, Very Bad Day
Saturday, January 20, 2018, did not go as planned. What had the potential to be a special day for the Kentucky basketball program, turned out to be a complete disaster. It was a letdown of epic proportions and Big Blue Nation is an anguished fan base because of it. We should've known it all would've gone wrong as soon as 
College GameDay 
went live from Rupp Arena to start the day. Nothing ever goes right when ESPN's Saturday morning college basketball show comes to town, especially when Florida is the opponent. The Gators came in with a 6-1 record against Kentucky on 
GameDay 
appearances; that record is now 7-1 after yet another heartbreaking defeat. But before we sulk in the immediate impact of the Cats' second straight loss, we must first acknowledge Saturday's other loss, which affects the distant future of the program.
Zion Williamson.
Williamson shocked the world by picking Duke as his college destination. Of the handful of schools he was considering, Duke was the only one Kentucky fans couldn't stomach to see win out. And what makes it worse is no one saw it coming at all. There was very little mention of Duke in the weeks leading up to the decision. Clemson was the heavy favorite; South Carolina the nearby sleeper; North Carolina the late buzz; and Kentucky the long-time contender that still had a shot to land its top target. Duke was the afterthought, yet Duke was the choice when the hat went on Williamson's head during a nationally-televised ceremony on ESPN2, just as UK-Florida tipped off, one channel over.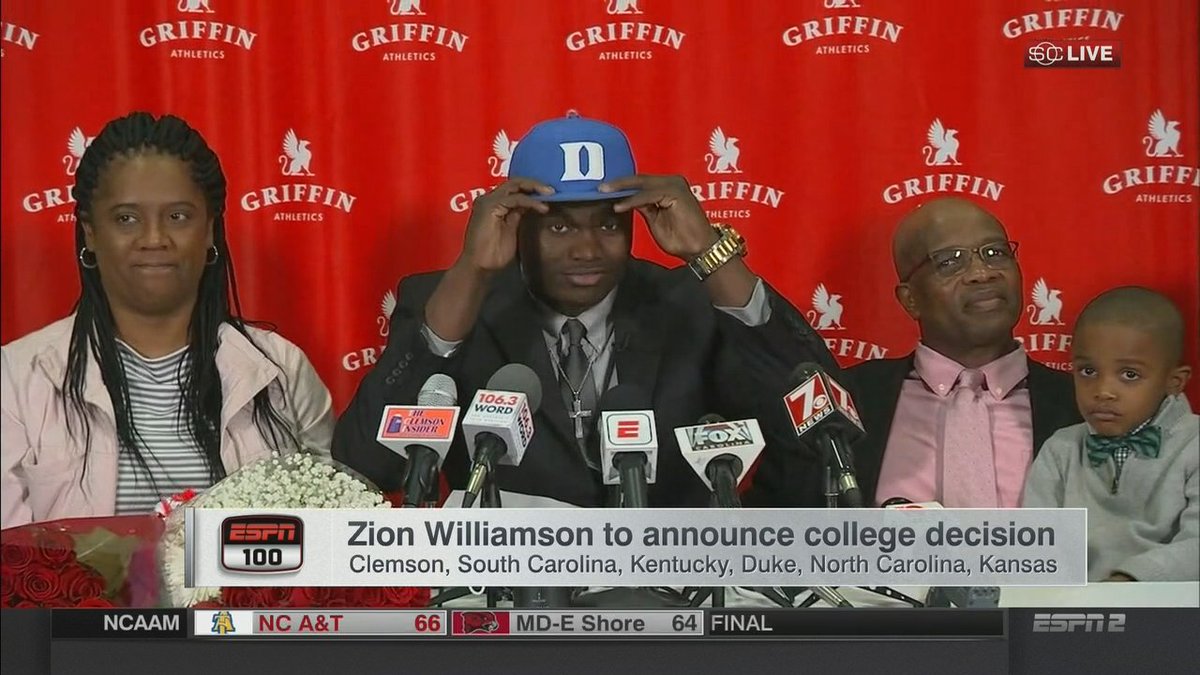 With the addition of Williamson, Mike Krzyzewski now has the top three prospects in the 2018 recruiting class, two of whom are considered legit superstars. Those same two -- Williamson and R.J. Barrett -- were John Calipari's top two targets in the class, and there was a time when Calipari was almost certain he would eventually land both. Instead he landed neither, solidifying his place beneath Coach K on the recruiting mountain. A short few years ago Calipari stood alone on that mountain, but now Duke and Coach K sit at the peak as Cal and Kentucky avalanche downward. As much as it pains us to admit it, Krzyzewski owns Calipari right now -- it's no longer an argument. He is beating Cal at his own game, and you know it's eating Cal up inside. We'll have plenty of time to discuss and wonder how Williamson, Barrett and Cameron Reddish will share a basketball in Durham next year, and if there is any reason to have a 2018-19 college basketball season at all. It's safe to say the Blue Devils will be the clear-cut favorite to start the year. In the meantime, we have Saturday's other loss to deal with.
Florida.
Kentucky has yet another disappointing defeat on its resume, its second in as many games. The 66-64 loss to the Gators ended a streak of 30 home wins in conference play, and a streak of 57 wins against unranked opponents. More importantly, it dropped Kentucky to fourth in the SEC standings with several challenging road games ahead. The SEC regular season crown is now unlikely, unless the Cats can muster up the toughness to steal some of those tough games ahead.
As for the actual game, Kentucky once again squandered a significant lead with a long scoring draught offensively. UK had an eight-point lead in the first half but found itself down by as many as eight in the second half. When UK fought back to take the lead with 5:39 to go, it scored only two more points over the next five minutes, and needed miraculous three-pointers in the final minute to even have a puncher's chance in the end. It's clear this team lacks the go-to scorer who can take the ball and get a bucket to stop the bleeding when the offense goes stagnant. It also lacks the ability to put a team away when things are going well. The talent is there and the roster is finally at full strength, but the last two games were losses when they should've been wins, and now Kentucky will need to play its best basketball on other teams' home turf to earn critical wins. The world didn't end on Saturday, January 20, 2018, but it was a terrible, horrible, no good, very bad day. Zion Willamson gave Duke another painful recruiting victory over Kentucky, and Florida gave Kentucky another painful defeat on the basketball court. And Big Blue Nation is not in a good place because of it.