Kentucky Eliminated from NCAA Tournament 85-79 in Overtime by 15-Seed Saint Peter's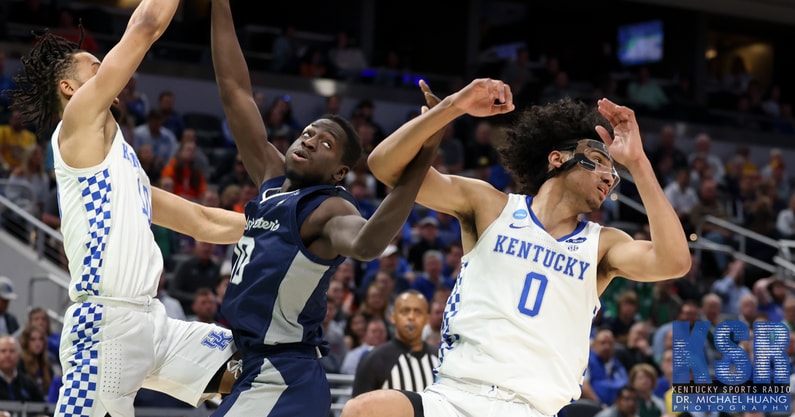 The 2022 Kentucky Wildcats are just tenth No. 2 seed to ever lose to a No. 15 seed. Previously unblemished in the opening round of the NCAA Tournament as the Wildcats' head coach, John Calipari's squad fell to Saint Peter's 85-79 in overtime.
Kentucky took a six-point lead with four minutes remaining in regulation and appeared to be pulling away from the Peacocks. Saint Peter's switched to a zone defense and brought Kentucky's momentum to a screeching halt. Saint Peter's went on a 7-0 run to take the lead on a Doug Edert three-pointer with 1:18 to play.
Kellan Grady missed his first seven shots, but delivered when UK needed it most. Trailing by one, he knocked down a contested three to give the Cats a 71-69 lead with :48 to play. Unfortunately, the rule of 71 failed. Edert delivered again, this time hanging a floater up to tie the game. Kentucky had a chance to win it in regulation, but TyTy Washington's contested jumper clanged off the iron.
Oscar Tshiebwe scored the first four points of overtime for the Cats, but the team went cold from the free throw line, only netting 1-of-6 in the extra period, leaving the door open for Saint Peter's. Edert hit ANOTHER big three to tie the game, then Banks hit a few free throws to retake the lead with 1:45 to play. A late three from Washington was not enough to get Kentucky back into the game.
Kentucky's season ends despite 30 points and 16 rebounds from Oscar Tshiebwe. This is more than a tough pill to swallow. Ian Eagles said it best: "The Peacocks are giant-killers."
First Half Defensive Struggle
The first half was far from pretty. Despite two early fouls for Saint Peter's post players, the Peacocks hung around by drilling 46.9% of their shots, including 5-of-9 three-pointers to tie the game at 37. It was uncharacteristic of KenPom's No. 260 ranked offense, but drilling threes became the norm for UK opponents late in the season.
Kentucky kept the boat afloat at the charity stripe, knocking down 13-of-15 attempts in the opening half. Jacob Toppin injected some energy into the pro-UK crowd at Gainbridge Fieldhouse in Indianapolis. All three of his first half buckets were dunks, including this gem.
Sluggish Second Half Start
Kentucky's defense transformed during the intermission, but they left their offense in the halftime locker room. The Wildcats missed their first six shots of the second half, including two right at the rim. It prevented UK from capitalizing on excellent defense that forced six turnovers in the opening seven minutes of the half. As usual, Oscar Tshiebwe gave the Cats a lift, sparking a 7-2 run, but Kentucky's lead never grew larger than five until the final media timeout.
Kentucky Let Saint Peters Hang Around
Kentucky did nothing to diminish Saint Peters' faith. Each time they appeared to put together a run to put the Peacocks at arm's length, momentum stalled. Defensive stops did not always translate to big offensive buckets. Kellan Grady and TyTy Washington could not knock down open jump shots, combining to go 3-of-19 from the field. While frustration grew on Kentucky's sideline, Saint Peters gained confidence. Their fearlessness came to fruition with one big shot after another down the stretch, never fazed by the moment. Kentucky got tight, collapsed and bid the BBN adieu prematurely. A disappointing ending, this time the Madness got the best of the Wildcats in March.
Kentucky vs. Saint Peter's Box Score