The entire Kentucky Basketball team has received booster shots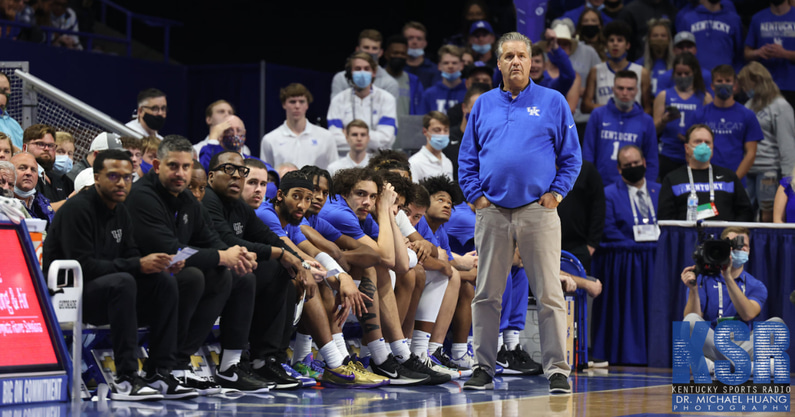 The Kentucky Basketball team is boosted. To start today's press conference, John Calipari told reporters that each of his players received their booster shot as the program attempts to mitigate the spread of COVID-19.
"The kids get to go home for Christmas," Calipari said. "They've all gotten booster shots. Just knowing that it's about being a great teammate. There were many of them that didn't want to do it but they did it for each other and they did it for their families at home."
Kellan Grady said that even though some on the team were hesitant, they got the booster shot to keep each other safe.
"We're looking out for each other at the end of the day, for our health and our safety and those that we can come into contact with. As I mentioned before, it's been evident that COVID is rising again with different variants and whatnot, so I think it was the best move for us to get that booster and do our best to mitigate the spread of the virus."
Lance Ware said the desire to keep playing and avoid cancelations outweighed second thoughts over taking the additional dose.
"Everybody got the booster shot. I feel like the main reason we got the booster shot is just because if we want to have the opportunity to play, we want to be able to play. We don't want COVID or new variants to stop us from playing, so if us getting the booster shot is the most effective way to keep us on schedule and keep us on track to play games, then I feel like that's what we're going to do."
Kentucky has back-up plans in place for potential cancellations
Today's media opportunity took place on Zoom, as will all press conferences for the next few weeks. Calipari said he hopes the program can return to in-person interviews soon, but for now, the staff is doing everything it can to stop the spread. Nearly 40 college basketball programs are currently on pause due to COVID. Obviously, Kentucky's schedule has already been affected as Louisville had to pull out of tomorrow's game due to positive tests. Western Kentucky will fill the spot, but Calipari anticipates more scheduling uncertainty in the coming weeks.
"I'm worried just like I was last year of mitigating and having every opportunity for our team to play basketball games. I have enough friends that if we have games canceled, that we can fill them in with other games and against good opponents. This was such a quick turn. We ditched our call-in team Saturday night so we did, after the [North Carolina] game, start calling teams but you just didn't have the time to get something together. But, there are a lot of teams that want to play us."
Calipari admitted he was forced to put home-and-home series vs. some of the teams he called on the table, which he doesn't like to do. Unfortunately, Kentucky's 29-point win over North Carolina made his pitch a little less appealing to some.
"I told the guys, 'You screwed this up.' They go, 'What?' 'You screwed this up. you beat them so good no one will play us now. They think that's who we are. I sent them tape of Notre Dame! They didn't want to see it.'"
"Nobody wants a repeat of the last two years"
Different leagues have different COVID protocols. Several conferences, including the SEC, have forfeit policies in place so that if a team has to pull out of a game due to positive tests — even if they're 100% vaccinated — they have to take a loss. As COVID cancellations mount, Calipari urged the powers that be to reconsider their policies heading into the conference schedule.
"If you have eight scholarship players and a coach, you must play the game," Calipari said. "There's got to be that. It's not going to be perfect. I like the fact that we've had our vaccines, 100%. We've had the booster. And what it means to me is, if someone gets it, it's not gonna — I've got people's children under my care and that's my first thing I worry about. And I did it last year. Last year was about as much mental health, to make sure that we didn't have any issues there either."
Ware said he would even be willing to return to last year's protocols of players staying in their room during their free time if it meant continuing to play games.
"Everybody wants to play. Nobody wants to have games canceled and nobody wants a repeat of the last two years," Ware said. "Even if we have to start having COVID protocols and stuff like that, as long as we get a chance to play, then that's what we care about."