WATCH: Kentucky Defense is "gonna bring it" to South Carolina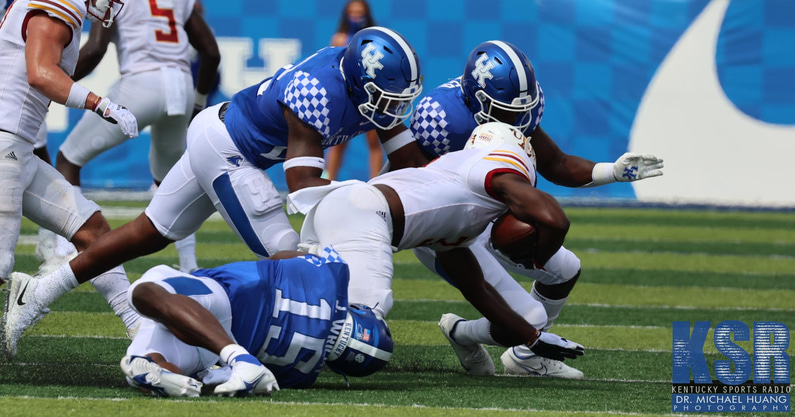 The Kentucky defense has produced a mixed bag of results. They've been a top 20 defense through three weeks, yet have struggled to get off the field. Fed up after the Chattanooga performance, they're ready for "bring it" this Saturday at South Carolina
Start Fast
Kentucky opponents have scored on the first drive in two of the first three games. Last week against Chattanooga they quickly flipped a switch and did not allow another first down for the rest of the first half. Still, it's unacceptable for senior safety Yusuf Corker.
"We just have to start faster. That's one thing I would like for the whole defense, including myself as a leader, getting everybody out there ready on every first drive," Corker said. "We just have to come out with a little more urgency and a little bit more fire."
Kentucky Defense: Bring It
"They've got offensive skill all over the place," defensive coordinator Brad White described South Carolina's offense. "They've got a lot of weapons to deal with so we've gotta be mindful and we understand the challenge we're up against. They can run the ball, they can push the ball down the field and the receivers can go get it."
Luke Doty will start in his first game of the season after recovering from a foot injury. The returning quarterback will not take away from what the Gamecocks' offense does best: run the football. They key to winning the football game is stopping the run.
"They're physical; a lot of run, a lot of powering the ball. They have some great backs, as a matter of fact," said J.J. Weaver. "But with us, we just gotta be dominant up front, be more physical than them. If we stuff the run game, we win the game. That's all we need to do. Stop the run, let them take shots and we're good."
Weaver added: "South Carolina, they're gonna bring it. We're gonna bring it too."