Kentucky Depth Chart Week 2: Big Changes without Rodriguez and Wright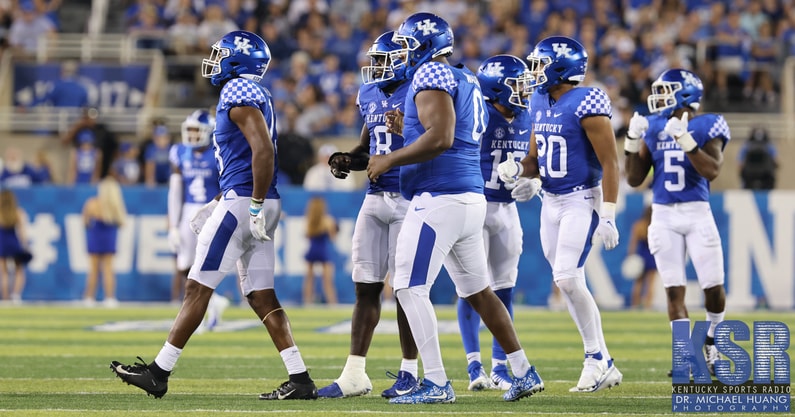 The Kentucky football team kicked off the rust in a week one 37-13 win over Miami (OH). The Wildcats must quickly clean up their mistakes ahead of a week 2 road trip to Florida. Before beginning the work week on Labor Day, Mark Stoops has shaken up the Kentucky Depth Chart.
Chris Rodriguez and Jordan Wright remain absent from the two-deep. You also will not see Ramon Jefferson, the running back transfer who was injured against Miami (OH). After allowing four sacks, team captain Kenneth Horsey has been kicked outside to left tackle on the Kentucky Depth Chart. Horsey is one of four offensive lineman that have slightly moved around from week one to week two, most notably, David Wohlabaugh was relegated from starting left tackle to reserve right tackle.
OFFENSE
Quarterback
Running Back
Wide Receiver (X)
Wide Receiver (F)
Wide Receiver (Z)
Tight End
Tight End
Left Tackle
Left Guard
Center
Right Guard
Right Tackle
DEFENSE
Jack Linebacker
Defensive End
Nose Guard
Defensive Tackle
Middle Linebacker
Weakside Linebacker
Nickel/Sam Linebacker
Cornerback
Cornerback
Strong Safety
Free Safety
SPECIALISTS
Kicker
Punter
Colin Goodfellow
Wilson Berry
Punt Returner
Tayvion Robinson
Barion Brown
Kick Returner
Barion Brown
Long Snapper
Cade Degraw
Clay Perry
Holder
Chance Poore
Colin Goodfellow