Give us Tom Leach and Goose Givens audio on every streaming game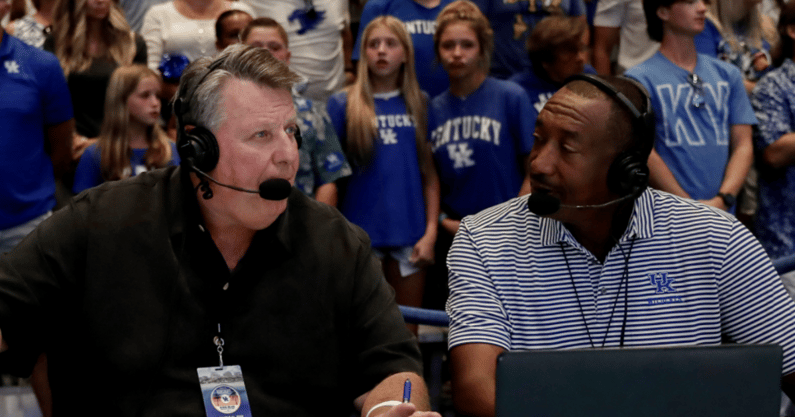 Kentucky beat the Kentucky State Thorobreds 111-53 tonight in Rupp Arena, a feel-good romp to wrap up the preseason. After the Cats' lackluster showing in their first exhibition win vs. Missouri Western State, it was good to see them get back on track tonight, shooting 50% from the floor (38-76) and 46.2% (12-26) from three-point, all while holding the Thorobreds to 28.2% shooting. Topping the century mark without Oscar Tshiebwe, Sahvir Wheeler, and Daimion Collins was impressive, no matter the competition.
An unexpected bonus was ESPN using Tom Leach and Goose Givens' radio call on the broadcast, which streamed only on SEC Network+ and ESPN+. We've given the ESPN app a lot of crap over the years, so it's only fair that we praise the Worldwide Leader when the opportunity arises. I know I'm not alone in the Big Blue Nation when I say That. Was. Awesome.
If you weren't able to watch the game live, instead of sending a broadcasting crew to Lexington, ESPN simply synced Tom and Goose's radio feed with the video. Turning down the TV and turning up the radio is a longstanding tradition for many in the BBN, but has gotten trickier in recent years due to the delay between the broadcasts. Tonight, it was perfectly matched, giving TV-only viewers the treat of hearing Leach and Goose.
Further, there were no commercials. Instead, viewers got to see the breaks at Rupp Arena, which truly pulled you into the experience, from the cheerleaders to the 1990s/2000s hip-hop playlist and crowd shots. We even got to see the team intros and intro video. All I needed to feel like I was there was a folding chair on press row and some ice cream. I know I'm not alone when I say I'd pay for that option as part of a subscription moving forward. It was the BBN equivalent of being wrapped in a big blue blanket.
A Tom/Goose broadcast option for every game may not be realistic. Plus, we'd miss our best friend Tom Hart. But, what about the streaming-only games? Kentucky has two SEC Network+/ESPN+ games on the schedule right now: North Florida on Nov. 23 and Bellarmine on Nov. 29. A UK spokesperson tells us broadcasting plans for those games have not been finalized, but if ESPN hears how much the BBN enjoyed having Tom and Goose on tonight's game, perhaps an encore is in order? Can't hurt to shoot them a message on Twitter @SECNetwork @ESPN.