Kentucky FB offers stock-rising '23 ATH Arion Carter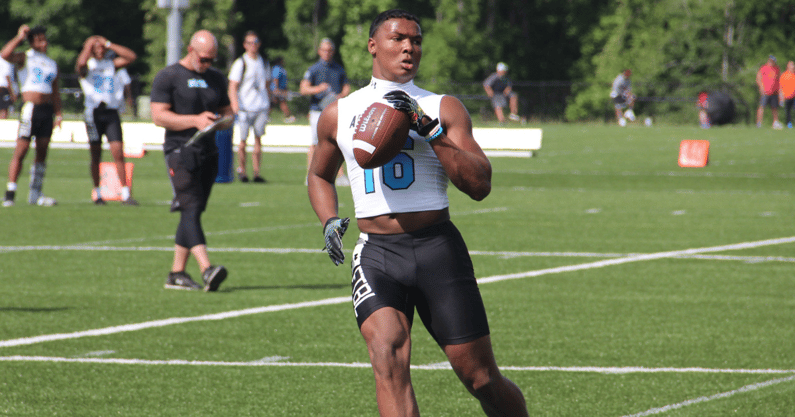 In just a matter of a few days, life has changed quite dramatically for Arion Carter.
Committed to the Memphis Tigers since July, Carter has blown up in the recruiting world with offers from powerhouse programs such as Alabama (which he visited over the weekend) and Southern California falling in his lap since Saturday. On Monday, Kentucky defensive coordinator Brad White and wide receivers coach Scott Woodward followed suit, reaching out to Carter with a scholarship opportunity from the Wildcats.
A class of 2023 ATH out of Smyrna High School (TN), Carter has gone from a seemingly unknown prospect to a potential star in a very short time. 247Sports still has him as unranked while Rivals has him listed as a two-star, but he's now considered a four-star prospect by On3 as of Monday. Carter splits time as both a linebacker and running back, although most schools are recruiting him for the former.
Along with Kentucky, Alabama, and USC, Carter has also earned offers from the likes of Tennessee and Auburn since Friday. Additionally, Vanderbilt and Wake Forest offered him shortly after he committed to Memphis on July 20. Carter remains locked in with the Tigers, but a massive jolt in his recruiting popularity could potentially change that.
It's also probably no coincidence that Carter's recruitment blew up with the offers from Alabama and USC the same weekend he dropped highlights on Hudl of his 2022 season so far. His first Power 5 offer (Wake Forest) came in just a few days after his senior season debut. Carter has hauled in all eight of his Power 5 offers in less than a month's time.
Through three games for Smyrna this season, Carter — who is roughly 6-foot-1, 210 pounds — has recorded 29 total tackles (three of them sacks), two pass breakups, and two forced fumbles on defense. On the offensive side, he's rushed for 285 yards and eight touchdowns.