Kentucky Football Countdown: No. 29 La'Vell Wright Prepares for Breakout Year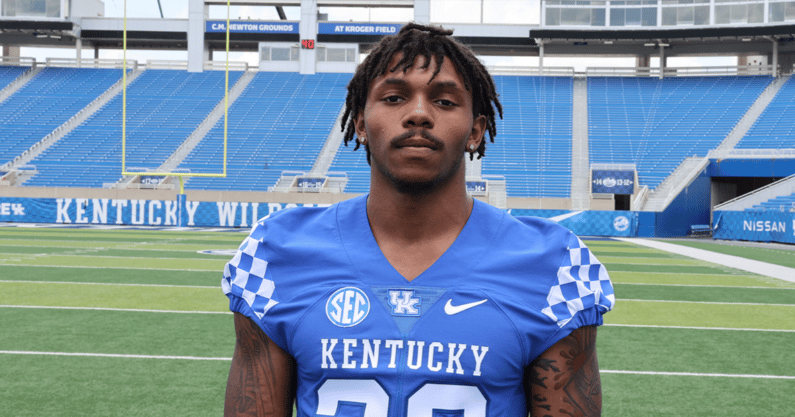 The Kentucky football season is now less than 30 days away from kicking off against Miami, Oh. If you haven't heard about No. 29 La'Vell Wright, now is a good time to get better acquainted with the talented running back Adam Luckett believes will be the MVP of UK's fall camp.
About La'Vell Wright
A three-star signee from North Hardin in the class of 2021, La'Vell Wright retained his redshirt by playing in four games last fall for the Wildcats. Against ULM, New Mexico State, Louisville and Iowa he totaled nine carries for 118 yards and a 41-yard touchdown in the Governor's Cup. The 6-foot, 217-pound rusher also had a 52-yard carry against NMSU.
A Scheme Fit for Rich Scangarello
Offensive continuity sold Mark Stoops on Rich Scangarello. Even though there are similarities between the McVay and Shanahan offenses, the differences in the two will benefit Wright. The 49ers put a much greater emphasis on running outside zone with tight ends and fullbacks. Even though he hasn't ran behind a fullback since little league, La'Vell Wright is comfortable stretching out the defense in the wide zone.
"I know in that wide zone, sometimes you hit it straight downhill," Wright told KSR. "I'm really good at the one-cut and getting downhill. That's one of those things I can hold myself high on."
A physical rusher that can fight for extra yards, he also is confident when his number is called to run routes. After one spring practice, Wright can already tell the running backs will be asked to do more in the passing game.
"I've definitely noticed that we've been available in the pass game a lot more this season. Being on key with my routes, the timing of the routes and the distance of my routes is going to be really important this year for me." He added, "I feel like I bring a lot. I know we have a lot of break-out routes, quick flat routes. Once I get the ball into the outfield and one-on-one with the corner, it's my bread and butter."
Kentucky's North Hardin Connection
Wright is one of three former North Hardin Trojans that is expected to play a significant role for Kentucky this fall. Octavious Oxendine will start for UK's defensive line, while Jordan Lovett enters the rotation in the secondary.
"We went out every single day like it wasn't just practice. We were working towards something. In high school we always played with a chip on our back, trying to become the state champions. We worked every single day to be the best we could be and that's what got us here." He added, "We got some dogs over there."
After dealing with some health issues in 2021, Wright focused on his flexibility in the training room while packing on a few pounds of muscle. He hit his early markers by gaining 10 pounds. Now La'Vell Wright is ready to show the BBN that he can be a difference-maker for the Wildcats.