5 Kentucky Football Fall Camp Revelations from Rich Scangarello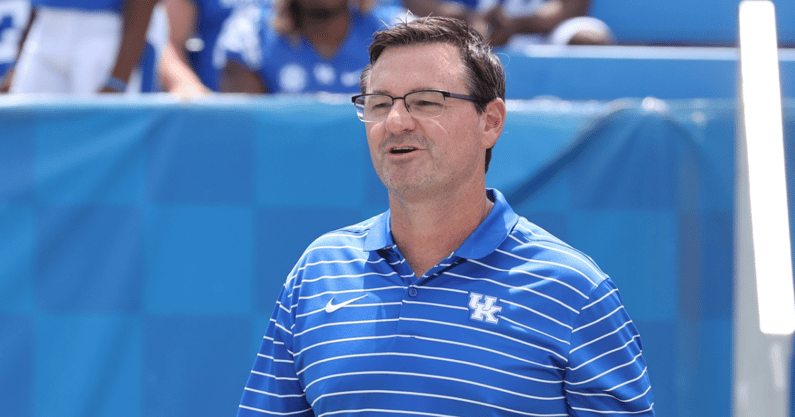 Kentucky offensive coordinator Rich Scangarello spoke following Tuesday's edition of Kentucky Football Fall Camp. The final full week of the preseason before the Wildcats start class, it's officially the dog days of summer. The grind is causing some heads to spin, but players are pushing through. Coach Rich is typically measured in his updates, but he did provide a few noteworthy revelations Tuesday afternoon.
The First Team Offense Needs One Good Scrimmage
"We were down a few guys, but I thought we were pretty productive," is how Rich Scangarello described Kentucky's first preseason scrimmage. The second team scored on each drive and the ones finished the day with a bang. Problems surfaced when the Wildcats got into scoring territory.
Long term, Scangarello is not concerned. Kentucky has been throwing stuff against the wall to see what sticks, playing players at multiple positions in a variety of places. Now that camp is nearing a conclusion, this Saturday Coach Rich wants to see how Will Levis operates with the guys he will primarily be playing with this fall, "rather than rolling in 20 different dudes."
Scangarello Shouts Out a Few Pass-Catchers
Even though the defense seemingly stole the show over the weekend, Rich Scangarello was pleased to see Chris Lewis' progress. Physicality used to be his kryptonite. On Saturday all three of his receptions were hard fought, contested catches in tight coverage.
Scangarello was also happy to lump some praise on the tight ends. A versatile group, he estimates they caught 15 passes on Saturday. Sources tell KSR Josh Kattus and Jordan Dingle hauled in a majority of those receptions. Elsewhere, Kentucky's offensive coordinator is pretty sure he's got a future NFL player in Barion Brown. Of course the freshman has a long way to go, but he's learning the little things now to be able to succeed on Sundays.
There's No RB2
If Chris Rodriguez can't go, who is the first to step in? Rich Scangarello does not believe he needs to pick on particular running back.
"Honestly I think they're all kind of the twos, as crazy as that's going to sound. And that's not me trying to be diplomatic. It's just that I feel like they all have a little different style to them and they all can play a role."
There's No QB2
Kaiya Sheron and Deuce Hogan are currently battling to see who will have their number called if an injury takes out Levis. Kentucky's offensive coordinator has seen the competition go back and forth. Each player has plenty of promise, but he does not feel compelled to make a definitive decision on QB2 when the season starts.
"We gotta let 'em compete every week," said Scangarello. "In the heat of the moment there will always be a two that knows he's ready to go, but I also believe that if it was something that those guys had to play for a long duration, I think it's probably unsettled. It will get figured out as we go."
Rich Scangarello: Big Will Levis Fan
After spending 25 years in various coaching ranks, Rich Scangarello is having the time of his life at Kentucky, in large part thanks to Will Levis.
"We've had so many pro scouts come through and I know a lot of guys in the league, to talk to them, they all want to know about Will. I will say this again, I don't know that I've had more fun coaching than I've had the last couple months that I can remember being here. This environment, the players, the whole setup the coaches created and I'm really, really, really enjoying coaching Will. He's going to have the chance to do something pretty cool this year."