Kentucky football moves up to No. 8 in Week 5 Coaches Poll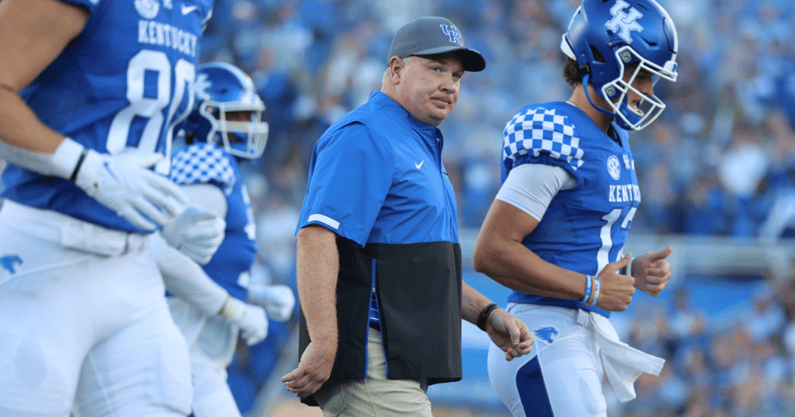 The 'Cats keep on moving up.
Coming off a 31-23 win over Northern Illinois on Saturday, Kentucky was bumped up one spot in the Week 5 Coaches Poll on Sunday to No. 8 in the country. With previously No. 6 ranked Oklahoma losing to Kansas State 41-34 over the weekend, it allowed the 'Cats to jump a spot. The top five did not change from Week 4.
Earlier on Sunday, ESPN updated its Week 4 Power Rankings where Kentucky also made a one-spot move from No. 7 to No. 6. But looking at ESPN's updated Football Power Index (FPI) numbers, Kentucky once again took a slide, falling four spots to No. 30.
The Southeastern Conference features seven programs among the top 25, including five in the top 11. Georgia and Alabama hold down the top two spots, respectively, with Kentucky coming in at No. 8, Tennessee at No. 9, and Ole Miss at No. 11. Texas A&M at No. 17 and Arkansas at No. 19 make up the rest of the SEC in the top 25. Florida was knocked out of the poll after losing 38-33 to Tennessee on Saturday.
With Oklahoma losing, Kentucky could be in line for a one-spot jump in the AP Poll once that comes out on Sunday afternoon. The 'Cats are currently No. 8 in the AP Poll — a jump to No. 7 would be the program's highest since 1977.
Check out the full Week 5 Coaches Poll results below.
AFCA Week 5 Coaches Poll
Georgia
Alabama
Ohio State
Michigan
Clemson
Southern California (+1)
Oklahoma State (+1)
Kentucky (+1)
Tennessee (+3)
NC State (+1)
Ole Miss (+2)
Penn State (+3)
Utah (+1)
Baylor (+3)
Oregon (+3)
Oklahoma (-10)
Texas A&M (+3)
Washington (+6)
Arkansas (-9)
Brigham Young (+3)
Wake Forest (-5)
Florida State (+5)
Minnesota (+9)
Pittsburgh (+2)
Syracuse (+7)
Schools Dropped Out
No. 19 Texas; No. 21 Michigan State; No. 22 Florida; No. 25 Miami.
Others Receiving Votes
Cincinnati 63; Kansas 59; Florida 49; Texas Tech 36; Kansas State 30; Texas 25; Texas Christian 20; Michigan State 13; James Madison 11; Mississippi State 10; Air Force 8; Oregon State 7; UCLA 6; Washington State 4; Louisiana State 4; Notre Dame 3; Iowa State 3; Maryland 2; Coastal Carolina 1.