Kentucky football outside of AP Poll Top 25 following Missouri win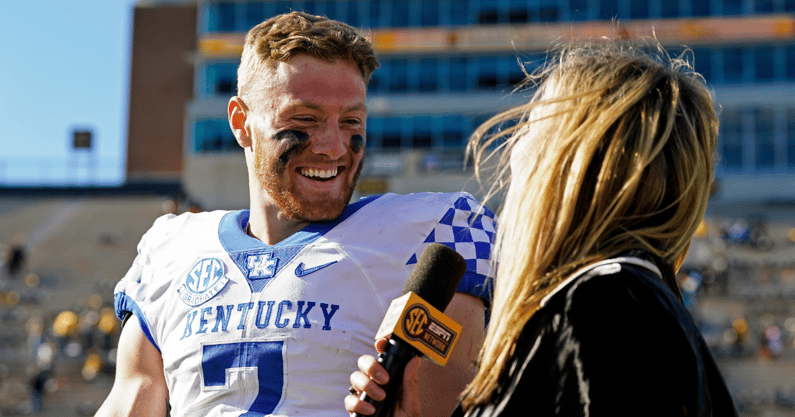 Kentucky football's most recent victory isn't doing much to influence the voters.
After taking down the Missouri Tigers 21-17 on the road Saturday afternoon, the Wildcats remain just outside the latest Associated Press poll. The AP updated its Week 11 national rankings on Sunday afternoon where Kentucky came in receiving the second-most votes with 61. UK was also receiving the second-most votes in the Week 10 poll after getting smashed 44-6 by Tennessee last weekend.
The Week 11 Coaches Poll, which came out earlier on Sunday, kept the 'Cats at No. 24 in the country.
The top half of the latest AP Top 25 is dominated by SEC schools. Georgia continues to hold down the No. 1 spot after a 27-13 spanking of Tennessee, which fell three spots to No. 5 overall. LSU moved up eight spots to No. 8 after taking down Alabama, which dipped four spots to No. 10. Rounding out the ranked SEC programs is Ole Miss at No. 11.
Kentucky is one of three SEC schools receiving votes, joining Mississippi State (8) and South Carolina (6). Louisville is also receiving three votes.
According to ESPN's updated Football Power Index, Kentucky held firm at No. 40. The 'Cats have hit the six-game win mark, making them bowl eligible for the seventh consecutive season, and have a 3.9 percent chance to win out the rest of the season, per the FPI. The FPI also has UK's expected win-loss total averaging out at 7.5-4.5. Additionally, ESPN now has Kentucky ranked No. 25 in its updated Power Rankings.
Check out the entire Week 11 AP Poll below.
AP Poll Top 25: Week 11
Georgia
Ohio State
Michigan (+1)
TCU (+3)
Tennessee (-3)
Oregon (+2)
LSU (+8)
Southern California (+1)
UCLA (+1)
Alabama (-4)
Ole Miss
Clemson (-7)
Utah (-1)
Penn State (+2)
North Carolina (+2)
Tulane (+3)
NC State (+4)
Texas
Liberty (+4)
Notre Dame
Illinois (-7)
Central Florida (+3)
Kansas State (-10)
Washington
Florida State
Others Receiving Votes
Cincinnati 74; Kentucky 61; Coastal Carolina 46; Wake Forest 34; Oklahoma State 21; Baylor 19; Kansas 10; Mississippi State 8; South Carolina 6; Troy 5; UTSA 5; Louisville 3; Oregon State 3; San Jose State 1