Kentucky Football post-National Signing Day recruiting notes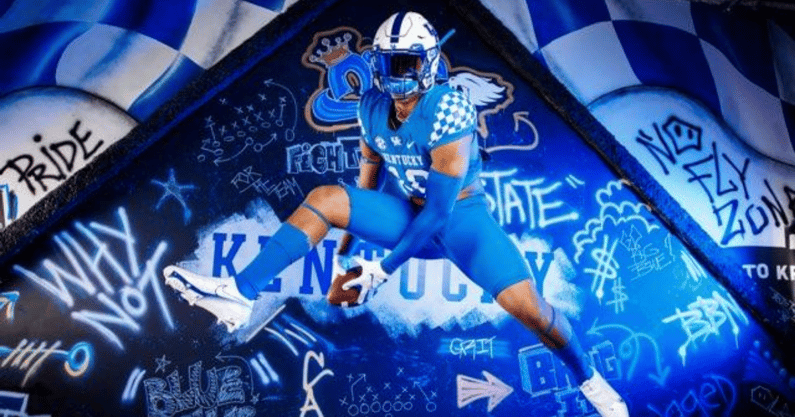 Kentucky's 2022 football recruiting class is officially complete. Of the 24 newcomers added to the program by Mark Stoops' staff, 19 come from the high school ranks, giving UK the No. 13 recruiting class in America according to the On3 Consensus, the highest finish in school history.
Wednesday marked the second National Signing Day of the recruiting cycle, which wasn't nearly as eventful as the first one back in December, but it still resulted in some big-time moves. Let's dive right into everything that went down.
Noah Matthews, Javon Baker sign with UK
The biggest news of National Signing Day was the addition of two important recruits who put ink to paper and made their commitments official. We'll start with 6-foot-5, 250-pound EDGE Noah Matthews, an under-the-radar prospect out of Delaware considered the second-best recruit from that state behind another UK commit, Tomiwa Durojaiye.
Matthews wound up choosing Kentucky over Illinois, with each school coming in late to the game in his recruitment. Once overlooked by Power 5 programs, Matthews initially committed to FCS Weber State in southern Utah. But thanks to an exceptional senior season, he made a burst onto the recruiting scene and now has an opportunity to develop in the SEC at Kentucky.
While you're here, make sure to check out Adam Luckett's Film Room episode on Matthews. Nick Roush has more on Matthews' commitment right here.
Moving onto Javon Baker, the Alabama transfer is a monster pickup for UK's offense and one expected to make an immediate impact for Liam Coen in 2022. Baker spent two seasons with the Crimson Tide before coming to Lexington, playing in 21 total games for 'Bama as a former 4-star recruit and top 250 prospect.
"We are very excited to welcome Javon to the Big Blue Nation," UK head coach Mark Stoops said in UK's press release. "He will be a great addition to an already competitive wide receiver room because of his experience, work ethic and athleticism. He's been in Alabama's wide receiver room with some very good talent and he has learned how to practice and work at this level."
UK adds 2 new PWOs
A pair of preferred walk-on commits snuck under the radar and chose Kentucky over the last couple of days. ATH Sean O'Horo committed to UK on Tuesday while ATH Brady Pierce went with the 'Cats earlier on Wednesday. Both are members of the class of 2022, with Pierce being teammates with fellow 2022 commits Keaten and Destin Wade at Summit High School.
Sean O'Horo
O'Horo is a 6-foot, 185-pounder out of Boardman High School (OH) who has split time at running back, cornerback, outside linebacker, and safety. He rushed for 967 yards and scored seven touchdowns in nine games for Boardman as a senior while tacking on 51 tackles on defense, seven of which were for a loss.
Brady Pierce
Pierce is a 6-foot, 180-pounder out of Summit High School (TN) who has split time at slot wide receiver and free safety, playing alongside the Wade Twins. He was part of Summit's state championship team in 2021 and was clocked at running a 4.5-second 40-yard dash.
Jalen Farmer spurns Wolford for Florida
When Kentucky was recruiting Jalen Farmer, a 6-foot-4, 300-pound three-star interior offensive lineman from Covington, GA, it was former offensive line coach Eric Wolford leading the charge. But unbeknownst to the Wildcat program, Wolford accepted a job working in the same position with Alabama over the weekend, where he immediately began recruiting Farmer to the Crimson Tide.
Turns out those seemingly devious efforts didn't pan out for Wolford. Farmer, who has long been committed to Florida but was considering a flip, wound up sticking the Gators on Wednesday and signing his NLI. He nearly flipped to Kentucky back on December's National Signing Day, but ultimately decided to wait to see how Florida's head coaching transition worked itself out.
R. Mason Thomas flips to Oklahoma
Another prospect that was believed to be a potential flip to Kentucky back in December also ultimately went welsewhere. R. Mason Thomas, a 6-foot-2, 215-pound four-star EDGE out of Fort Lauderdale, FL, flipped from Iowa State to Oklahoma on Wednesday.
A top-300 prospect in the class of 2022, UK targeted Thomas and was able to get him on campus for an official visit in December. However, Thomas decided to wait until the second signing day, and the 'Cats lost ground.
Oklahoma issued an offer to Thomas on Dec. 10 and followed that up with an official visit on Jan. 21. Oklahoma's new head coach, Brent Venables, made the trip to South Florida to visit the Cardinal Gibbons High School product on Jan. 25 as the Sooners were able to hold off a late push from Miami and new head coach Mario Cristobal.
| | | | |
| --- | --- | --- | --- |
| PLAYER | POSITION | HOMETOWN | RANKING |
| Kiyaunta Goodwin | OT | Louisville, KY | #51 |
| Dane Key | WR | Lexington, KY | #259 |
| Grant Bingham | IOL | Paintsville, KY | #25 IOL |
| Andre Stewart | CB | Kennesaw, GA | #51 CB |
| Tomiwa Durojaiye | DL | Middletown, DE | #74 DL |
| Elijah Reed | CB | Louisville, KY | #77 CB |
| Barion Brown | WR | Nashville, TN | #88 |
| Tyreese Fearbry | EDGE | Pittsburgh, PA | #178 |
| Keaten Wade | EDGE | Spring Hill, TN | #217 |
| Alex Afari | DB | West Chester, OH | #244 |
| Deone Walker | DT | Detroit, MI | #266 |
| Jordan Anthony | WR | Tylertown, MS | #326 |
| Destin Wade | ATH | Spring Hill, TN | #16 ATH |
| Ja'Kobi Albert | ATH | Fairfield, AL | #18 ATH |
| Nikolas Hall | OT | Austin, TX | #25 OT |
| Quentel Jones | DL | Fort Valley, GA | #70 DL |
| Josh Kattus | TE | Cincinnati, OH | #72 TE |
| Brandon White | WR | Cincinnati | #180 WR |
| Jackson Smith | K | Danville, KY | #12 K |
| Noah Matthews | EDGE | Bridgeville, DE | 3-Star |
| Darrion Henry-Young | DL | Cincinnati, OH | #126 |
| Javon Baker | WR | Powder Springs, GA | #204 |
| Deuce Hogan | QB | Grapevine, TX | #30 QB |
| Tayvion Robinson | WR | Virginia Beach, VA | #67 WR |
| Tashawn Manning | IOL | Apopka, FL | #63 IOL |