Kentucky Football Recruiting Predictions for 3 Talented Targets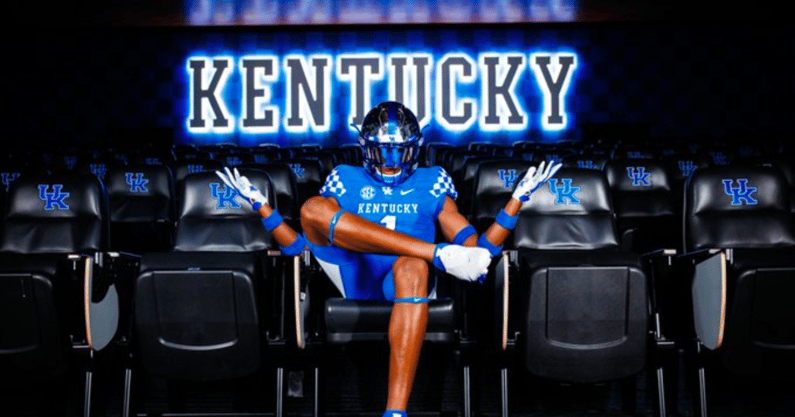 Decision dates are looming for a pair of prized Kentucky football recruits. There is some late movement that could be promising for the Wildcats, giving KSR a clearer idea of who could join the Big Blue Nation. Let's dive into the On3 Recruiting Prediction Machine.
Our weekly recruiting update presented by our friend Andy Luedecke at MyPerfectFranchise. Andy is a huge college sports fan and franchise veteran, having owned multiple franchises and businesses. Using his expertise, he helps others find their American Dream through a very thorough consultation and evaluation process.
---
Naquil Betrand
Kentucky was in excellent shape entering the homestretch of Betrand's recruitment. Then Texas A&M threw a wrench into Zach Yenser's plans. Instead of announcing his decision last Saturday, Naquil Betrand took an unofficial visit to College Station. Now the Aggies have all of the momentum for the offensive tackle from Philadelphia. It's unclear where the Cats could turn to next in its search for an offensive tackle if Betrand commits to A&M on Saturday.
Prediction: Texas A&M
Jaremiah Anglin
Jaremiah Anglin is ranked as the No. 230 player in America in the On300. Kentucky hosted the 6-foot safety from Lake Wales, Fl. for an unofficial visit in June. That was a positive, but Florida State has long been considered the frontrunner for the Sunshine State star. Set to announce his commitment on Saturday, the Seminoles might not be a lock. Similar to Avery Stuart, UK could pull off a surprise to bring Anglin to Lexington.
Prediction: Toss Up
Kenton Kirkland
Like Anglin, Kenton Kirkland is a four-star safety from the state of Florida. Kentucky did not secure an official visit, but Kirkland did tour UK's campus last weekend. Florida State has been a long-time favorite in the On3 Recruiting Prediction Machine, but now the Cats have some momentum. In the last 24 hours a pair of Florida State insiders have submitted Crystal Ball picks to Kentucky. Even though a decision is not imminent, the Wildcats appear to be in a great spot for the talented defensive back.
Prediction: Kentucky