Kentucky Football recruits coming to Lexington for LSU game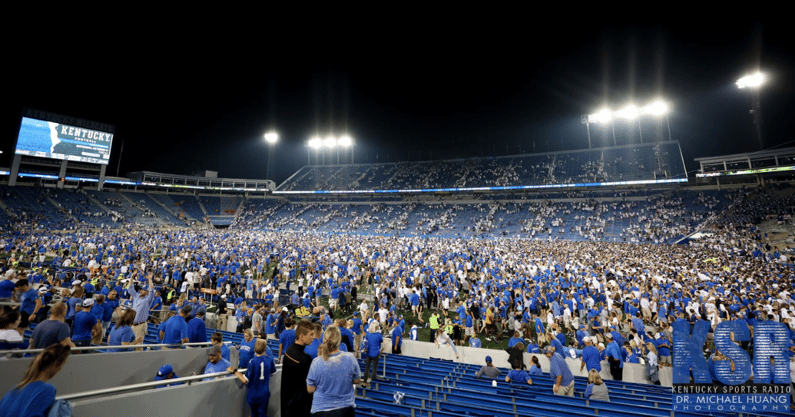 Last weekend was one of the biggest moments for the future of Kentucky Football recruiting. Beating a top-10 Florida team at home for the first time in 35 years was about as perfect of a scenario as the UK coaching staff could have drawn up. It felt like every single recruit in attendance had something positive to say about the experience. It might have even led to a commitment this Friday.
But it's a brand new week and a brand new opponent coming to Lexington this Saturday. The LSU Tigers (3-2) will head to town as underdogs for the first time in who knows how long. The SEC Network will broadcast the event live from Kroger Field at 7:30 p.m. EST. The possibility of a 6-0 start for UK and a matchup against No. 2 Georgia the week after is alive and well in the minds of the Big Blue Nation.
This weekend's list of visitors isn't quite as expansive as what came to Kroger Field several days ago, but there are still plenty of important names making the trip.
Let's see who will be in Lexington for this weekend's primetime showdown against the Tigers. All recruits mentioned below have either confirmed with KSR that they will be in attendance or have posted as such on social media.
*Editor's note: this article will be continuously updated with new visitors until Kentucky's game against LSU on Saturday.*
Class of 2022 recruits
COMMITTED
Treyveon Longmire: 6-2, 170-pound ATH | 4-star (Corbin, KY)
After having so much fun watching Kentucky upset Florida last weekend, Wildcat commit Treyveon Longmire will be back in the building this weekend. He's been committed to UK since March and remains a hard lock for the 'Cats. The Corbin High School (6-0) star pass-cather has hauled in 16 receptions for a team-high 342 yards and five touchdowns.
Jackson Smith: 5-11, 180-pound K/P | 5-star (Danville, KY)
Brandon White: 5-9, 165-pound WR | 3-star (Cincinnati, OH)
UNCOMMITTED
Aamil Wagner: 6-6, 265-pound OT | 4-star (Dayton, OH)
Arguably the most important visitor on this list, Aamil Wagner is one of the top 150 recruits in his class. He'd be a potentially massive additional to the future of the Big Blue Wall if he winds up picking Kentucky. He's expected to be in Lexington this weekend to hopefully watch another big win for the 'Cats. Maryland, Notre Dame, Ohio State, and Penn State are heavily invlolved, but this won't be the first time he's be on UK's campus this season, either.
Daniel Martin: 6-2, 195-pound LB | 4-star (Marietta, GA)
Class of 2023 recruits
COMMITTED
Ty Bryant: 6-0, 175-pound DB | 3-star (Lexington, KY)
A regular at Kroger Field this fall, Ty Bryant has been to every Kentucky home game this season and that streak will continue against LSU. The lone commit from the class of 2023 for UK has been locked in ever since he made his decision in August. He'll have the stadium layout memorized by November.
UNCOMMITTED
Dakota Patterson: 6-1, 195-pound WR | 4-star (Corbin, KY)
Christopher Vizzina: 6-4, 200-pound QB | 4-star (Birmingham, AL)
Behind Aamil Wagner, Christopher Vizzina is easily the most notable prospect on this list. A rising quarterback from Alabama, the 6-foot-4 gunslinger has recieved offers from the likes of Louisville, Oklahoma State, Arkansas, Vanderbilt, Cincinnati, Arizona, Penn State, Florida, and Auburn since Kentucky offered him back on June 18. Vizzina has also visited Alabama recently and it wouldn't be a surprise to see him pick up an offer from the Crimson Tide in the near future.
Raheim Jeter: 6-3, 220-pound QB | 3-star (Duncan, SC)
JT Smith Jr: 5-9, 200-pound ATH | NR (Cornelius, NC)
While he's not ranked just yet, that shouldn't last much longer. JT Smith Jr. has been picking up Power 5 offers left and right since the beginning of the year; including Missouri, Penn State, Wisconsin, Minnesota, and others. Kentucky hasn't officially extended an offer just yet. However, with a visit to Lexington on his schedule for a big game, it's clear the UK staff likes what they see in Smith. The 'Cats have been in contact with him for months now.
Mikel Hines: 6-4, 240-pound DL | NR (Hueytown, AL)
While not as hot on the trail compared to Smith Jr., Mikel Hines is slowly making moves on the national stage. He holds offers from Liberty, UAB, and Eastern Kentucky while recieving interest from Mississippi State, Vanderbilt, Auburn, Missouri. Hines camped at UK over the summer though and will be back again this Saturday. He's another junior prospect to keep an eye on moving forward.
Saadiq Clements: 6-5, 280-pound DL | 3-star (Henderson, KY)
Malachi Wood: 6-9, 290-pound OT | NR (Richmond, KY)
Marquez Taylor: 5-10, 170-pound RB | NR (Mckenzie, TN)
Justin Crumbaugh: 6-0, 215-pound ATH | NR (Wetumpka, AL)
Mikhail Wood: 6-0, 155-pound WR | NR (Hoschton, GA)
Class of 2024 recruits (uncommitted)
Hayes Johnson: 6-5, 295-pound OT | NR (Campbellsville, KY)
A local product, Hayes Johnson holds just one Divison I offer, but it came from the Kentucky Wildcats in the middle of June. He camped in Lexington over the summer and quickly earned himself the scholarship. Johnson actually reclassified from 2023 to 2024 to take advanateg of the extra year caused by COVID-19. He trains at Aspirations Gym in Louisville (where UK commit Kiyaunta Goodwin also trains) and will likely be a prized recruit in the next year or so. Kentucky and associate head coach Vince Marrow have jumped on this recruitment early and often.
Tayvion Galloway: 6-6, 215-pound TE | NR (Chillicothe, OH)
Boasting a massive 6-foot-6 frame for a tight end, Tayvion Galloway is another high school sophmore expected to establish himself as a sought-after recruit very soon. He already holds offers from Bowling Green, Buffalo, and Marshall, but more notably, he's taken game visits this season to Cincinnati, Ohio State, Notre Dame. Kentucky is now throwing its hat into the ring.
Mazeo Bennett: 6-0, 150-pound WR | NR (Greenville, SC)