Kentucky Football Leaves Room to Grow in Missouri Win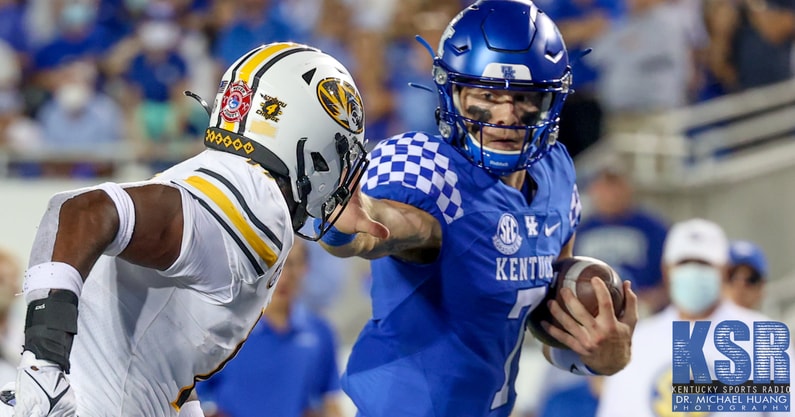 The Kentucky football team is 2-0 after a hard-fought, 35-28 win over Missouri. It never looked easy, thanks to some self-inflicted wounds, but what the Wildcats left on the table actually injects even more optimism into the program.
"Our best football is in front of us," Mark Stoops said after the game.
The game changed when Chris Rodriguez dropped the rock at the goal line near the end of the first half. It was one of two scoring opportunities Kentucky did not convert. A field goal that could have iced the game was blocked. Will Levis also let another slant get loose, leading to a Missouri interception. Kentucky finished with 35 points, when it easily could have been 45, matching last week's total.
"I talked to Stoops after the game and the first thing I told him was the sign of a good team is being able to win games like that while still making a lot of mistakes…," Levis told reporters. "I gotta get ball placement better on that interception. Can't have that. That was an opportunity to get a good drive going, had him wide open. That just can't happen. I know the defense has a lot of things they want to clean up. We definitely have the capability of getting all of those things corrected, and when we do, games like this are just going to be even better ones."
Levis was able to connect on a few deep balls to Wan'Dale Robinson. In each of his first two games as a Wildcat he recorded more than 100+ receiving yards, finishing the night with 174 all-purpose yards.
"I don't think we're playing anywhere near to the top of our game," said the wide receiver from Frankfort. "Once we start clicking, I think people are really going to be aware."
Kentucky's "bend, don't break" defense was awfully malleable on third downs. Similar to the aggravating 2020 performance, Missouri continued to find ways to move the sticks and keep drives alive, converting on 8-of-15 third downs.
The box score is not pretty, but when Kentucky needed big plays, the defense delivered. JJ Weaver had an enormous third down sack, Carrington Valentine tipped the final fourth down pass and Jacquez Jones recaptured momentum with an incredible interception on the second play of the second half.
"If you look at that game, it's probably one of the worst defensive games that we're going to play, and that's scary because we still came out with a win," said Jones. "We had a lot of mess-ups, a lot of stuff to fix, but our ceiling is high. We've got a lot of stuff to fix and I feel like our defense is going to be something special."
In the words of Mark Stoops, the Wildcats are just getting started.
"We don't give up. We're still hungry," said Jones. "I told all of the boys after the game that we've got a lot of stuff to clean up. We're still hungry, we still want that SEC (Championship) and we gotta go get it."