Kentucky getting 'high-character guys' in Jerod and Jacob Smith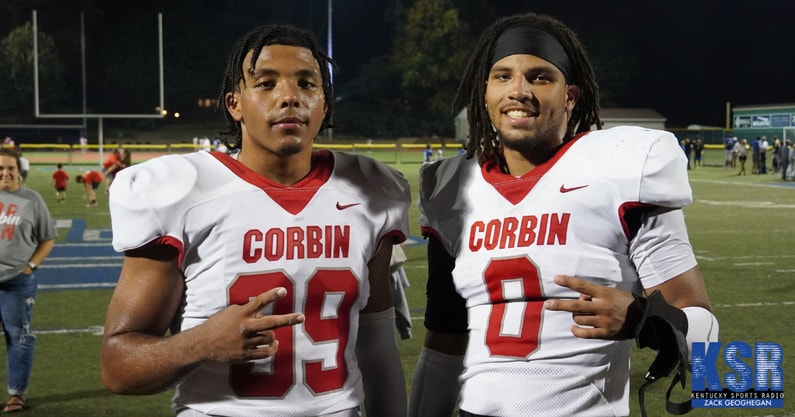 Four-star prospects Jerod and Jacob Smith did not want to make Corbin High School's big week about themselves. With the Redhounds unveiling their newly-renovated Campbell Field with over $9 million of upgrades against in-state juggernaut Frederick Douglass on Friday, the twin brothers wanted their team focused on pulling off the statement win.
Then they had business to take care of on their own.
The Smith twins were game-changers in a defensive slugfest, Corbin pulling off the 6-0 victory to move to 4-0 on the season. Then after the game, the pair of top-300 recruits came together to announce they'd be flipping their commitments from Michigan to Kentucky, giving the Wildcats the Nos. 2 and 3 in-state prospects in 2024.
"The reason I chose Kentucky is because I wanted to play in the SEC and I wanna be able to be developed and play at the next level," Jerod said of his flip to the Wildcats. "Playing in the SEC will ultimately better prepare me for the next step in making the NFL. Another reason was I wanna stay back home and play for my state. I wanna be able to play in front of my family. Another reason I chose Kentucky was my relationship with the staff. It felt more like family to me. Ultimately I felt that Kentucky was the best choice for me to get where I wanna be in life."
"I came home to my state and realized that I need to stay here, for the family and for the people," Jacob added.
Talented players, high-character kids
Corbin head coach Tom Greer watched it all unfold from behind the scenes and came away with one major takeaway: "Jerod and Jacob are high-character kids, man. Let me tell you. They are unbelievable young men."
So here's the real story. The transfer from Connecticut prep school Loomis Chaffee to Corbin, the flip, all of it.
Growing up in a military family, they moved to Somerset in middle school to live with their grandmother, attending Somerset High School from 2019-20. Then after two years at Loomis, they decided to make the move back to Kentucky for their final season of high school football.
One, to be closer to grandma and family. Two, to play with Corbin playmaker Guy Bailey — a longtime friend of the twins.
"They wanted to play with Guy Bailey, who is a really, really good friend of theirs. … They were both down here in June, working out and lifting. As a head coach, I'm like, 'Well, they'll both go back to Loomis (Chaffee) and play their last year there at prep school,'" Greer told KSR on 630 WLAP's Sunday AM Sports Talk. "Their dad called me said, 'Have you talked to the two boys?' I said I talked to them about every other day in the weight room while we're working out with our varsity guys. He said, 'Coach, they're wearing me and mama out. They want to come back. Plus their grandmother's health is not the best right now and they want to get back closer to her.' I said, 'We'd love to have them.'"
'Legit four-stars' with strong work ethics
Greer brought them down and there was an immediate buy-in, the Smith brothers proving to be standout teammates and role models both on and off the field. The talent is there, obviously, but it's more than that.
"Those guys came in and — you talk about super teammates. It's amazing, those two guys are 'yes sir, no sir.' They moved right in and things were really good with them," Greer added. "It's amazing what great teammates they are. They're both talented, ain't no doubt. Both are four-stars, legit four-stars. They're not the four stars or five stars that aren't going to show that they're four- or five-star guys. Both of them, the work ethic is unbelievable. I mean, they work, and that has really been a plus for our younger kids.
"They see Jerod and Jacob, how they work and how they prepare for a ballgame. It's going to benefit our program for many years."
The on-field production has been as expected. Jacob leads Corbin with 42 tackles, one sack and one interception on the year while Jerod has added 30 tackles, seven tackles for loss and four pass breakups. The latter comes in at No. 255 overall and No. 26 among defensive linemen in the On3 Industry Ranking while the former is No. 276 overall and No. 18 among EDGE prospects. Two clear stars.
Two hectic recruitments, starting with commitments to Michigan in April for Jerod and July for Jacob. And then came their moves back to the Commonwealth, followed by their flips to the Wildcats.
The Smith twins flip to Kentucky
"I don't try to influence a student-athlete on where they're gonna go to school," Greer made clear.
But when the Smith twins made it clear they wanted to make the move to Lexington, the Corbin head coach did his best to get the announcement set up.
"Earlier in the week, they both came in and sat down with me. They said, 'Coach, you know we love Kentucky. We want to flip and come to UK. We'd like to do an announcement,'" Greer told KSR. "And the maturity of both of them, they said, 'Coach, we don't want any distractions. We know this is a big week with the ballgame, we don't want any distractions.' The three of us drove over to the stadium, and I said, 'Here's what we'll do. When the game's over, win or lose, we always get together and talk, then pray. After we pray, I'll bring you two guys up so you can make your announcement and we'll go from there.'
"We had an idea of what we wanted to do there. They're super young men and they fit in with what we do. I've got a football team of great leadership with seniors and great, great young men."
The Smith twins have business to take care of to close out their high school careers at Corbin. Then they'll be bringing that talent and character with them to Lexington.