Kentucky focused on "joy" of first-round victory over Providence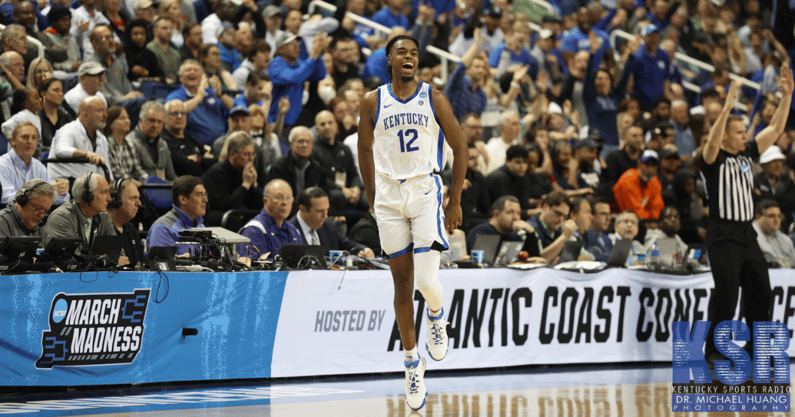 Kentucky won its first NCAA Tournament game since 2019 tonight, beating Providence 61-53 to advance to the second round to play the winner of Kansas State and Montana State on Sunday. With the victory, the Cats exorcised the demons of last year's first-round loss to Saint Peter's. Fittingly, in the final minutes, the jumbotrons at Greensboro Coliseum also showed No. 1 Purdue falling to No. 16 Fairleigh-Dickinson, drawing huge cheers from the crowd and furthering the closure.
Jacob Toppin and Oscar Tshiebwe said it was good to finally get a postseason win, even when Providence tried to make a run in the second half.
"Yeah, it was a big relief, obviously," Toppin said. "I knew what this team was capable of, so we got the job done. So props to my teammates. We all stuck together. Even when they made their runs, we didn't put our heads down. We kept fighting. Defensively, Oscar had 25 rebounds; that's insane. But, you know, we did the little things that won us the game."
Oscar's 25 rebounds are the most by a Kentucky Wildcat in an NCAA Tournament game ever, and the most in an NCAA Tournament game overall since 1977.
"We just come in, I told all my teammates, I told them, I said, 'This year we come in and fight,'" Oscar said. "Last year doesn't matter anymore. Now you know this tournament is about fighting. It's about who fights the most. That's the one who is going to keep moving. So we came in with the mentality, and we forget the past, and we're just fighting right now."
After heaping praise on Oscar, Calipari switched gears, taking offense to the word "relief" (which was mine. I asked the question. Hand up) when talking about the win.
"But this one, I don't think it was — if in this tournament winning is a relief, what the heck are you doing here?" Calipari exclaimed. "This is joy."
"You winning this tournament, it doesn't matter how you win. There are teams that have gotten knocked out. You just keep playing and have joy and enjoy. We're not, like, well, we're going to win because everybody will be mad if we don't. What? No. We could care less if they're mad or happy or sad. This is about this group of young people."
TikTok game helped the Cats stay loose
All week, Calipari has been steadfast in his mission to keep his team loose. So far, it's working. Kentucky was having a ball in pregame warmups, dancing and laughing with each other. Each Antonio Reeves three, Jacob Toppin big play, and Oscar Tshiebwe dunk was celebrated.
"When we're having fun, when we're not on the court, we're trying to have fun with each other because it lifts all the pressure off of us," Toppin, who finished with 18 points, 6 rebounds, and 2 assists, said. "When we're not worried about the outcome and we're just playing loose and free, that's when we play our best basketball. And it started off the court. It started us not worrying about anything but just spending time together."
Calipari once again mentioned the team dinner as an example of how the players are coming together and having fun at exactly the right time.
"Can I say this?" Calipari said. "They took their earphones off at dinner. I don't know if one of you told them take them off. There was so much chatter at dinner. There was so much laughter, but it's hard when you put the earphones on and the hoodie over, and you are looking at your phone to have that kind of experience."
"Just bonding with each other," Antonio Reeves said. "Like Coach said, know took off their headphones. Previous times we ate, guys had their headphones in. It wasn't too much chatter, but, as leaders, the three of us, we told everybody basically, you know –"
"What was the game you guys were playing?" Calipari asked.
"It's like a little TikTok game or something," Reeves said.
"They're going nuts over there," Cal said. "What are they doing? Then they got on the bus and did it, and they laughed so hard, but it makes me feel good because my job is to get them to understand, enjoy this experience."
So…we're gonna need to hear more about that TikTok game, right?