Kentucky is a Legitimate Contender for Lebbeus Overton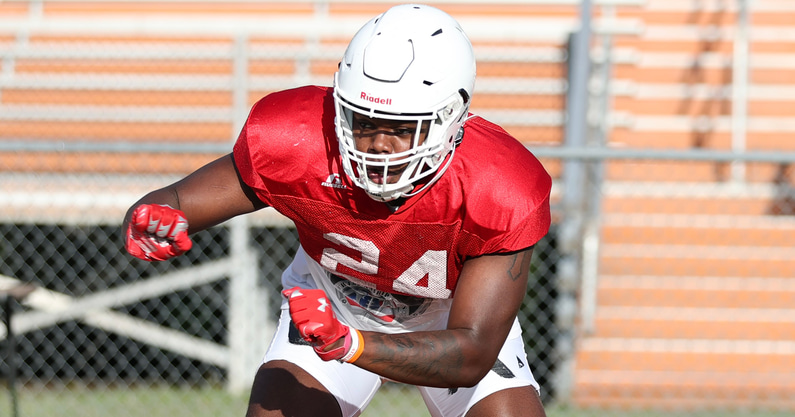 This weekend the top-ranked football player in the 2023 recruiting class is visiting Kentucky. Lebbeus Overton's mother, a former Wildcat, says Kentucky is a "legitimate contender" in her son's high-profile recruitment.
Overton is considered the No. 1 junior high school football player in America by many recruiting services. In the 2023 On300 rankings he comes in at No. 6, behind quarterback Arch Manning. A defensive end from Milton High School, a 7A powerhouse located just outside of Atlanta, Kentucky made his first cut, featured among other traditional college football elites in his top 12.
Kentucky has a connection to Overton. His mother, Eunice Thomas, was an All-SEC volleyball player for the Wildcats in the early 90s. This weekend they will watch Kentucky play Chattanooga in football on Saturday, then stick around for the volleyball match against Stanford on Sunday. Thomas told the Courier-Journal that just because UK football does not fit the pedigree of some of his other suitors, the Wildcats are a legitimate contender in Overton's recruitment.
"They are because LT is not looking at who wins national championships all the time," Thomas said. "It's more of what he can do for a program and what the program can do for him. I used to be a coach and recruiter. When I used to recruit, it was more I gathered the recruits by, 'This is what you can do to make us better. This is what you can do to instill your legacy in everything.'

"…That's how I raised him: To look at what he can give, how he can make a difference."

Courier-Journal
Overton's Second UK Connection
His mother is not Lebbeus Overton's only connection to UK. When the family moved from Alabama to Georgia, Overton began training with a former Wildcat in the area, Donte Rumph. A defensive tackle, Rumph was one of UK's representatives at Mark Stoops' first SEC Media Days in 2013.
Of course, connections will not decide where Overton attends college. His parents previously worked at Alabama and Texas A&M, two other potential suitors. Vince Marrow received an in and has laid the groundwork in Overton's recruitment. This weekend the Wildcats will try to create a lasting connection with one of the best high school football players in America.