Lebbeus Overton, a 5-star class of 2023 DL, lists Kentucky in top 12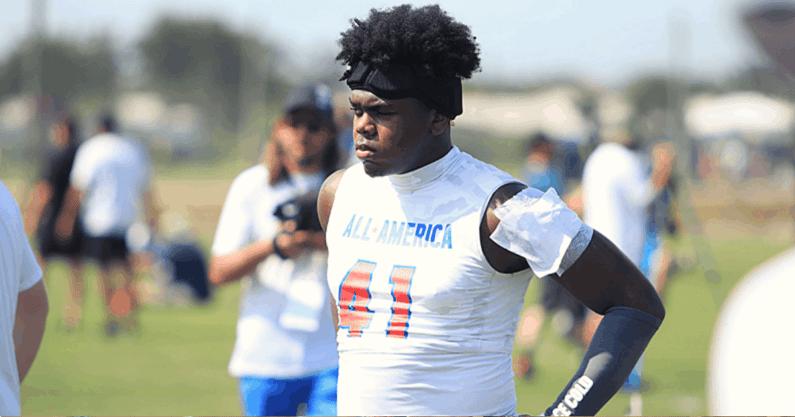 A connection to the Kentucky Volleyball program could play a role in the recruitment of Lebbeus Overton, one of the top class of 2023 high school football players in the country.
On Wednesday afternoon, Overton dropped his top 12 list of preferred college destinations and the Kentucky Wildcats made the cut. Joining the 'Cats are a slew of high-profile programs: Ohio State, USC, Florida, Georgia, Oklahoma, Alabama, Clemson, LSU, Texas A&M, Tennessee, and North Carolina.
Overton is ranked by On3 as the No. 6 overall player in the class of 2023 and the best edge rusher. The junior clocks in at 6-foot-4, 265 pounds, suiting up for Milton High School in Alpharetta, GA.
"It was just based off of communication and the relationship I had built with them," Overton told On3's Jeremy Johnson. "I'm not really big on the weight rooms and showy stuff. I wanted to get down to business and be able to see how their game plan is run. It was good to meet the players to see if they're loving the school or not and see how the environment is."
Kentucky initially offered Overton a scholarship earlier this month on Aug. 11, but the coaching staff didn't just offer him to say they did–there is a legitimate connection between Overton and Kentucky.
Kentucky connection to Overton family
Overton's mother, Eunice Thomas, was a star volleyball player at Kentucky during the early 1990s. Overton is also close with former Wildcat Donte Rumph (2010-13), who is now a football skills trainer in the Alpharetta area and trains with Overton.
Kentucky admittedly came on late in Overton's recruitment compared to the other 11 schools in his top 12–UK was the last of the dozen to offer. He's already been to see Clemson, Texas A&M, Ohio State, Oklahoma, Georgia, and Alabama over the summer.
Lebbeus Overton was also born in College Station, TX, where Texas A&M is located. On top of that, his father, Milton Overton, was the associate athletic director at Texas A&M before taking a similar role at Alabama for six years. Milton was also an offensive lineman at Oklahoma from 1991-94.
Texas A&M is one of the few schools standing out more than others, as are Clemson and Ohio State, according to Chad Simmons of On3. Alabama is also expected to make a serious run at Overton.
However, Kentucky will have a chance to gain some ground. On3 also reported that Overton and his family plan to take a visit to Lexington this fall to attend a game.
Overton is a two-sport athlete who plays both football and basketball. He lined up at defensive end, defensive tackle, and tight end as a sophomore at Milton, helping lead his squad to an 11-1 record and a quarterfinal berth in the Georgia AAAAAA state tournament.