Kentucky issues another statement in beatdown of Louisville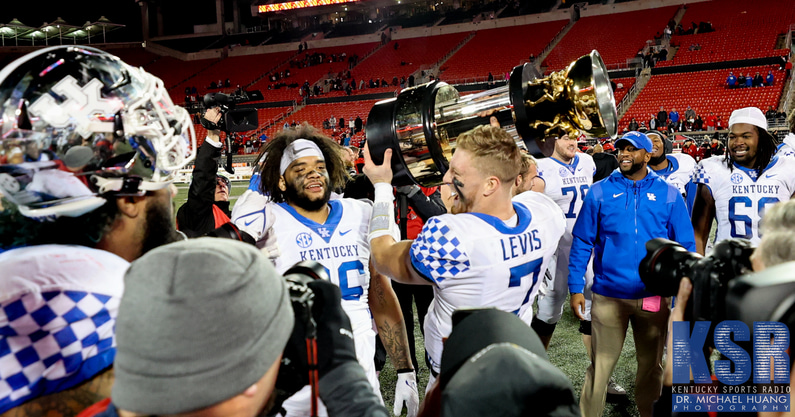 Kentucky 153, Louisville 44.
Over the last 12 quarters of football in the Governor's Cup, the Wildcats have pummelled their in-state foe. As a small road dog on Saturday night, Mark Stoops and his football program issued another statement to Scott Satterfield and the Louisville Cardinals.
Live from the press box at Cardinal Stadium, KSR has the instant takeaways after another big blowout victory for the Big Blue in the Governor's Cup series.
Ground and pound
Over this three-game winning streak, Kentucky has used a simple formula in the rivalry game. The Wildcats are bigger and stronger at the point of attack. Mark Stoops wants his team to be physical, and no game is that more apparent than this one.
Once again, Kentucky had a huge game on the ground in the contest. However, this time the Wildcats got a big day from an unexpected individual.
Will Levis has shown some strong rushing ability throughout the season as the former Penn State wildcat quarterback has some legit pop when running behind his pads. However, offensive coordinator Liam Coen unleashed his 232-pound quarterback in the 52-21 romp.
Levis rushed for 113 yards on 14 carries on a 78.6 percent success rate. The dual-threat quarterback averaged over eight yards per rush and rushed for four touchdowns. His 29-yard touchdown on the first possession got the party started, and it never ended until the clock hit triple zeroes.
Elsewhere, Chris Rodriguez Jr. chipped in 121 yards on 16 rushes. JuTahn McClain and Kavosiey Smoke combined for 76 yards on nine attempts with one touchdown. Backup quarterback Beau Allen and true freshman tailback La'Vell Wright put the cherry on top with a pair of explosive runs to give the Wildcats a fiftyburger on the scoreboard.
Kentucky established the run and collected 362 yards with over seven yards per attempt. All seven touchdowns were on the ground as the Wildcats used the passing offense as a change of pace.
Once again, Kentucky's Big Blue Wall leaned on a small Louisville front and dominated the game. The big quarterback got the party started, and the rest of the team followed his lead.
Situational football matters
Football is a very complex game. There are 22 players doing separate things on every play, and both offense and defensive concepts are both difficult to follow. However, complex sometimes equals simple.
More often than not, the team that wins situationally will come out with the advantage. In the first half, Kentucky mauled Louisville in certain situations and that led to the blowout win.
In the first 30 minutes, Kentucky was 7 of 10 on third/fourth down, and Louisville was just 2 of 6. When scoring chances arrived, Kentucky scored 24 points on four opportunities, and Louisville came away with just seven points on three opportunities.
In a limited possession game, Louisville found itself down three possessions in the blink of an eye.
To begin the second quarter, a Louisville possession ended with a turnover on downs at the Kentucky 39. The Wildcats went down and hit a 42-yard field goal to extend the lead to 10 points.
After a Louisville punt, the Wildcats converted three third downs and scored another touchdown. Louisville responded with a strong drive, but a huge tackle for loss ended a scoring opportunity on a third-down run by Malik Cunningham. That yardage loomed large as James Turner missed a field goal from 49 yards.
After a quick punt by Louisville to start the second half, the game was over. Kentucky was able to blowout Louisville thanks to situational football.
Kentucky won on signing day
Recruiting is the lifeblood of any college football program. Teams win on Saturdays by landing good football players on the recruiting trail.
Under Mark Stoops, Kentucky has slowly raised its recruiting ceiling. In the class of 2019, the Wildcats sent recruiting ace Vince Marrow into Metro Louisville to build a fence around the state.
Since that move, Kentucky has landed J.J. Weaver, Vito Tisdale, Beau Allen, and La'Vell Wright. Each made big plays in the win against Louisville.
Under Scott Satterfield, the Cardinals have mostly taken a step back when it comes to recruiting battles with the in-state rival. UofL would rather look in other areas and be creative with transfers when building a roster.
However, that strategy seems just average after three seasons. Louisville is 18-18 in that time, and Kentucky continues to collect wins and go to good bowl games.
The gap appears to be growing larger. Kentucky has four blue-chip players from the state committed in the class of 2022. The Cardinals only have Louisville (Ky.) Male defensive lineman Selah Brown.
The Wildcats continue to easily beat Louisville in both high school recruiting and so far with the transfer portal. That is playing out on the field when the two rivals meet.
Injury bug bit Kentucky
Saturday night was very fun for the blue and white, but the big win did come with a cost. Kentucky lost multiple major contributors to injury in the victory.
Josh Paschal suffered a groin injury in the third quarter. Reserve tight end Izayah Cummings was also lost with what appeared to be a shoulder injury. Meanwhile, starting left tackle Dare Rosenthal was spotted with his right shoulder in a sling postgame, and DeAndre Square played limited snaps after a first quarter injury.
Luckily, Kentucky won't be playing again for another month. There will be time to heal up, but the Governor's Cup was a physical affair.
No punts allowed
In the last three games, Kentucky has punted three total times against Louisville. That is a winning recipe.
When playing the Cardinals, the football field is a no punt zone for the Wildcats.
Apologies, Max Duffy.