Kentucky MBB agrees to NIL deal with NFT company Mercury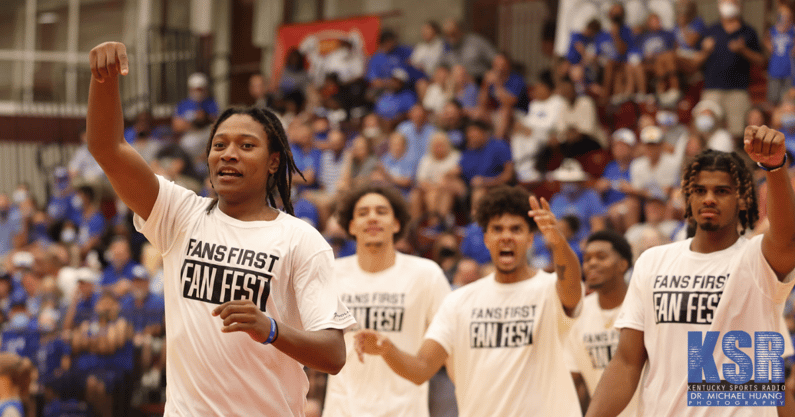 UK Blue Chips is a new digital platform specifically targeted at the Big Blue Nation. Kentucky Men's Basketball head coach John Calipari, along with 11 of the program's top players, struck a deal with NFT company Mercury, it was announced this week. Kentucky MBB is the first college athletics team to sign a name, image, and likeness (NIL) deal with Mercury.
With Non-Fungible Tokens (NFT) the latest craze to take over the digital age, Kentucky is looking to take advantage of a still untapped market. Along with Calipari, UK players Dontaie Allen, Sahvir Wheeler, Kellan Grady, Jacob Toppin, Keion Brooks, Lance Ware, Bryce Hopkins, CJ Frederick, Daimion Collins, Davion Mintz, and Ty Ty Washington have all agreed to the partnership. Oscar Tsheibwe is not eligible to participate due to his status as an international student.
Mercury will create digital collectibles for fans and collectors alike, which can be bought and traded online through UKbluechips.io–the platform that is being used to provide the NFTs. Pre-registration is already open and the first items will go on sale Dec. 18, the same day Kentucky plays Ohio State in Las Vegas. Early sign-ups will receive an exclusive NFT.
"I am excited to enter the digital collectibles space with Mercury and especially pleased at the chance this presents for me to connect with our fans," Calipari said. "This is a unique opportunity to create collectibles that resonate with Big Blue Nation and the very folks who make this community so special."
Most sports-related NFTs tend to include highlights, digital player cards, and jerseys/shoes, which will likely be the case with UK Blue Chips. Mercury recently announced a long-term partnership with Impossible Brief, which has already crafted NFTs for superstar athletes such as Patrick Mahomes, Lionel Messi, Fernando Tatis Jr., and Alex Ovechkin.
"I've been fascinated with NFTs and truly believe they'll play a big part in the future of sports and entertainment," Kentucky guard Davion Mintz said. "I look forward to shaping my image, working directly on the design and branding, and hopefully developing collectibles that empower others."
This is hardly the first (NIL) deal signed by Kentucky MBB. The entire team agreed to a deal with ProCampsU while several individual players have inked their own. In particular, freshman TyTy Washington currently has NIL agreements with Gatorade, America's Best Caviar, Blue Grass Motorsport (remember his Porsche?), Airborne Athletics, T.R.A.P. House Clothing, and Fazoli's.
More is on the way, too. This Sunday, Kentucky players Sahvir Wheeler and Kellan Grady will announce multi-year deals with Sports Center and Players First, the latter of which represents the MBB players. Sports Center is a new youth sports facility in Lexington. White, Greer, & Maggard Orthodontics will also be announced as the naming rights sponsor of Sports Center.