The Kentucky MBB Fans First Fan Fest was a huge success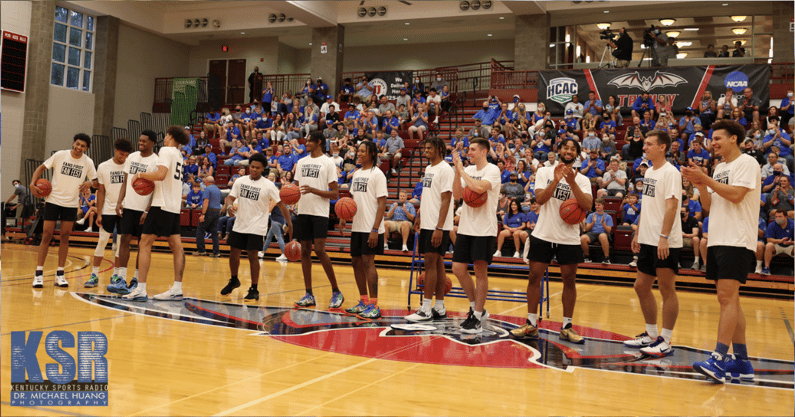 The inaugural Fans First Fans Fest, held in conjunction with ProCampsU and KSR, was a hit. Nearly every seat inside of Transylvania's Clive M. Beck Event Center was filled on Saturday night to watch the 2021-22 Kentucky Men's Basketball Team live and in-person weeks ahead of Big Blue Madness. It was almost like a mini version of BBM but one more tailored to the fan experience.
Can you win a signed piece of the court from the 2012 National Championship game or a basketball autographed by every member of the team at Big Blue Madness? I didn't think so… Additionally, Drew Franklin doesn't make guest appearances as a dunk contest judge for just anyone.
But in all seriousness, the entire night was filled with smiles, laughs, and good vibes. The crowd was included in nearly all of the mini-games and the players were able to showcase their personalities. No one took it too seriously, but the players knew what needed to be done in order for everyone to have a good time–and to their credit, they executed that flawlessly.
Let's dive into everything that happened from a night of basketball that helped us all forget about football.
Yes, TyTy Washington is going to be a star
This isn't randomness at this point: TyTy Washington is a bonafide sniper.
The kid simply doesn't lose shooting competitions. I remember watching him wipe the floor in the Iverson Classic 3-point shootout a few months back in Memphis. Sure, standstill shooting games can only tell us so much, but Washington might just be a really, really good shooter.
On Saturday night, he easily coasted as the winner of the 3-point shootout, scoring 26 out of a possible 30 points and nailing money ball after money ball. You watch this display of shooting for yourself and tell me he doesn't have the form that makes people millions of dollars in the NBA.
But it's not just shooting. Washington is a leader amongst his teammates and one of the bubbliest personalities on the team. He doesn't demand the attention, it just comes to him naturally. Even as a freshman, he knew exactly how to play the crowd–and they sure did love him back for it.
You don't need to convince me that Washington is going to be the team's leader this season despite being surrounded by veterans. The upperclassmen appear to embrace Washington as the star, too. As friend of KSR Big Blue Drew put it, Washington is a "Complete Alpha".
So, Kareem Watkins can dunk
And not just, like, barely touching his fingernails on the rim. Kareem Watkins, who is generously listed at 5-foot-8 on the UK Athletics website, might be the best dunker on the entire team.
Granted, Jacob Toppin's minor shoulder injury kept him from performing in any of the events (as did C.J. Fredrick's leg injury), so we can't say for sure whether or not Watkins is a better pure dunker, but it's up for debate. Watkins can straight up cram it.
I think I can speak for every single person in attendance when I say that we all thought it was an inside joke between the players when Watkins' name was called up to attempt a run in the Dunk Contest. But then he started jumping…and took forever to come back down.
So you're telling me this kid is the WALK-ON? He might be the most athletic player on the entire team if he can pull of stuff like this. There are definitely some EJ Floreal vibes emitting from Watkins.
KSR's own Drew Franklin was one of the three judges, joining forward Lance Ware and a lucky fan plucked from the crowd.
Halfcourt shots galore
If the players weren't signing autographs or taking pictures, they were probably shooting as many halfcourt shots as possible. But to the content of the crowd, plenty of them went in.
Specifically, a mini-game featuring three teams of three required each team to make one layup, one free throw, one 3-pointer, and one halfcourt shot, all in a matter of 60 seconds. One player would shoot the layup, the next the free-throw, and the last the 3-pointer before all three would heave up halfcourt shots.
On multiple occasions did it only take one or two halfcourt attempts before one swished right through. The winner was decided by whichever team had the quickest time, but two teams actually tied each other's times in the final round. As a result, one player from each squad (in this case TyTy Washington and Dontaie Allen) went head-to-head in a winner-takes-all battle–the first to make a halfcourt shot would be donned the victor.
Washington's range wasn't as pinpoint from halfcourt as it was from 3-point land though. Allen would sneak in his halfcourt shot to steal the win.
Reece McKee steals the show
For those of you who don't already know Bradley McKee (a.k.a B-Roll Productions), KSR's unbelievably talented videographer, all you need to know is that his son, Reece, is cooler than you or I will ever be.
Reece was called down to the court for an opportunity to win Wildcat-related prizes that would have made 11-year old Zack nervous as hell. He was given the opportunity to make a layup, a free-throw, a 3-point shot, and a halfcourt shot, all with increasingly better prizes following each make. The catch? After each made shot, Reece had to choose between keeping the prize he had won or putting it on the line for something better. If he missed his last attempt, he'd win nothing.
He easily made the layup, willed in the free-throw, then put the entire crowd into a frenzy when he confidently drilled the 3-pointer. Reece could have gone all-in and went for the halfcourt shot, but he wisely took the prizes he had (with some guidance from Ryan Lemond and Davion Mintz) and walked off the court a star.
Not a bad way to begin building your hoops mixtape, huh?
Dancing guy makes an appearance
What are the odds that Rupp Arena's famous "Dancing Guy" would not only show up to the Fan Fest, but also win a raffle? In classic fashion, he danced his way onto the floor to claim his prize, quickly accompanied by some smooth moves from Jacob Toppin.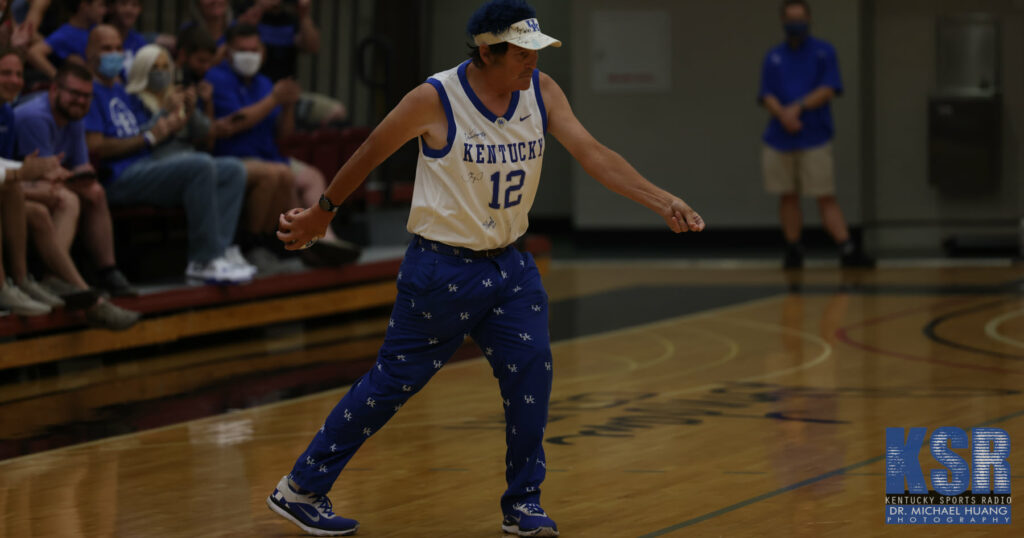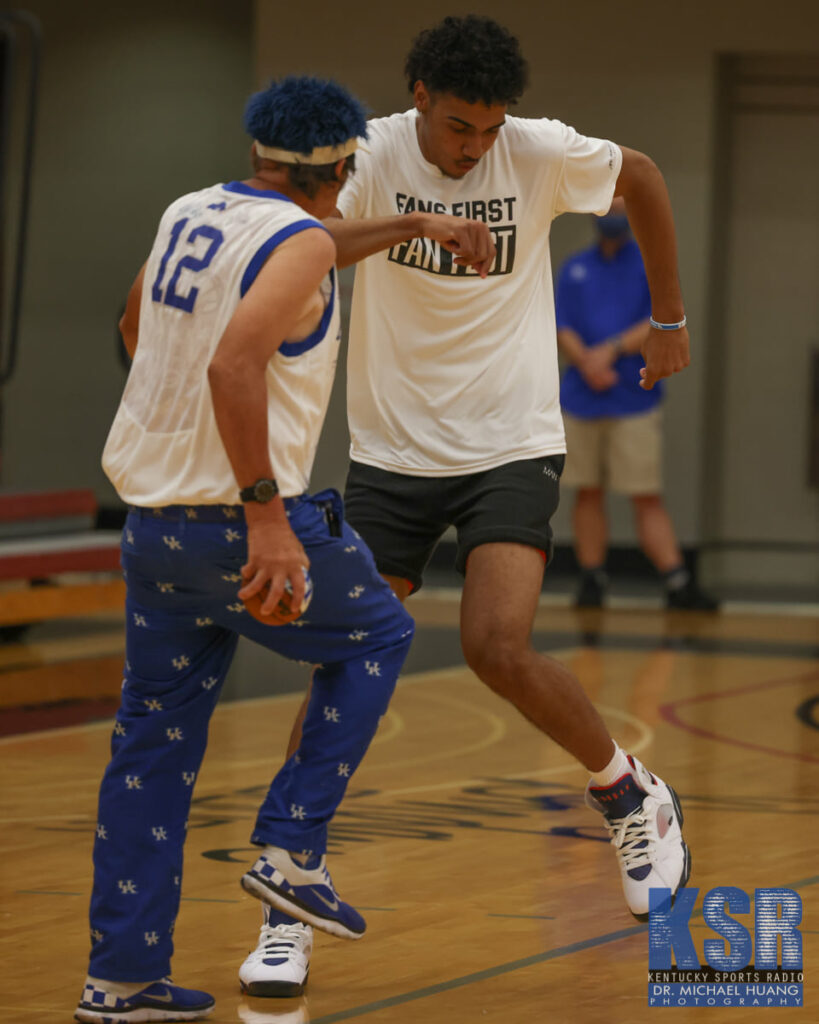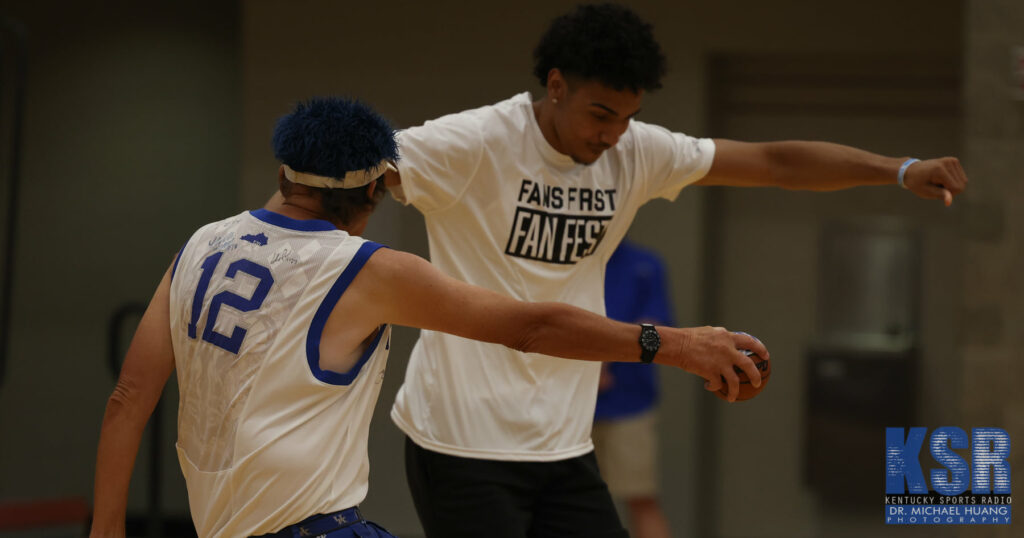 15-minute scrimmage
Admittedly, there was very limited action of serious, competitive basketball (as is expected at events such as these), but we did some glimpses of what to expect this season.
TyTy Washington was just as lethal shooting the ball in a scrimmage setting as he was in the 3-point shootout. There was no official box score, but if there was, I'd bet money Washington was at the top, or maybe second behind Daimion Collins.
Speaking of Collins, he's one of the biggest unknowns surrounding this team, but his athleticism is crystal clear. He was dunking everything in the scrimmage and had his head above the rim on several occasions. Yes, Collins is still very raw and needs to bulk up, but this kid has springs in his skinny ankles and arms that act like telephone poles.
Georgia transfer Sahvir Wheeler has impressive handles and court awareness, Bryce Hopkins is maybe even more underrated as an athlete than we already thought, and seemingly every single player on the roster can throw down a hammer dunk (sorry, Sahvir).
The first eight minutes of the scrimmage were more dunking lines than an actual game, but the stakes were upped a bit with seven minutes to go. Whichever team came away with the most points by the final buzzer would be gifted $1000 to donate to a charity of their choice. Quickly, the intensity rose.
Coming down to the final possession and trailing by three with roughly eight seconds left, the white team set up an out-of-bounds play to hopefully tie things up. They got off a decent look, but the shot didn't fall as the black team came away with the tight victory.
Fan interaction postgame
While the entire night was a success, the best moment came once the stands were being emptied.
All of the players hung around after the conclusion to sign even more autographs, take hundreds of pictures, and interact with fans in a way they weren't able to a season ago. A few players in particular, (Washington, Collins, Keion Brooks Jr.) stuck around until the very end, snapping photos and giving out hugs to the remaining few fans.
The 2021-22 Kentucky Wildcats are going to be a fan-favorite for years to come. The various personalities (coupled with impressive depth and talent) help make this team relatable to the common fan.
The inaugural Fan Fest was a major hit and I'm already looking forward to next year's version.