Kentucky must get back to complementary football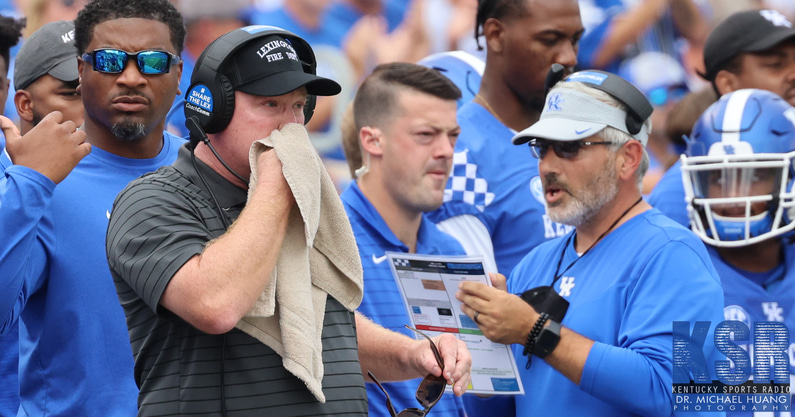 Football is a unique game. The three phases — offense, defense, special teams — must all work together in unison to win football games.
That did not happen for Kentucky on Saturday afternoon.
In the nail-biting 28-23 victory over FCS Chattanooga, Kentucky's offense and the defense did not complement each other. Meanwhile, it seemed that the Mocs outperformed the Wildcats on special teams.
This is typically a recipe for disaster.
"I don't think we played a very good game together today where the defense and the offense complemented each other at all," Kentucky head coach Mark Stoops told the media after the win. "When offensively — defensively it would have been nice to get a couple three and outs and get the ball back to the offense and let them get in a routine, but then there would be a long drive, we don't field a punt, get backed up, get a penalty.
Specifically, in the second half, Chattanooga had total control of the game. After the break, the Mocs ran 33 plays in five possessions while Kentucky only ran 18 plays in three possessions. The defense could not get off the field. This shrunk the margin for error for the heavy home favorites.
"You know, you name it, just little things here and there," said Stoops. "It was just a touch off. We didn't complement each other. We didn't play complementary football at all today; offense, defense or special teams."
"When we needed it, we played, I don't want to say it because it will be a headline, but we didn't play very good, we didn't play complementary football."
If the Wildcats want to continue their rise in the SEC and be a true contender in the East, Kentucky must get back to playing complementary football. This means the offense moves the chains, protects the ball, and puts together long sustained drives. The defense gets off the field on third down and creates field position opportunities when possible. The kicking game executes and picks up hidden yards when available.
The Wildcats did not get any of those three things accomplished on Saturday, and it nearly resulted in disaster. These issues must be fixed as Kentucky gets set to face a seven-game SEC gauntlet.