Kentucky's 'standard' on offense was not reached against Youngstown State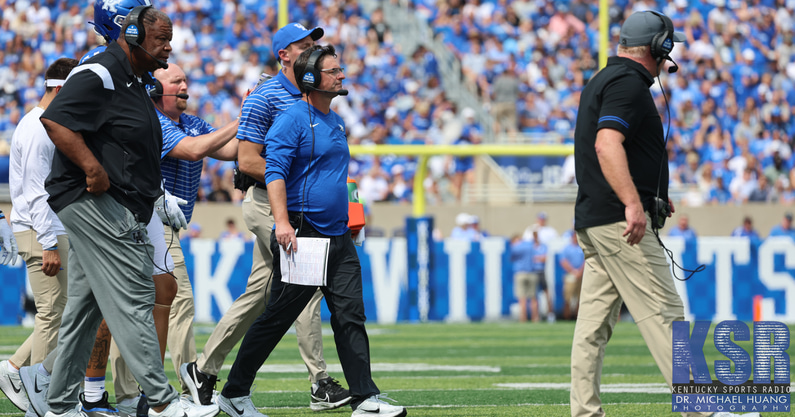 The Kentucky offense was not satisfied with its Week 3 performance when the unit scored 31 points and rolled up nearly 500 yards of offense but allowed a sky-high havoc rate. Mark Stoops set the tone on Monday with some fiery comments that this group needs to get some things fixed.
"Offensively, there's some things we've got to get ironed out. It just felt like it was a person here, a person there, just undisciplined play. Any time you have 10 penalties, three turnovers, four fumbles, and you do that at home, it just shows you that that attention to detail was not there," Stoops told reporters. "And we go on the road a week before and play in a hostile environment and have two penalties and play relatively clean, then we play at home against Youngstown and put that kind of play out there. It's not very good. There's so many things we need to improve on."
Offensive coordinator Rich Scangarello agreed with that sentiment on Tuesday evening. The Cats have to raise their level of play on offense.
"Coach made a message all week and I thought we had a really good week of practice," Scangarello told the media on Tuesday. "I thought we were ready to play up to our standard regardless of our opponent. And then we just didn't meet those expectations. It was a step back."
Throughout the Youngstown State game, there were numerous missed blocking assignments and those misses led to six non-sack tackle for loss collected by YSU. The troubles then leaked over to Will Levis as some bad footwork, according to Scangarello, led to his second interception. However, QB1 needs some help. On both picks the receiver cut a route short on top of all the blocking issues. Despite covering a big 30.5-point spread, Kentucky has mistakes to fix as pre-procedure penalties also showed up in droves last weekend.
Scangarello believes that everyone apart of the offense plays a role.
"It upset me to a point where I gotta do a better job, we all have to do a better job coaching, and we've gotta do a better job of executing the plan," said Kentucky's offensive coordinator.
The message seems to be clear at the Joe Craft Football Training Facility. Kentucky must clean up some of their sloppy football in order for this offense to hum. Levis is doing some real good things in the passing game (9.7 yards per attempt), but the surrounding pieces need to play better around him. It seems that the message has been received by multiple position groups.
"Be disciplined and determined with what we do," Dane Key told KSR when asked about Kentucky's standard. "When it is our time to go in there and block we need to put our head in there and go in there and block and not take plays off and keep doing what we need to do."
The offense has a point of emphasis before the SEC gauntlet officially begins in October. Each position group has been challenged by the coaching staff. We'll learn what strides are made when the Cats face off against Northern Illinois on Saturday night.