Kentucky raises $162,450 for flood relief in Blue-White Game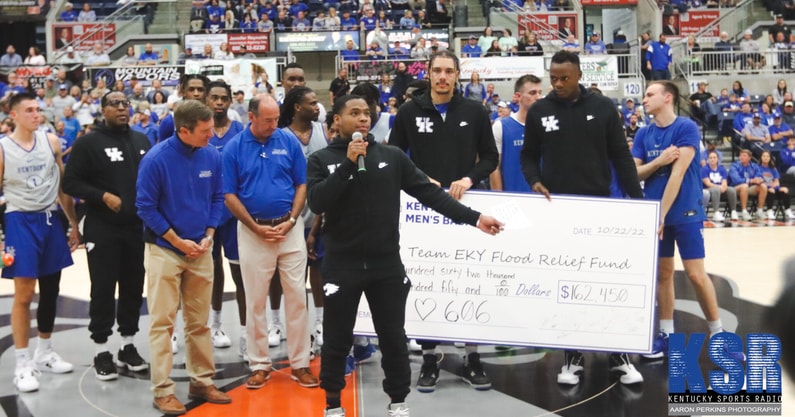 Kentucky's annual Blue-White Game is about basketball, historically speaking. It's typically the first competitive head-to-head matchup for the Wildcats leading up to exhibition play and the regular season, with summer tours every four years being the exceptions.
This year, though, basketball came second to charity, as the program took the event to Pikeville to help raise money for flood victims in Eastern Kentucky.
Taking place at Appalachian Wireless Arena — a 7,000-seat venue in Pikeville — all ticket revenue was donated to those affected by the devastating floods through Team Eastern Kentucky Flood Relief. The total? An incredible $162,450.
The program previously raised over $2 million for flood relief with an open practice and telethon at Rupp Arena back in August.
"We will never forget about you," head coach John Calipari told fans in attendance. "This program will always be here to lift the Commonwealth. This is your program."
"We are here tonight to make sure you know that you are not alone," Kentucky Gov. Andy Beshear added. "In Kentucky, we love our Wildcats. And tonight, these Cats showed that they love you, too."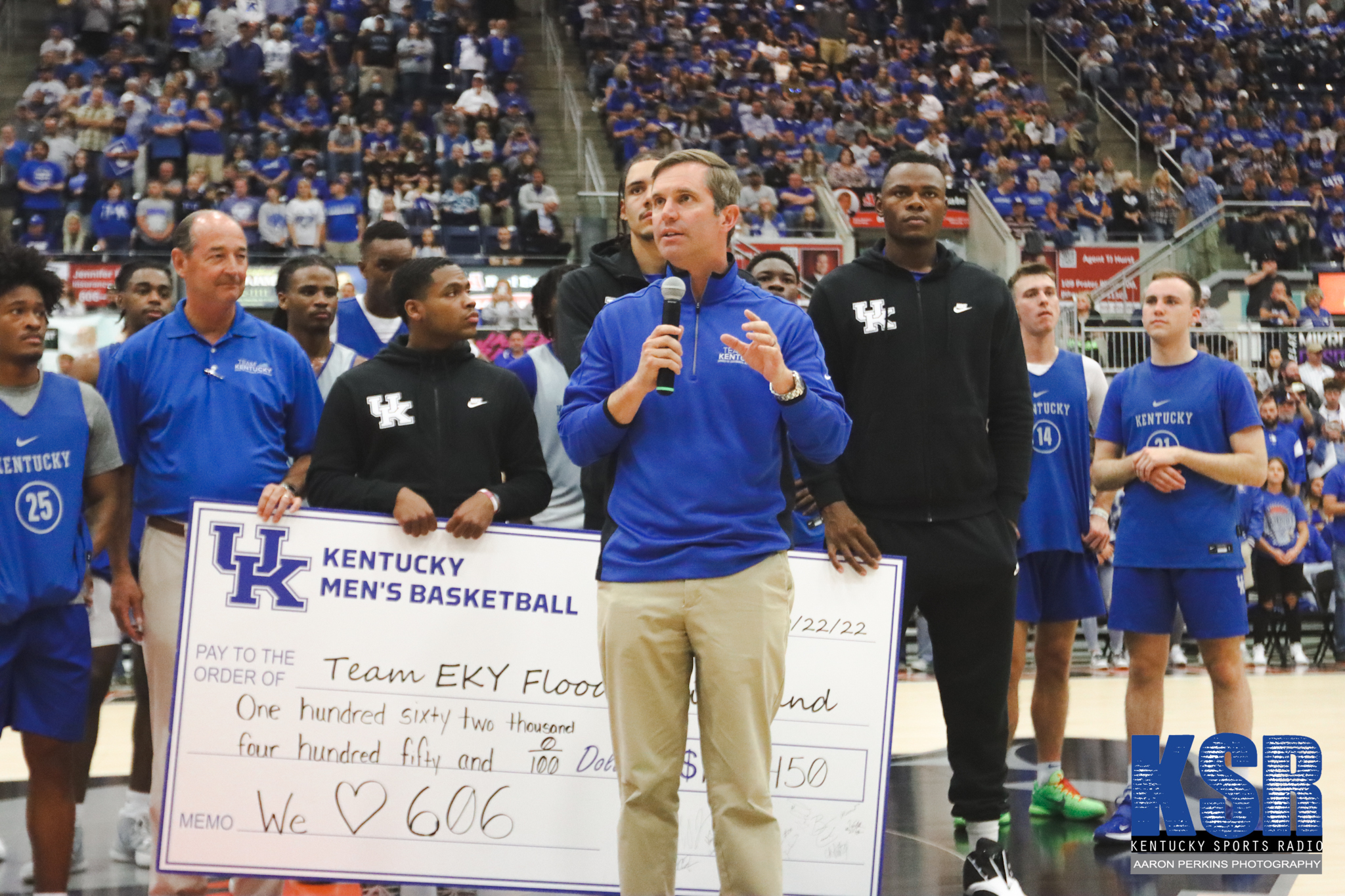 It was a moment that drew the loudest cheer of the night, with fans returning the favor with an extended standing ovation.
It wasn't just about the money, either. The Wildcats spent the first part of the day giving back to the people of Eastern Kentucky by distributing hoodies, sweatshirts and other winter clothes to those in need at Jenny Wiley State Park in Floyd County.
"We tried to keep them out there staying warm," guard Antonio Reeves said. "We gave them jackets, sweaters, coats, and things like that to make sure they stay warm for the winter. You know, it has been a good thing for the community and good for the team as well."
"It was a great experience overall. Me growing up, my parents were all about giving back," guard Adou Thiero added. "Being able to come here and give back also was a great feeling. … After seeing how much BBN cares for us, it was very important for us to come out and do this for Kentucky in general. It's all about giving back. We're blessed to be in the position we're in and we can't just be focused on ourselves, we have to give back to those less fortunate."
It was a player-led initiative, something the Wildcats themselves came up with. It started with the open practice in August, and then again with this event in Pikeville.
"We wanted to know what we could do," Thiero said. "We had that Red Cross event over at Rupp Arena that raised a lot of money. Then we decided, 'Why don't we go somewhere else other than Rupp and play in front of other people who haven't been able to watch us?' That's what we did here today in Pikeville. I hope all of the people, BBN, had a great time watching us."
Bigger than basketball.