Kentucky Running Game Takes Step Forward at Spring Practice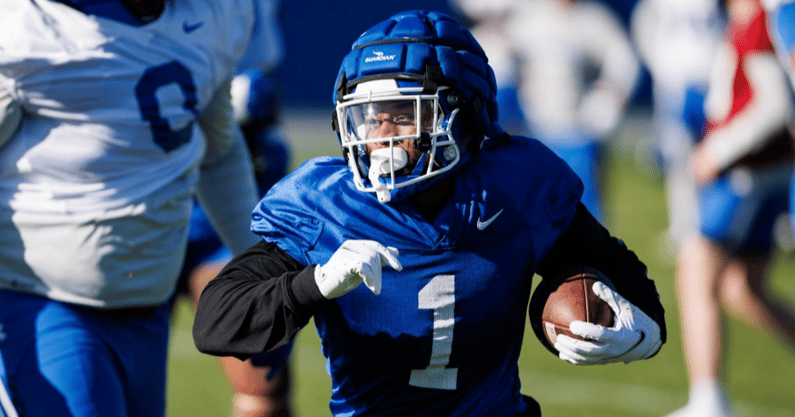 Mark Stoops' feelings about Kentucky's performance during Saturday's spring practice were well documented. He clearly was not happy with the attitude and energy his players were bringing to the field. Tuesday morning, the Wildcats took a step in the right direction, specifically in the running game. One player in particular took Coach Stoops' message personally.
"I took what Coach Stoops said and I took it to heart," said running back Ray Davis, a Vanderbilt transfer. "If I want to be the leader that I can be, if I want to be the guy that I can be, then I need to come out there and showcase that. I can't take days off and I think today was a step in the direction of trying to be the best version of myself and show these guys that I came here for a reason."
Liam Coen noticed a difference in Davis and the running game in general. There have been roadblocks to execution in the rushing game this spring. The Cats are breaking in a new center, Jager Burton, and playing without their road-graders at tight end.
"I thought Ray Davis really showed up in a nice way today. Jager Burton's taken huge steps for us…" said Liam Coen. "I thought today was a step in the right direction in terms of running the football and being physical like we're trying to be."
Kentucky Discovering Cohesiveness in the Running Game
Success in the rushing game, particularly the outside zone, is all about cohesiveness between the offensive line and the running back. The Wildcats have some familiar faces, albeit playing new positions on the offensive line. Meanwhile, they're also breaking in a new running back, Davis. As individuals improve, the whole unit takes a step forward, and it alls starts up front.
"If I was taking one positive out of the last couple of practices, it was Jager in terms of getting better, the snaps, comfort level playing the position, making the calls. He took a huge step over the last couple of days which I was really happy to see," said Coen.
Ray Davis has not been on campus long, but he's finally gelling with his blockers to find gaps in the defense.
"In outside zone, I think there's a lot of people that assume it's just hand the ball off and run. There's a lot of little details to it. Even if you're just one step wrong, things can hit differently," said Davis.
Even though it was at a different school, Davis knows how to find running lanes in the outside zone scheme. His physical attributes aren't what made him a 1,000-yard rusher in the SEC.
"He's got really good vision. He's a one-cut back. He had a few today where he just kind of rode the wave and once it cleared, he was right through the hole," said Coen.
"I think he has good vision. He's a smart player. He's a really smart football player, a smart kid and he understands all of the combinations. He understands and wants to know the why behind all of the runs. I think that really gives him a leg up in terms of his knowledge of the game and what things are opening up in front of him to give him the best possibility to be successful."
Slowly but surely, Ray Davis is creating chemistry with the rebuilt Big Blue Wall.
"These are guys who have been with each other for many years, but they're guys I've only been with for as much as three weeks. It's learning their tendencies, learning what their strengths are, what their weaknesses are and how I can come in and be the best version of myself and help them? I'm not who I am unless I let those guys do their job."