Kentucky's run game needs to get right against South Carolina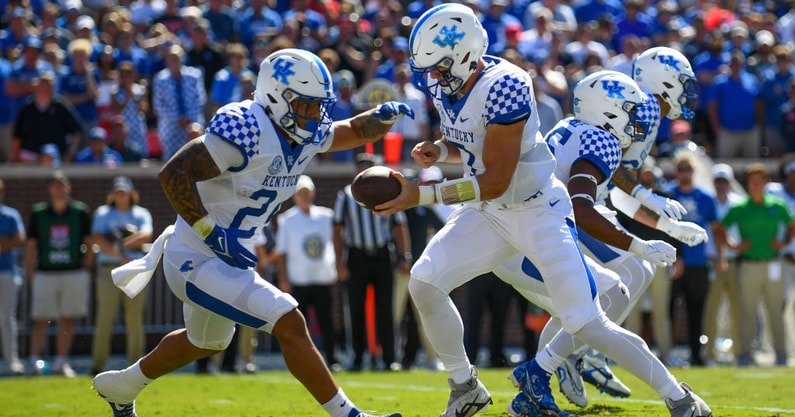 For the first time this season, Kentucky's running game was at full strength against Ole Miss. Not surprisingly, the Wildcats put together their best performance of the season.
The Cats rushed for a season-high 140 non-sack rushing yards on a season-high 34 attempts. Kentucky averaged a decent 4.1 yards per attempt but logged a solid success rate (47.1%) despite producing just three rushes of 10-plus yards against an Ole Miss defense that ranks No. 30 in expected points added (EPA) against the run.
With the return of Chris Rodriguez Jr. to the lineup, Kentucky got some much-needed efficiency and that helped the offense put a few drives together. As offensive coordinator Rich Scangarello tries to figure out some protection plans to keep Will Levis clean, the Cats will need to continue growing the ground game.
The offense will have a great opportunity on Saturday.
South Carolina will roll into Kroger Field this weekend fielding one of the worst run defenses in the SEC. The Gamecocks rank No. 98 in yards per rush (4.4), No. 113 in rushing EPA, and No. 116 in rushing success rate (49.7%). Carolina has allowed over 200 yards rushing to Arkansas, Georgia, and Georgia State to begin the year. After having a bad run defense in 2021, things have remained the same in year two with defensive coordinator Clayton White.
The Gamecocks have already lost a pair of front seven starters for the season as their 4-2-5 scheme has had a hard time stopping the run. If Kentucky's running game is ever going to get right, it feels like Saturday could be the spot.
Now would be a good time to give Chris Rodriguez Jr. a heavy workload as the redshirt senior has rushed for 348 yards and four touchdowns on 7.6 yards per attempt in three career games against the Gamecocks.
The Wildcats have a lot of issues to fix in pass protection. Establishing the run could be the first big step in solving some of the problems. Expect to see a committed effort from Kentucky to get the ground game going on Saturday.