Thursday start at SEC Tournament seems very possible for Kentucky
Bubble, bubble, bubble. After Kentucky's third home loss of the season to Arkansas on Tuesday night, the Wildcats are officially on the bubble with seven games remaining in the regular season. The Cats likely need a 5-2 finish to feel safe but should also be able to get in at 4-3 which may include playing in Dayton in the First Four.
That's not the only tournament where UK's seeding has taken a hit.
The SEC Tournament returns to Nashville with full attendance for the first time since 2019 next month and Alabama is currently running away with the regular season title. The rest of the league is jockeying for seeding position. After falling to 7-4 in SEC, things could go in any direction for the Big Blue.
Using KenPom's full season projections after 11 league games (61.1% of the schedule), Kentucky finds itself in the dreaded 8 vs. 9 game. Let's dive into the full projections.
Alabama (16-2)
Tennessee (13-5)
Texas A&M (12-6)
Auburn (11-7)
Florida (11-7)
Arkansas (10-8)
Missouri (10-8)
Kentucky (10-8)
Mississippi State (8-10)
Vanderbilt (8-10)
Georgia (6-12)
Ole Miss (5-13)
LSU (4-14)
South Carolina (2-16)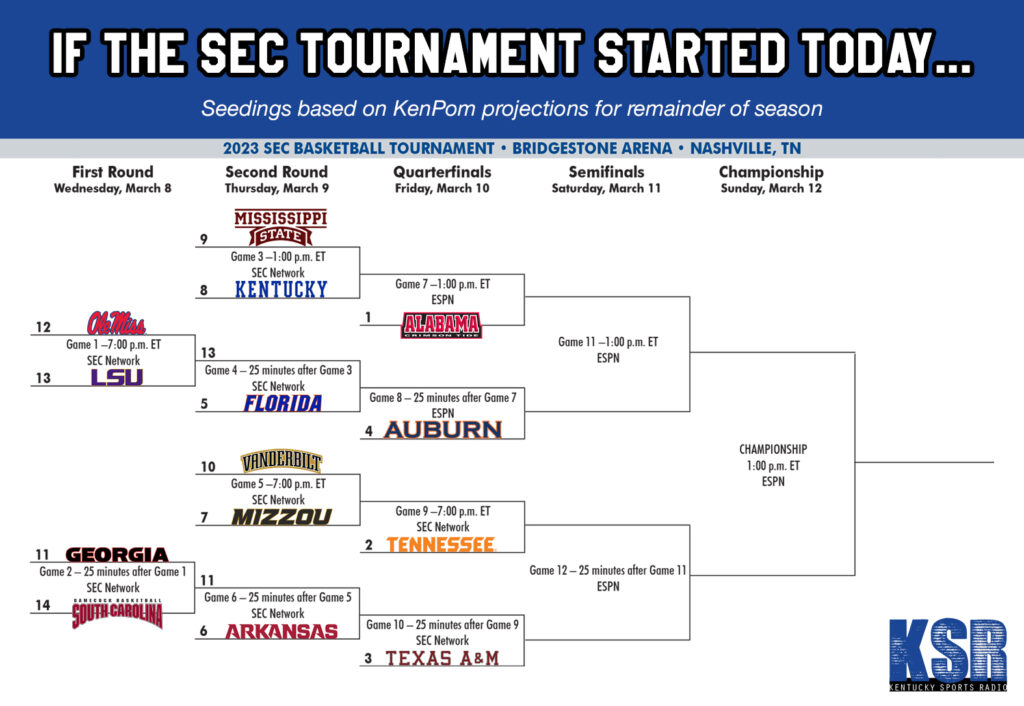 Tiebreakers loom large
Currently, anywhere from No. 3 to No. 8 seems to be on the table for Kentucky this season. The Wildcats are only one game back of Tennessee and two games behind Texas A&M. UK currently owns key head-to-head tiebreakers against both programs and will host Auburn on Feb. 25 in a crucial game as both the the Cats and Tigers are deadlocked in the current SEC standings at 7-4.
But there are some tiebreakers that Kentucky does not own.
Arkansas and Missouri are 6-5 in SEC play and just one game behind Kentucky. Each program owns a head-to-head win over John Calipari's squad. UK will not face Missouri again and must travel to Bud Walton Arena to play Arkansas again in the final game of the season. The Hogs currently own a three-game winning streak against Kentucky which ties the longest streak in series history.
If Kentucky drops a few more games and finds itself in a tiebreakers scenarios, a free fall is likely if Texas A&M finishes with a better record than the Cats.
Thursday starts at SEC Tournament are rare for Kentucky
Kentucky has won 32 SEC Tournament titles. Dating back to 1997, there have been 25 SEC Tournaments. UK has won 12 of them. Most of that success is due to not having to play until the quarterfinal round.
The Wildcats have only been forced to play on Thursday four times in the last 25 tournaments. The results have not been great.
2006: 2-1, lost in semifinals on Saturday
2007: 1-1, lost in quarterfinals on Friday
2009: 1-1, lost in quarterfinals on Friday
2021: 0-1, lost in second rund on Thursday
When Kentucky does not get one of the top four seeds, the program's record is 4-4 and the Cats have never made it to the championship round. For there to be a deep run made in Nashville, Kentucky must find a way to secure a top-four seed over the next three-plus weeks.
One thing is obviously clear for Kentucky basketball — the Wildcats need more wins.
Discuss This Article
Comments have moved.
Join the conversation and talk about this article and all things Kentucky Sports in the new KSR Message Board.
KSBoard